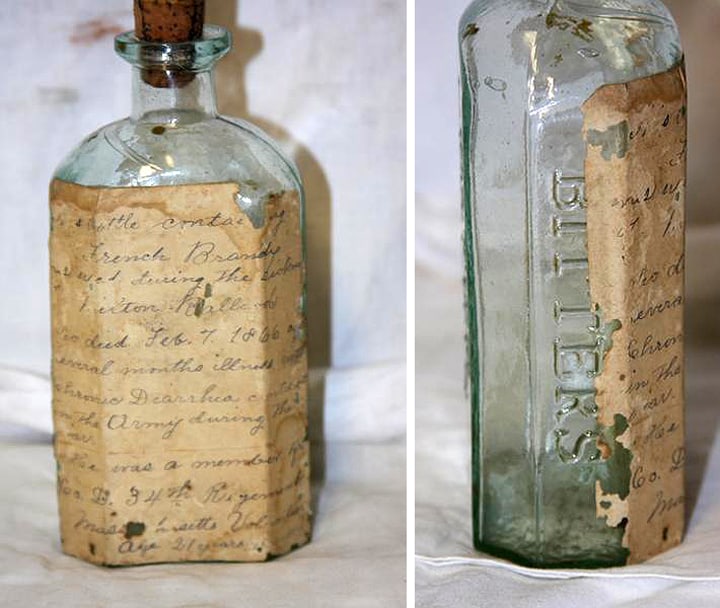 S.O. Richardson's South Reading, Mass Bitters Bottle with Civil War Letter
18 January 2014

Interesting bitters bottle closing on ebay tomorrow that being the S.O. Richardson's with the attached Civil War letter. See Listing. The description by nqac (99.7 Positive Feedback):
S.O. Richardson's South Reading Mass Bitters Bottle + letter Civil War 34th Regiment
Co D Massachusetts Volunteers 34th Regiment Death Letter
Wonderful piece of American History Bitters Bottle, South Reading, Mass, S.O. Richardson's. Embossed on four sides of this early (1840s or early 1850s) bitters bottle from New England. Large and small air bubbles, What appears to be original cork. No chips, No fractures. Hand applied letter about why and who used this bottle which is amazing! This bottle containing French Brandy was used during the sickness of _ulton Ballard who died Feb 7th 1866 after several months illness with chronic diarrhea contracted in the Army during the war. He was a member of Co. D 34th Regiment Massachusetts Volunteer. Aged 21 years 11 months. Amazing bottle and amazing story!
Read More: Dr. S.O. Richardson's Jaundice Bitters – South Reading
Read More: W.L. Richardson's Bitters – South Reading
Read More: 34th Regiment, Massachusetts Infantry
I did search online in a couple of areas and could not find a record of Ballard in the Massachusetts Soldiers, Sailors, and Marines in the Civil War – compiled and published BY THE ADJUTANT GENERAL in accordance with Chapter 475, Acts of 1899. I will keep looking.