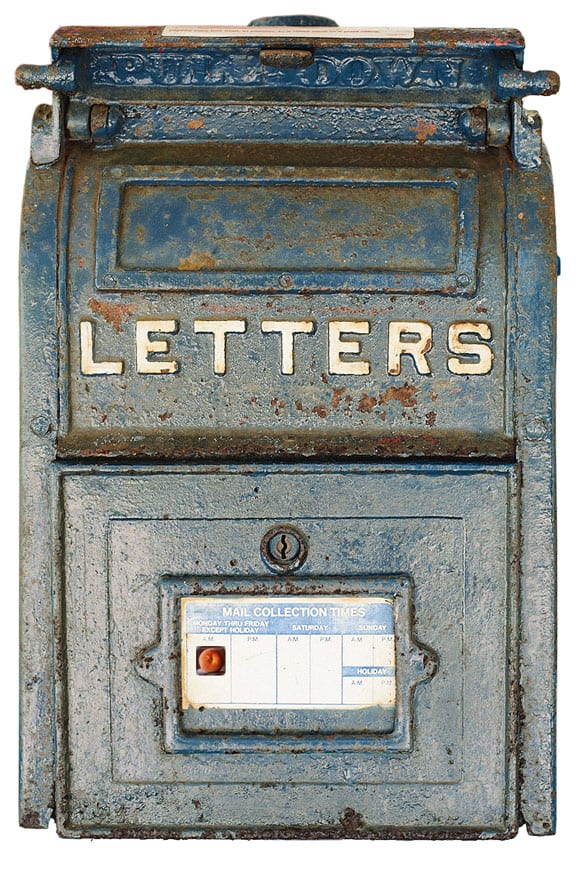 Please feel free to send any antique bottle or glass questions to ferdinand@peachridgeglass.com. The information will be posted if relevant or of interest to the readers. I will try to answer or wait for another reader to respond. Quality images are very important. Thanks! If you want to see previous questions,go to "Mailbox Letters" in "Categories" on the right column of each page.
---
Pale Yellow Morning Star Bitters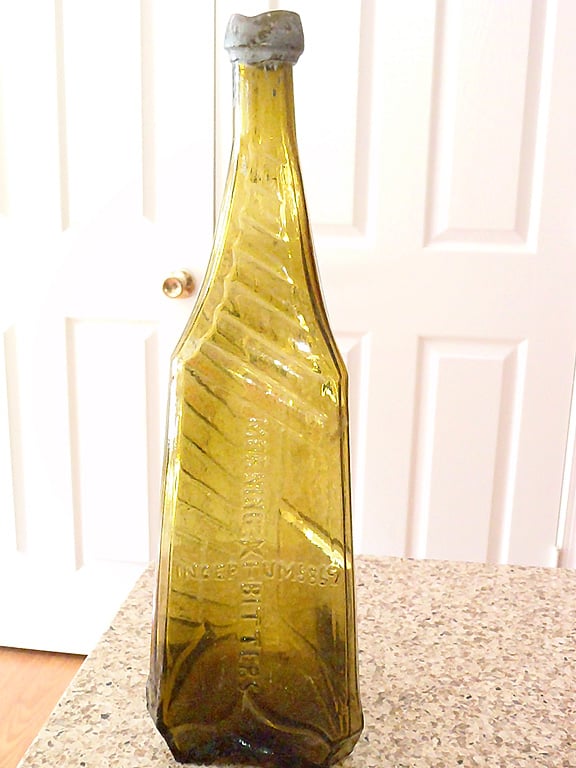 I have the same exact Morning Star Bitters bottle as shown in your post. I am interested in selling it..where can I go to sell it? sorry, I am new to this. Lynn
"The bottle is in excellent shape. The bottle was found in the ground by a plumber locally on the eastern shore of maryland. My husband and his friend cleaned out the widow's garage and found the bottle. We have had the bottle probably 40 years and I had it in a drawer because of young children then grandchildren. Recently I decided to find out what it is worth and sell it. I thought it was a shame to keep it in the drawer."
Read: Looking at the Morning Star Bitters – Baltimore
---
YOUNGBLOOD Soda Water Bottle
Hello Sir, my name is Daniel and I have been collecting bottles for a few years now. I have recently acquired a very nice blob top bottle that is greenish and says YOUNG.BLOOD (see above) in big lettering around the bottle. I can't find a picture or any information about the bottle. If you know any history or value of the bottle I would highly appreciate it. Thank you,
Daniel Zern
Read Post: Jacob Youngblood and the Bernhard Soda Water Apparatus
---
Mrs S. A. Allen's World's Hair Restorer Display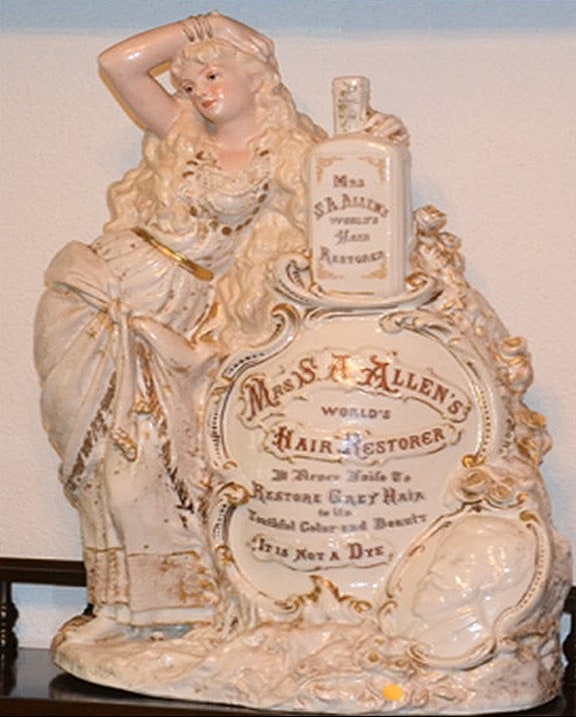 Hi. Ferdinand –
I received an e-mail from a gentleman from Spain recently wanting to sell a Mrs Allen's Hair Restorer advertising display (see above). I have attached a photo of this rare item. If anybody is interested in purchasing this item e-mail me at bottlepickers@bottlepickers.com. I will forward the information.
Frank Wicker
www. Bottlepickers
Read More: Mrs. S. A. Allen's Worlds Hair Restorer Display…and some more
---
Sarony, Major & Knapp Question
Dear Mr Meyer, I read your article about The great work of Sarony, Major & Knapp Lithographer – New York. I am an Italian collector of Cofederate paper money; recently I found, on the back of a 100$ 1862 note a stamp "Major Knapp", attached. These stamp were used during the Civil War or military agents to issue the note for interest calculations (these notes bear a 7,30% interest per year), while after the was the stamps were used only as advertising notes, since the Confederate money was worthless.
My question for you is: have you ever seen a similar stamp in your study about Major & Knapp? In case could you suggest me someone to talk to about this argument?
Thanks a lot, my best regards,
Enrico Aidala
Read: The great work of Sarony, Major & Knapp Lithographer – New York
---
Lash's Bitters Funnel Find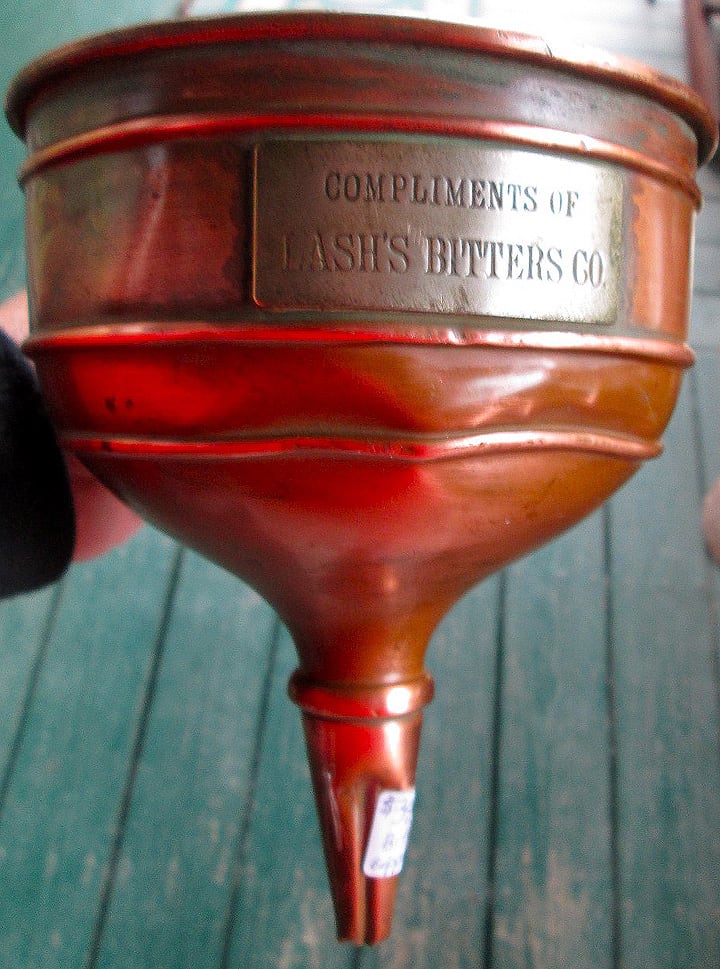 Came across this in an antique shop in upstate NY. – Deborah Antonez
---
Deep Amber Drakes Bitters Bottle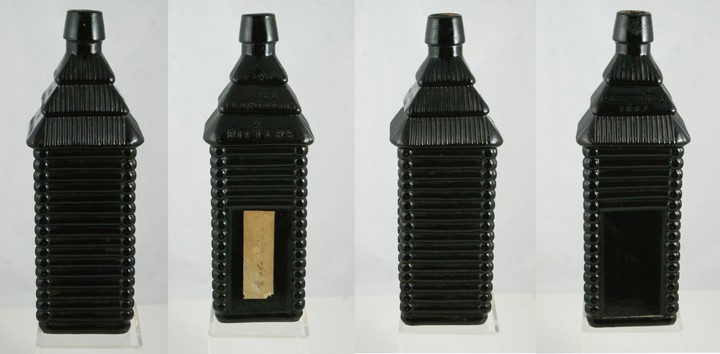 Hi, I've taken in a deep amber Drakes bitters bottle. It measures only 9 ∏" high, and is 3" square. It seems to be your variant D-105 with respect to markings and configuration. The size seems a bit off, any thoughts? Thanks for any input. William Bunch
William Bunch Auctions & Appraisals, LLC
PRG: William, This bottle was produced in the millions with msmt variations. This is a common color. Looks like a fine example and pics. What is cool is how black the bottle is. That is more important in this case. Let me know if you put it on ebay or want to sell.
---
Found: Wm Radam's Microbe Killer jug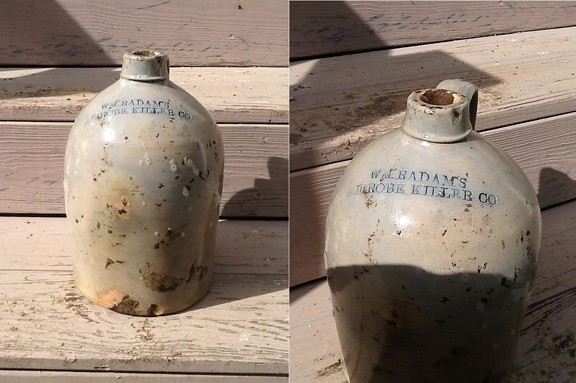 Hi, My name is Keri R., my husband found this jug Wm Radam's Microbe Killer Co, with the lettering inscribed not stamped. I can not find one that looks like it on the web, can you tell me a little more about it and how much it is worth. Please and thank you.
Read: From Texas – Wm. Radam's Microbe Killer
Read: Wm. Radam's Microbe Killer ~ Dec. 13th, 1887
PRG: In that condition 40.00+ range would be fair (from Rick DeMarsh]
---
Schram Automatic Sealer
Found several quart looking jars (clear) (almost 7″ high) while cleaning out my parents house. They say "Schram Automatic Sealer" on them, All script lettering (no flag) and just a #9 or 6 on the bottom, nothing else. If you wouldn't mind sharing some info with me: what year approx are these from, and are they rare?
Thanks for your time. – Kathryn F.
From Greg Spurgeon at North American Glass: There are several versions of the jar all in various sizes, and all machine-made in the early 20th century in various plant locations including Missouri, Illinois, Indiana, as well as in Quebec and Ontario, Canada. In the mid 1920's the Schram Glass Co was bought out by the Ball Bros, and within a few years this brand was no longer made. All varieties are very common with low monetary value.
---
Penny Postcards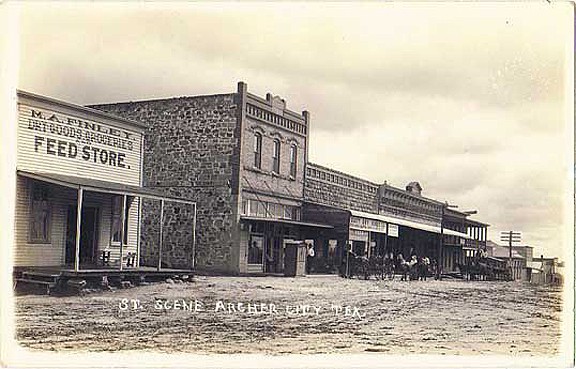 Hello Ferdinand, Came across this website. Thought something similar could work for bottles. Such as, select your state and see all the bottles that came from there. What do you think? Joe (Gourd) Visit Penny Postcards
---
The Medicine Chest – Looking for Savannah Information
Hello, Do you have any information on an early Savannah book titled "The Medicine Chest" by Dr George Harral? Joey W.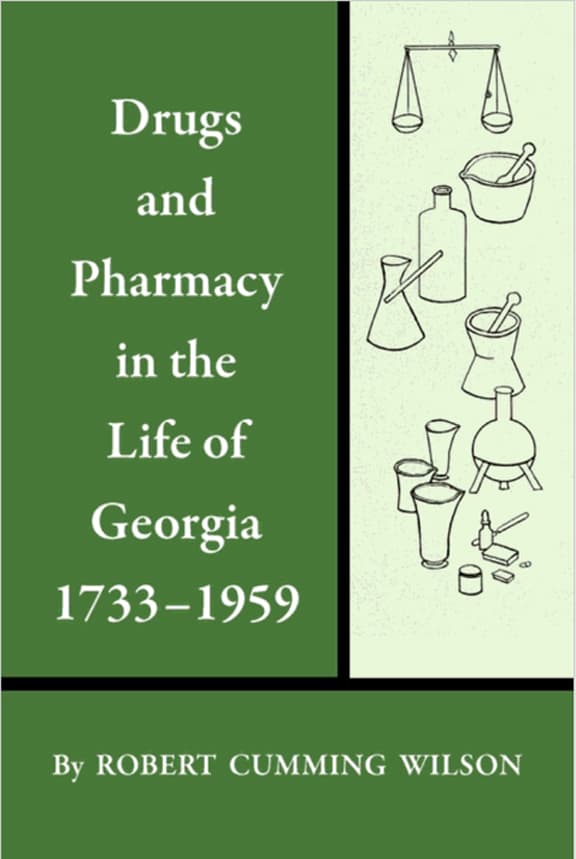 PRG: Searching online I find: Drugs and Pharmacy in the Life of Georgia, 1733-1959 By Robert Cumming Wilson
Joey: I bought that book last week..Its a good resource. The last and only G Harral bottle from Savannah sold for $12,000.00.
Read: Charles Matzen Near to His Goal : Completing Savannah Collection by Bill Baab
---
May 25th Beer Tour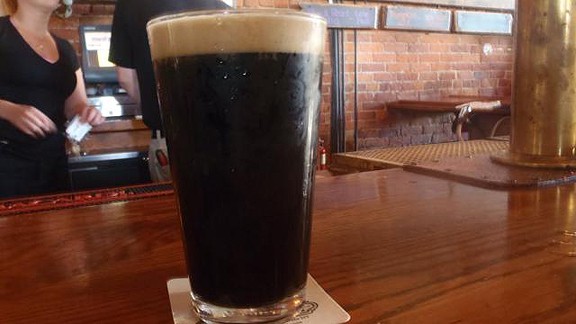 Attached is a flyer for a Buffalo Beer Tour on Saturday May 25th by Pete Jablonski. Tickets are $40. Contact information for tickets is on the flyer. Thanks. Joe Guerra. See Flyer
---
Cooley's Bitters Question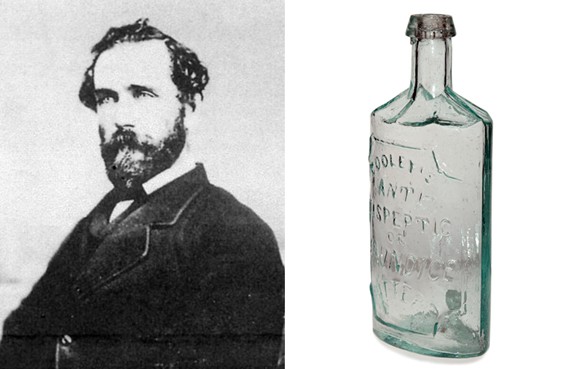 Hello: First of all, sorry for my English. I am a historian of the Republic Argentina. I (am)  seeking information about Cooley's bitter(s). I need to know if Dr Cooley' bitters were prepared based on orange or orange peel. I work on the period 1850/ 1860. Could you help me? Thank you. Guillermo Alfieri.
Read More: Is the Cooley's Anti Dispeptic Bitters our oldest Bitters?
---