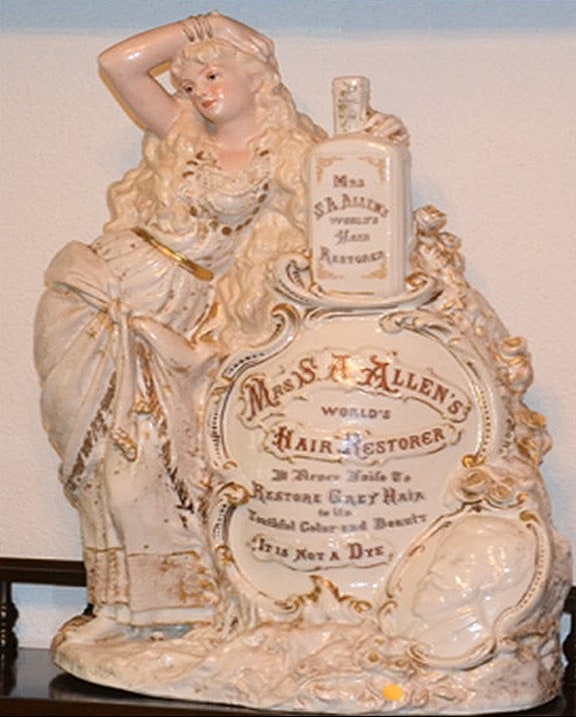 Hi. Ferdinand –
I received an e-mail from a gentleman from Spain recently wanting to sell a Mrs Allen's Hair Restorer advertising display (see above). I have attached a photo of this rare item. If anybody is interested in purchasing this item e-mail me at bottlepickers@bottlepickers.com. I will forward the information.
Frank Wicker
www. Bottlepickers
MRS. S. A. ALLEN'S WORLD HAIR RESTORER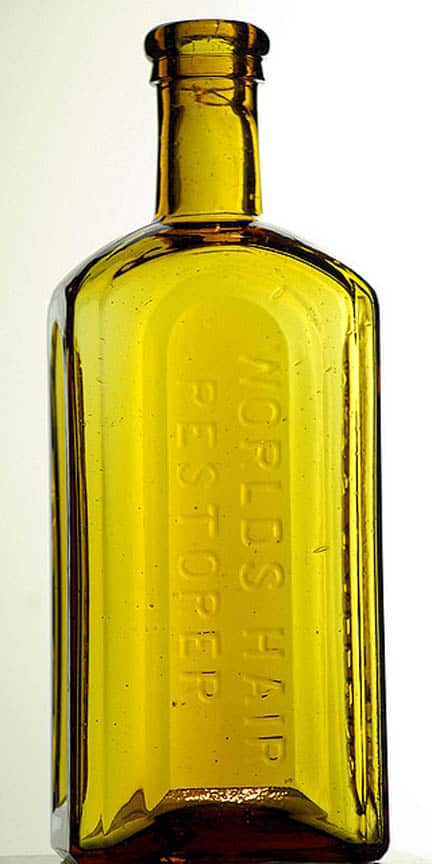 I will take this opportunity to show off a few of these colorful bottles and advertising pieces that I could grab online and from my files. Also, whenever I need antique and vintage hair product information I usually end up at Hair Raising Stories. Please visit their fine web site.
Read: Mrs. Susan A. Allen
A nice excerpt from the Odyssey:
Mrs. Allen's World's Hair Restorer bottle recovered from the wreck of the SS Republic
The excavation of the SS Republic yielded an impressive assortment of hair product bottles, a sampling of the hundreds of phony preparations that flooded the 19th-century market. Included in the recovery were two pristine examples of Mrs. Allen's World's Hair Restorer – rectangular bottles with beveled corners, in a rare deep amethyst color.
Mrs. Susan A. Allen, the wife of a New York City dentist, first introduced her product in 1840, and by 1854, was selling the formula from her husband's Broome Street practice, which served as the "Manufactory and Depot." An 1876 advertisement declared Mrs. S.A. Allen's World's Hair restorer "The only Preparation that will certainly revive, renew and restore the original or natural colour of grey or faded hair, stop its falling out and induce a luxuriant growth. "The ad further claimed that "Forty years of trial and success is the basis for this unqualified statement," during which time, "it has been used by thousands of persons, and it has never failed to satisfy the expectations of a rationale purchaser."
The recipe for this "Great Unequaled Preparation" was said to contain a mixture of "sulphur, acetate of lead, glycerin, and flavored water" – hardly a concoction likely to enhance the beauty of one's hair. Yet with establishments in New York, London and Paris, the hair restorer enjoyed a global market and was "Sold by all Chemists and perfumers throughout the World."
Perhaps the two bottles recovered from the SS Republic, both empty of their original contents, had been aboard the vessel tucked in the luggage of a passenger or crew member. Yet, more likely they are the vestiges of a much larger consignment of Mrs. Allen's famous hair tonic once bound for sale in a New Orleans' shop.
MRS. S. A. ALLEN'S GALLERY