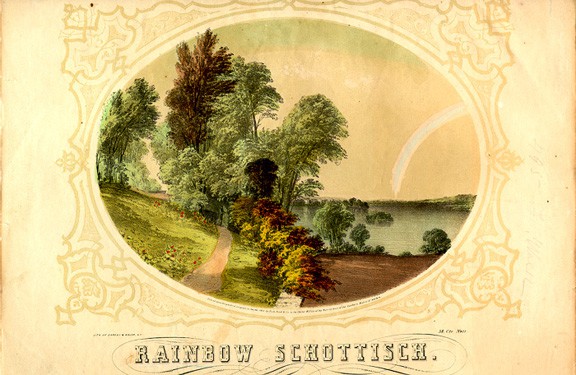 The great work of Sarony, Major & Knapp Lithographer – New York
06 September 2012 (R•01Oct13)

When looking at the great antique bottle brands, I periodically come across some great lithography used to market the product. I guess my favorite is the Old Sachems Bitters (Read more on Old Sachems Bitters and Wigwam Tonic) with the Native American Indian chief. The lithography was done by Sarony, Major & Knapp Lithographers New York. They were also responsible for most of the great Bininger art (See more Bininger art) and the recent S. S. Wyckoff post (See S.S. Wyckoff Bitters) I developed yesterday.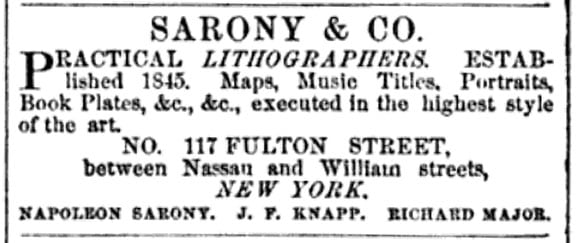 The sheet music art then was the record album cover art that was so popular in the 20th century.
Popular product brands, portraits and sheet music covers seemed to be represented in most of the art I could find. America during this time period had an immense thirst for patriotism, music and celebrities based on the events of the day. The sheet music art then was the record album cover art that was so popular in the 20th century. You have to be dismayed that some of these artistic expressions are a dying art in the era of digital transmissions, clip art and instant photography as most of us have cameras on our phones.
I have put together some information on primarily Napoleon Sarony, the Sarony, Major & Knapp Lithography studio and some of their wonderful art. Killer in every respect.
Napoleon Sarony
Napoleon Sarony (1821 – November 9, 1896) was an American lithographer and photographer. He was a highly popular and great portrait photographer, most known for his portraits of the stars of late-19th-century American theater.
Sarony was born in Quebec in 1821 and moved to New York City around 1836. He worked as an illustrator for Currier and Ives before joining with James Major and starting his own lithography business, Sarony & Major, in 1843. In 1845, James Major was replaced by Henry B. Major in Sarony & Major and it continued operating under that name until 1853. From 1853 to 1857, the firm was known as Sarony and Company, and from 1857 to 1867, as Sarony, Major & Knapp. Sarony left the firm in 1867 and established a photography studio at 37 Union Square, during a time when celebrity portraiture was a popular fad. Photographers would pay their famous subjects to sit for them, and then retain full rights to sell the pictures. Sarony reportedly paid famed stage actress Sarah Bernhardt $1,500 to pose for his camera, the equivalent of more than $20,000 today. [reference Wikipedia]
The Studio
"Glare, bareness, screens, iron instruments of torture, and a smell as of a drug and chemical warehouse on fire in the distance. A photographer's operating room is always something between a barn, a green-room, and a laboratory"
In late 1871, Sarony moved his studio to 37 Union Square where it occupied several floors above the ground level. Rental on the Union Square building was $8,000 a year (an equivalent of over $116,000 in year 2006). Customers rode a small slow-moving hydraulic elevator up from the street level to Sarony's reception room located on the fifth floor. Richard Grant White, writing for the Galaxy magazine described Sarony's studio as "Glare, bareness, screens, iron instruments of torture, and a smell as of a drug and chemical warehouse on fire in the distance. A photographer's operating room is always something between a barn, a green-room, and a laboratory" (from "A Morning at Sarony's" in Galaxy, March 1870, p. 409.) The "iron instruments of torture" were posing braces and stands to help the subject remain motionless for exposure times which often ranged from fifteen seconds up to a minute. Sarony's involvement in the portrait making was primarily in arranging the camera, extracting the right expressions from the face and body of his subject, lighting, drapes, and props — the art of the photo. Numerous assistants were on his staff to attend to the mechanical chores of the camera operation and the chemical processes involved.
Sarony considered himself an artist above all else — preferring to draw with charcoal and crayon. However, with his innovative techniques in application of lighting, posing his subjects, and arranging background elements in portraits he rose to prominence. When once interviewed about his work, he stated "We photographers have queer experiences. Ours is a most excellent opportunity to study human nature, and making a baby laugh is not the one trick of the calling. In order to take a good photograph one should know something about the sitter's habits and surroundings. This he must learn at a single glance or by an adroit question." (From an interview in Newark Sunday Advocate, January 7, 1893, p. 2. Reprinting the New York Herald.). [reference Mark Twain, Napoleon Sarony and "The damned old libel"]
The Samuel Clemens Sessions
Some of the most famous photographs of Samuel Clemens, better known as Mark Twain, were made by New York photographer Napoleon Sarony. No complete record exists of exactly how many negatives Sarony made of Clemens nor how many photo sessions Clemens had with him. There were at least two sessions — a session about 1884 and a second session about November 1893 when Clemens intended to have a photo of himself made for his wife Livy's birthday on November 27 (see letter below). Read more on the the Clemens sessions.
Chromolithography
Chromolithography: The revolutionary art of colour printmaking from lithographic stones began in Europe during the mid 1830's. The Germans, in particular, excelled in the new art form and many accomplished printers and publishers of that nationality moved to the United States at this time. The first American chromolithograph was created in 1840. During the following fifty years many of these original colour prints were made to adorn the walls of American parlours. Large and profitable businesses sprang up in almost every major city and by 1880 it had become the dominant form of artistic printmaking.
The cheaper and more practical advances of photomechanical methods, however, sounded the death knell for the chromolithograph by the turn of the century. Yet, not even our most sophisticated means of reproducing images can equal the vibrant, oil-based colours of the chromolithograph, as one can clearly view from this original example pictured above.
Today these chromolithographs have become very scarce, particularly the large images. A major share of the blame falls upon the ruinous methods of nineteenth century framers as they most often used the most acidic and damaging materials at hand. The result is that the majority of these important works of art have quite literally rotted away in their frames. Even surviving examples usually contain discolouration, time staining, chipping or creasing.
S A R O N Y,    M A J O R    &    K N A P P  
 G  A  L  L  E  R  Y