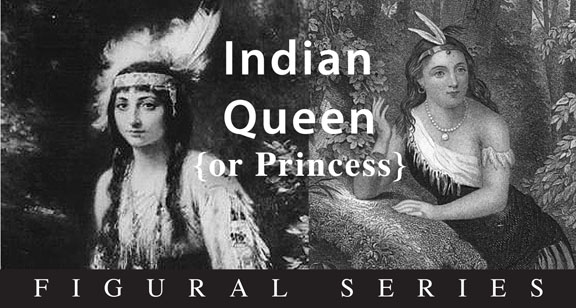 THE INDIAN HERB BITTERS
aka 'Kansas City Queen'
PREPARED BY DRS DICKERSON & STARK
27 September 2012 (R•101515) (R•031716)
---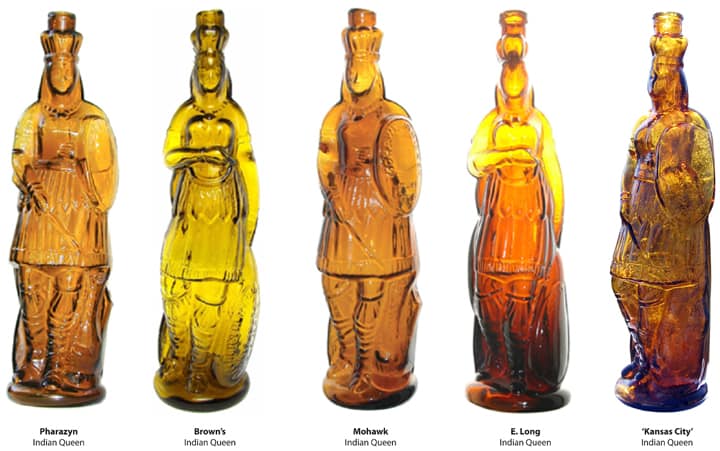 First of all, I have written about this special queen before (Read: Ladies & Gents…The Kansas City Queen) as it was an incredible story earlier this year. Now I want to circle back with some cleaned up pictures and comparison images (see above) and thoughts related to the Browns, Pharazyn, Mohawk and Long Queens (pictured above). This will also be the last of the 'Queen' series though there are other 'knock off' and later reproductions and facsimiles of the form.
Again I am thinking that this bottle was made by the same glass makers of the other queens and the proprietors were tagging on to the popularity of the Brown's Celebrated Indian Herb Bitters put out by Neal Brown in Philadelphia. Just conjecture but probably made at the Whitney Brothers Glass Works.
The bottle has the same form as the Mohawk and Pharazyn Queens which means a high shield in one arm and the sword in the opposite hand. There is an abundance of copy on the shield and dress of the Indian making for quite a self contained marketing piece. Only two examples are known to exist.
What is most puzzeling to me is the embossed copy reading 'MEDICAL & SURGICAL INSTITUTE  KANSAS CITY MO' and 'SEND FOR OUR ILLUSTRATED MEDICAL JOURNAL IT WILL BE SENT FREE TO ANY ADDRESS'. I have found some great information on D'Estaing Dickerson that really sheds light on this product.
The Carlyn Ring and W.C. Ham listing in Bitters Bottles is as follows:
I-18  THE INDIAN HERB BITTERS aka 'Kansas City Queen'
THE / INDIAN / HERB BITTERS / PREPARED BY / DRS DICKERSON / & STARK / MEDICAL & / SURGICAL / INSTITUTE / KANSAS CITY / MO // SEND FOR OUR ILLUSTRATED MEDICAL JOURNAL / IT WILL BE SENT FREE TO ANY ADDRESS //
12 3/8 x 3
Figure of Indian queen, Amber, SCM, Extremely rare
Kansas City Directory 1886; John Stark and D'Estaing Dickerson, 427 Delaware Ave.
Read: Surgical Institute Bitters
Dr. D'Estaing Dickerson
Dr. D'Estaing Dickerson, a physician in Kansas City born in New York in 1835 and formerly serving as the "surgeon-in-charge of the Sing-Sing prison hospital," arriving in Kansas City in the 1870s and co-founding the Western Medical and Surgical Instiute.
Dr. John Stark
Read More: Looking closer at the Brown's Celebrated Indian Herb Bitters
Read More: H. Pharazyn Indian Queen – Philadelphia
Read More: Mohawk Whiskey Pure Rye Indian Queen
Read More: E. Longs Indian Herb Bitters
Read More: Why do we call the bottles the 'Indian Queen?'
Read More: The Rubenesque Queens
Read More: Barrel series – Original Pocahontas Bitters