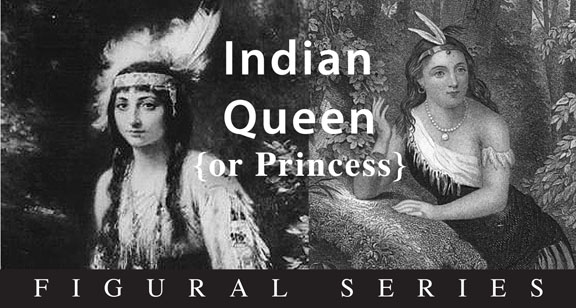 The

H. PHARAZYN

Queen
---
H. Pharazyn Indian Queen – Philadelphia
24 September 2012 (R•090516)

After looking at the well known Brown's Celebrated Indian Herb Bitters (figural Indian Queen) yesterday we will move next to the oddly named H. PHARAZYN Queen which is a different mold than the Brown's 'Indian Queen' and very similar to the Mohawk Whiskey Pure Rye Queen. This bottle always comes in shades of amber which is a major difference from the broad range of colors associated with the Brown's Queen. Because the bottle is also embossed 'PHILA RIGHT SECURED' this allowed me to search the Pharazyn name online in Philadelphia as not much information is available other than past auction sales of the bottle.
High Shield Mold – PHARAZYN Queen
Low Shield Mold – BROWN'S Queen
Arm Placement
The H. PHARAZYN Queen (Figure 1 above) varies from the BROWN'S Queen (Figure 2 above) in that the right arm is well below the waist and is holding a sword. The left arm is bent and holding a shield to the body. The shield for the PHARAZYN Queen is unembossed and the area usually used for the patent date has 'H. PHARAZYN PHILA RIGHT SECURED'.
The Pharazyn Name
The meaning of Pharazyn come may come from a trade, such as the name "Carpenter" which was given to woodworkers. A lot of these craft-based family names can be a profession in another language. For this reason it is useful to research the country of origin of a name, and the languages spoken by it's family members. Many western names like Pharazyn originate from religious texts such as the Quran, the Bhagavadgītā, the Bible, and other related texts. Often these family names are shortened versions of a religious sentiment such as "Favored of God". (AncientFaces)
Probable Match
The most probable match for our Queen bottle is Henry Pharazyn in Philadelphia. I have a hunch that he tried to knock off the famous Brown's Celebrated Indian Herb Bitters which he certainly must have been aware of as both products are related to the same city, Philadelphia. Henry had many professions and seemed to move around but he did work in a saloon and he did sell herbs.
Henry Pharazyn 
(b 1822 – December 1902)
Henry Pharazyn, born ca. 1822 in England, brother of colorist and lithograph publisher Alfred Pharazyn, worked as an artist, jeweler, frame dealer, colorist, and lithograph publisher in Philadelphia during the mid nineteenth century. Known lithographs issued by Pharazyn include "Trotting Cracks of Philadelphia Returning from the Race at Point Breeze Park,…" (1870) published at his frame establishment at 1725 Lombard Street.
During the 1840s city directories listed Pharazyn as a "military artist" at 13 Dugan Street (Center City), while in the 1850s he was listed as a jeweler at 199 1/2 (i.e., 500 block) South Street. The 1860 and 1870 censuses record him as an artist (resident of Ward 3) and colorist (resident of Ward 7), respectively, whose personal estate had increased from $100 to $1000. According to the 1870 city directory, he also worked at a saloon. During the 1870s, he was employed as a carpenter, and later a herbs dealer (529 South Seventh Street), the latter which he continued as an occupation into the 1880s. Pharazyn died a pauper and known as an eccentric in December 1902; his body found in January 1903, days after his death in his cellar residence at 303 South Seventh Street.
Pharazyn was married to Ann (b. ca. 1825) with whom he had a son Alfred (b. ca. 1852), reported as mentally and physically challenged. Ann, described as deaf in the 1870 census, died in the 1880s and son Alfred resided in Pennsylvania Hospital at the time of his father's death.
Read More: Looking closer at the Brown's Celebrated Indian Herb Bitters
Read more: Amethyst Indian Queen Found in Seattle
Read More: Mohawk Whiskey Pure Rye Indian Queen
Read More: E. Longs Indian Herb Bitters
Read More: The Indian Herb Bitters Prepared by Drs Dickerson & Stark
Read More: Why do we call the bottles the 'Indian Queen?'
Read More: The Rubenesque Queens
Read More: Barrel series – Original Pocahontas Bitters
The Gallery