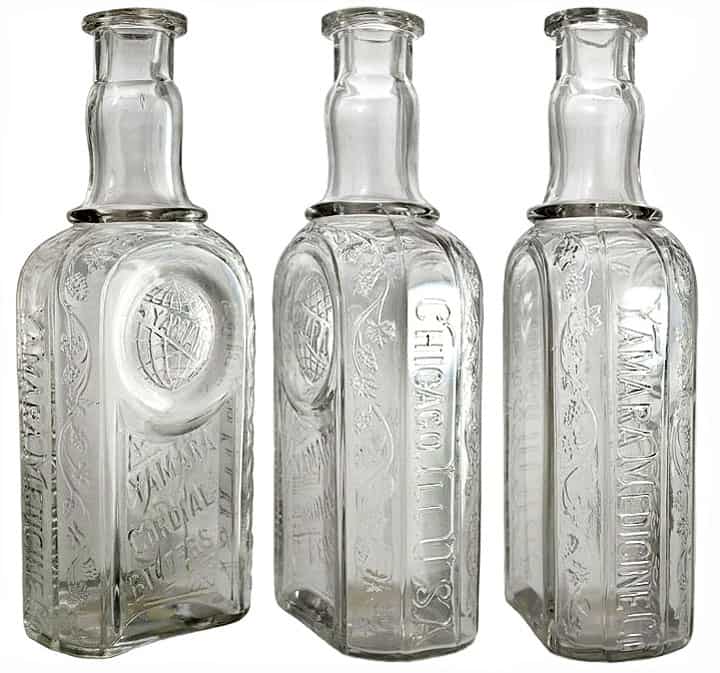 YAMARA CORDIAL BITTERS
C H I C A G O
08 July 2013 (R•092119)

Glass Works Auctions has a really neat, highly decorative, rectangular flask type bitters bottle (pictured above) in their Glass Works Auction #99 "Madness in Manchester" Auction which closes at the FOHBC 2013 National Antique Bottle Show live auction event in Manchester, New Hampshire this 17 July. I picked up my extremely rare example (pictured below) from the famous Bryan Grapentine American Bottle Auction in December 2007.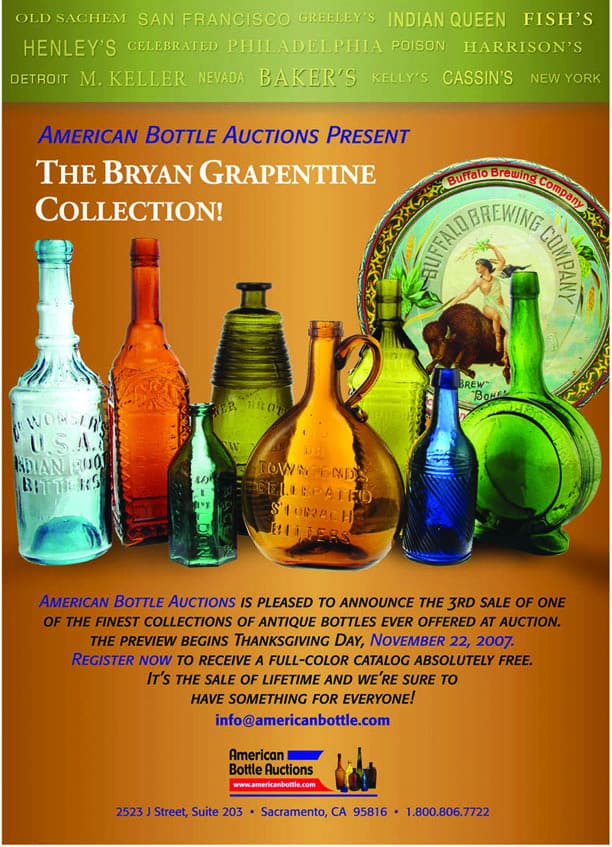 The Glass Works Auctions write-up:
30. "YAMARA" (inside a glob) / YAMARA / CORDIAL / BITTERS – YAMARA MEDICINE CO. – CHICAGO, ILL. U.S.A." – (grape cluster and leaves are embossed on each of the beveled corner panels). (Y-1), Illinois, ca. 1890 – 1900, clear glass, 9 1/4"h, smooth base, tooled lip. A shallow 3/16" by 1/8" flake is off the top of the lip, a much lesser one is off the letter 'O' in 'Co.'. An extremely rare and highly embossed bottle! – Glass Works Auction #99 "Madness in Manchester" Auction.
The Carlyn Ring and W.C. Ham catalog listing in Bitters Bottles:
Y 1 motif globe with YAMARA ( su ) / YAMARA ( su ) / CORDIAL ( su ) /
BITTERS ( su ) // YAMARA MEDICINE CO. // sp // Chicago, ILL. U.S.A. //
9 1/4 x 3 3/4 x 2 1/8 (5 1/2)
Rectangular, Clear, NSC, 2 sp, Tooled lip, Extremely rare
Each wider panel is surrounded by stylized vine with bunches of grapes and leaves. Elaborate lettering. Neck is bell shaped.
Glass Works Auctions gives it the ole' decade range of 1890-1900 when noting the production date but I feel this is highly optimistic. At best, maybe a two to three year period is appropriate and possibly only 1891. This is the ONLY year the product shows up in advertising (see below) and of course it is extremely rare. There simply would be more examples with a broader production range.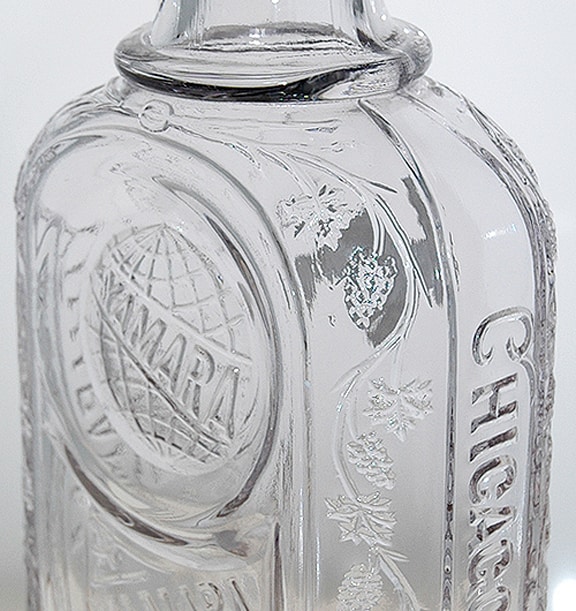 This bottle is some sort of an enigma as there are NO listings for a Yamara or a Yamara Medicine Company in Chicago in 1891. Only the same advertisement in different cities like Fort Wayne and Kendalville. This is weird. There is however, a listing for a clairvoyant named Professor Yamara (see below) in 1895 in Chicago. I wonder if someone just didn't 'borrow' this name to add intrigue to their product?