Wild Cherry and Iron Bitters
Joseph M. Abeles, Druggist, Leavenworth, Kansas
24 November 2015 (R•091919)

Here is an incoming email from super-sleuth, James Viguerie, as he finds yet another unlisted bitters reference, that being for the Wild Cherry and Iron Bitters prepared by J. M. Abeles, druggist, corner 3rd & Cherokee Streets in Leavenworth, Kansas. The label comes from a St. Louis Label Works press proof sheet. Pretty cool eh?
Ferd,
I came across a label for a bitters that was in a sample book for the St. Louis Label Works. A druggist named Jos. M. Abeles existed at the address shown on the label, so I think it was an actual product. Also, note on the full sheet that there are several Texas medicines.
James Viguerie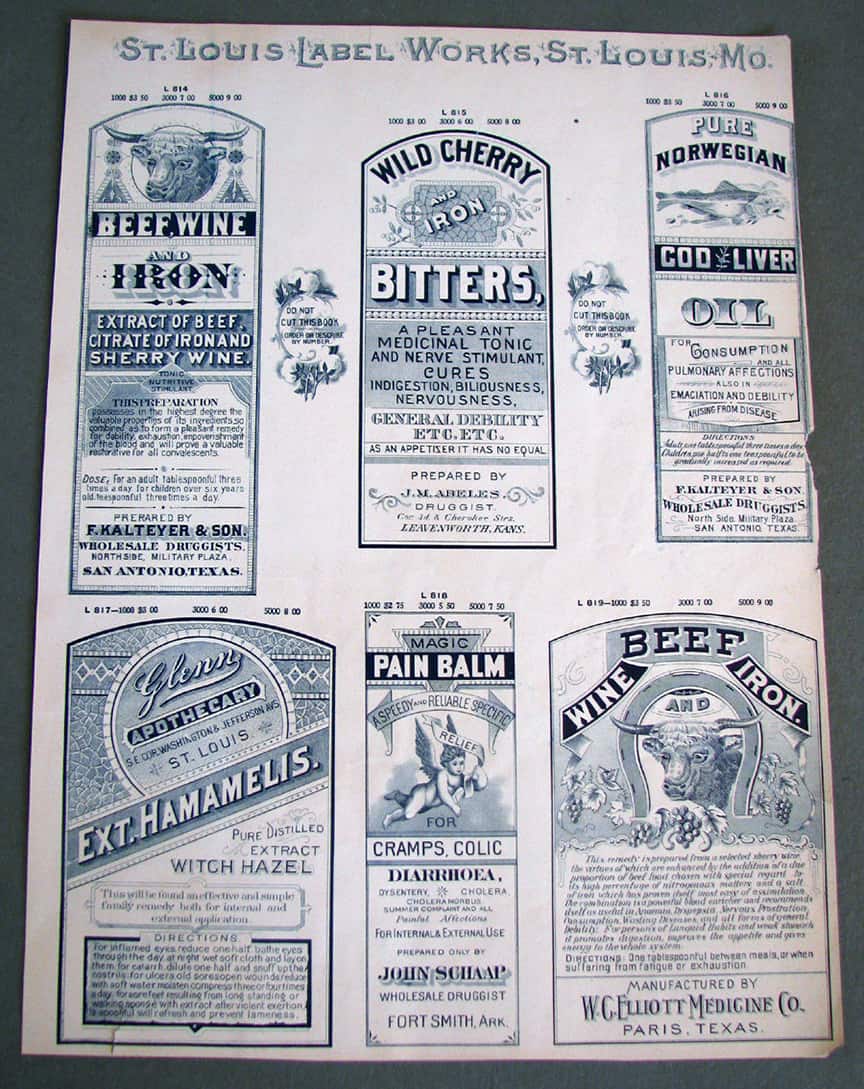 Joseph M. Abeles
Joseph M. Abeles was a life-long druggist who ran an established drug store in Leavenworth, Kansas at the corner or 3rd and Cherokee Streets in what was called the Abeles Building. This substantial brick structure, the first in Leavenworth of its kind, was built in 1860 and was first occupied by Simon Abeles. Simon was Joseph's father who was an exporter and trader in the west, making shipments as far as Santa Fe, New Mexico, trading with overland freighters and Indians. The building was remodeled in 1870 and was the first home of the German bank which was one of Leavenworths most prosperous banks. The bank president was Simon Abeles. Joseph M. Abeles would take it over for his drug store after the bank merged with another bank and relocated around 1890. He eventually would do a substantial renovation of the building and his drug store in 1916.
As far as advertising for the Wild Cherry and Iron Bitters, I can find none, nor can I find a bottle at this writing. One would have to think that this was a limited run, labeled bitters.
The new listing by Bill Ham for the forthcoming Bitters Bottles Supplement 2:
Label
W 113.5 WILD CHERRY AND IRON BITTERS, A Pleasant Medicinal Tonic and Nerve Stimulant, Cures Indigestion, Biliousness, Nervousness. General Debility Etc. Etc.
Prepared by J. M. Abeles, Druggist, Cor. 3d. & Cherokee Strs. Leavenworth, Kans. Label example from the St. Louis Label Works catalog. St. Louis, Missouri.
Joseph M. Abeles, drugs, 300 Cherokee, Leavenworth, Kansas City Directory, 1892
Select Listings:
1866:

Joseph M. Abeles born, December 1866 in Leavenworth, Kansas, Parents: Simon Abeles and Emeline Amelia Miriam.
1870:

Joseph Abeles, Age 3, Birth abt 1867, Birthplace: Kansas, Home in 1870: Leavenworth Ward 2, Kansas, Household Members: Simon Abeles 52, Emeline Abeles 42, Emma Abeles 17, Laura Abeles 16, Edward Abeles 14, Morris Abeles 13, Julius Abeles 11, Massildo Abeles 9, Ida Abeles 5, Joseph Abeles 3, Nellie Kever 17 – United States Federal Census
1871:

Simon Abeles, President, German Savings Bank, corner Cherokee and Third, Leavenworth, Kansas – The Leavenworth Times, Wednesday, February 8, 1871
1872:

 More grandiose was the 1872 Simon Abeles House, which formerly stood on South Fourth Street and featured a three-story tower capped by a mansard roof. – National Register of Historic Places
1873:

 Broadsheet (see below) advertising a "Grand Gift Concert! Will be given at the City of Leavenworth, Kansas, On Wednesday, the 31st Day of December, 1873, For the Purpose of Erecting a Juvenile Reform School" 2p. 25″x9-1/2″, signed in type at bottom "SIMON ABELES, Leavenworth, Kansas" with testimonial from "Leading Citizens" who state "Mr. Simon Abeles, the proprietor of the 'Gift Concert' for the benefit of a 'Juvenile Reform School,' near the City of Leavenworth, is one of our most reliable and trustworthy citizens, and we cheerfully recommend him to the confidence of the public." with the "FIRST GRAND PRIZE" being worth $100,000 and "Consisting of the superb palatial residence of SIMON ABELES, Esq., unsurpassed as a private dwelling in the United States, being only a few blocks from the Court House, surrounded by magnificent grounds, orchards, gardens, and vineyards." Followed by a nice biography of Abeles' business ventures in Leavenworth. Small loss at fold, else VG. – Raynors 2008 Auction
1884:

Joseph Abeles, student, r cor 5th & Poplar, Leavenworth, Kansas – Green's Leavenworth Directory
1887:

 Joseph Abeles, r se cor 5th & Poplar, Leavenworth, Kansas – Leavenworth, Kansas, City, Directory
1890:

 Illinois College of Pharmacy. There was assembled, July 24, at the Grand Opera House, a large audience to witness the graduating exercises of the summer course of this college. An interesting selection of music punctuated the changes in the program. The address of the occasion was delivered by Rev. Dr. F. M. Bristol, of Trinity Methodist Church. The list of graduates is as follows – Joseph M. Abeles, Leavenworth, Kan. ; Gustave H. Adamick, La Salle, Ill. ; Nicholas B. Bartz, Lemont, Ill.; Nelson M. Black, Valley City, N. D… – 

Pharmaceutical Record

, Volume 10
1891-1892:

J. M. Abeles, Retail Druggist, 300 Cherokee – Leavenworth, Kansas, City, Directory
1898-1915:

Jos. M. Abeles, drugs, 300 Cherokee – Leavenworth, Kansas, City, Directory
1910:

 Lab. No. 4693, Insp. No. 2829. "Tr. of Rhubarb." J. M. Abeles,

Leavenworth.

Found to contain 35.1 per cent alcohol. – Pharmacy Bulletin 6
1916:

Modern Front for the J. M. Abeles Drug Store – The Leavenworth Times, Wednesday, July 26, 1916 (see below)
1917:

Advertisement for Abeles Drug Store (below) – The Leavenworth Times, Sunday, July 29, 1917
1926:

Death of Joseph M. Abeles: 01 August 1926 in Leavenworth, Kansas
2009:

 The Farewell to Abeles Field event will include a reading of a short history of the athletic stadium and recognition of winning teams and various leaders of the past. A video featuring photographs of the field from 1926 to 2009 will be screened. – The Leavenworth Times