Dr. Beach's Restorative Wine Bitters
09 December 2014
Dr. Beach says,

"The effluvia is very offensive; and I have seen worms, or maggots crawling in the flesh; and yet the patient has recovered."

Ahhh….another reference to an unlisted bitters, or is it? Sorry for the poor quality of the advertisement below, as it is all I can find at the moment. Many bitters collectors are familiar with the semi-cabin form, Dr. Beach's Bitters. The bottle pictures used in this post are from my collection and date 30 years or so later than the advertisement. Not much is known about the bottle. Could the Dr. Beach's Restorative Wine Bitters mentioned in the advertisement be related to the Dr. Beach's Bitters bottle? The advertisement was found in the New York Tribune on Thursday, December 31, 1846. Actually, as we will find out, Dr. Beach is extremely important as he was the founder of the Eclectic Medicine movement.
This is another post from the "Restorative Health" series of botanic medicines that include:
Dr. Von Cort's Restorative Bitters (and his Segars for Asthma)
Knapp's Health Restorative Bitters – New York City
Restorative Bitters – Charles H. Ring (Unlisted)
C. Brinckerhoff's Health Restorative New York
John Thomson and his "Thomsonian System of Practice"
The Carlyn Ring and W.C. Ham listing in Bitters Bottles for the Dr. Beach's Bitters is as follows. There is no reference to where the bottle is from.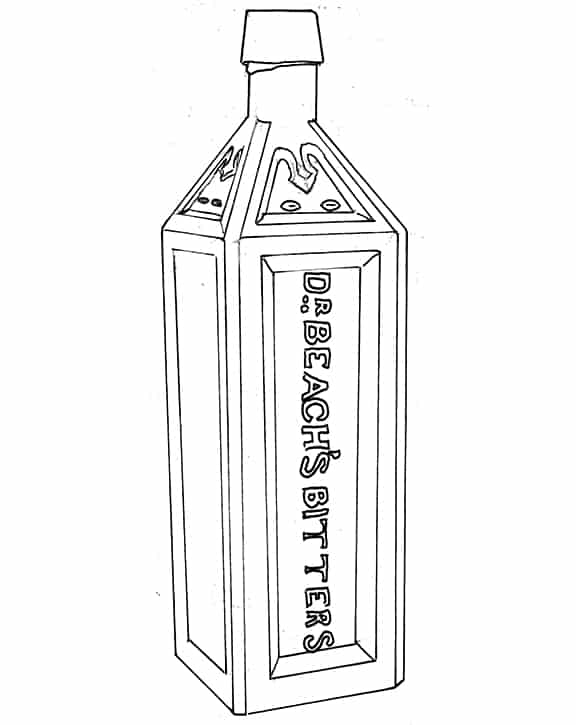 B 39.5

 DR. BEACH'S BITTERS
DR. BEACH'S BITTERS // sp // DR. BEACH'S BITTERS / sp //
9 3/4 x 2 3/4 (7)
Square, semi-cabin, Amber, LTC, Applied mouth, Extremely rare
Apostrophe is upside down and reversed
The Dr. Beach's Restorative Wine Bitters Advertisement
Dr. Beach says:

"I find this the best medicine for fever and ague of any with which I am acquainted."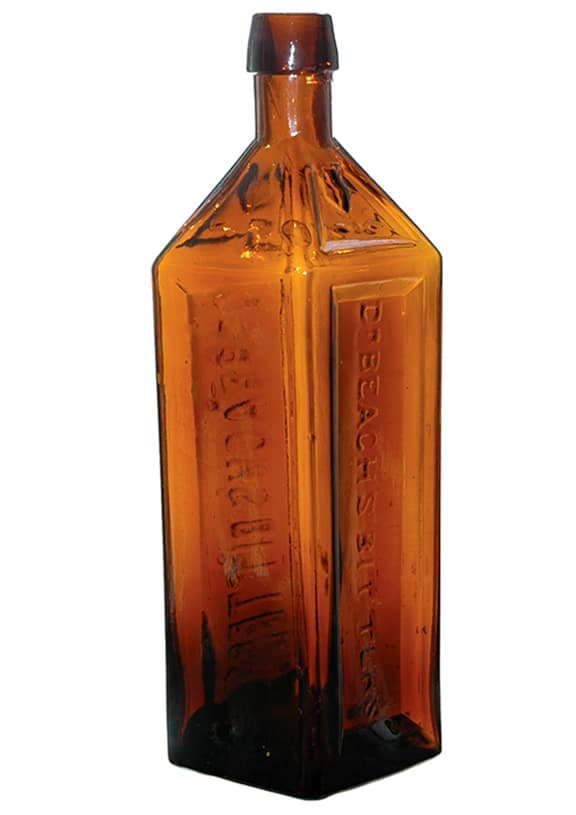 Restorative Bitters
The restorative bitters coming out of New York and New England at that time were usually vegetable based and without alcohol, or at least that is what they said in advertising. I was surprised to see that Holland gin and pure wine was used as a base for the Dr. Beach's Restorative Wine Bitters. Please reference the recipe clipping below.
Dr. Beach says:

"These bitters are priceless. They are sure to correct the bile, and create an appetite, by giving tone to the digestive powers, and may be freely used, both as a restorative, and as a preventative of disease."
As you can see from the 1854 clipping below from the Catalogue of Apothecary, Book and Variety Store, Dr. Beach was a prominent physician and well-known in the medical community. The tall advertisement above says that gold medals were received by Dr. W. Beach who was a Professor of Surgery and Clinical Medicines, from Sovereigns of Europe whose name they bear. The list of Dr. Beach's products is impressive. One advertisement below says that Dr. Beach's formula for his Compound Bitters was made from his Dr. Bone's Bitters and that it was four times the strength of the predecessor. That would be the addition of Holland gin and pure wine.
Who is Dr. Bones?
The Dr. Bone reference by Dr. Beach above has a loose reference in Bitters Bottles as B 145, Old Dr. Bones' Bitters from an advertisement in 1857 in the New York Daily Times (see below). So, Dr. Beach made Dr. Bones Bitters?….interesting…could it be? Am I reading this right? The address below is No. 284 Grand Street in New York, 3rd block east of the Bowery. This might help us find Dr. Beach if they were really one and the same. I am having a hard time believing that there was really a Dr. Bones. I do see a Dr. John Beach at 287 Bowery in New York in 1856. There is no Dr. Bones listing the same year. I am looking in the wrong direction. Who is Dr. Beach and who is Dr. Bones.
Next, I do find the advertisement below for Old Dr. Bone's Bitters which was apparently made by L. H. Bone, son of Dr. Christian Bone addressing at Medical Depot, 559 Sixth Avenue, Junction Broadway in New York city.
Eclectic Medicine
Eclectic medicine was a branch of American medicine which made use of botanical remedies along with other substances and physical therapy practices, popular in the latter half of the 19th and first half of the 20th centuries.
The term was coined by Constantine Samuel Rafinesque (1784-1841), a physician who lived among the Native Americans and observed their use of medicinal plants. Rafinesque used the word eclectic to refer to those physicians who employed whatever was found to be beneficial to their patients (eclectic being derived from the Greek word eklego, meaning "to choose from").
Eclectic medicine appeared as an extension of early American herbal medicine traditions, such as "Thomsonian medicine" in the early 19th century, and Native American medicine. Regular medicine at the time made extensive use of purges with calomel and other mercury-based remedies, as well as extensive bloodletting. Eclectic medicine was a direct reaction to those barbaric practices as well as the desire to exclusivize Thomsonian medicine innovations to "professionals."
Alexander Holmes Baldridge (1795-1874) suggested that the tradition of Eclectic Medicine should be called the American School of Medicine, given its American roots. It bears resemblance to Physiomedicalism, which is practiced in the United Kingdom.
In 1827, a medical tradesperson named Wooster Beach, who broke with John Thomson (see advertisement below) as he believed the field needed to be professionalized, founded the United States Infirmary in New York in 1827 and the Reformed Medical College in 1829, to practice and teach "Eclectic Medicine".
Between 1837 and 1842, Dr. John King of the Eclectic accidentally produced a highly concentrated extract of a plant that he was boiling. Finding it to still be effective, he promoted the use of these "concentrated extract" and tried to patent his formulas. This method of manufacturing herbal medicines was subsequently taken up by a number of companies, at least one of which was a regular medicine company. From about 1845 to 1853, the Eclectics were most strongly associated with this drug production technique. By the mid-1850s, the Shakers ultimately had their own producers engaged in this, which ultimately led to the formation of companies that specializing in these products using their herbs.
The Eclectic Medical Institute in Worthington, Ohio graduated its first class in 1833. After the notorious Resurrection Riot in 1839, the school was evicted from Worthington and it settled in Cincinnati during the winter of 1842-3. The Cincinnati school, incorporated as the Eclectic Medical Institute (EMI), continued until the last class graduation in 1939 more than a century later. Over the decades, other Ohio medical schools had been merged into that institution. The American School of Medicine (Eclectic) in Cincinnati operated from 1839 to 1857, when it merged with the Eclectic Medical Institute.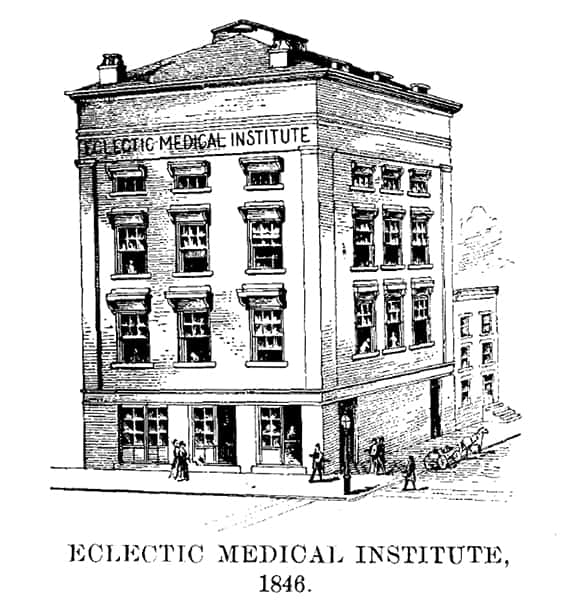 Eclectic medicine expanded during the 1840s as part of a large, populist anti-regular medical movement in North America. It used many principles of Samuel Thomson's family herbal medication but chose to train doctors in physiology and more conventional principles, along with botanical medicine. The American School of Medicine (Eclectic) trained physicians in a dozen or so privately funded medical schools, principally located in the midwestern United States. By the 1850s, several "regular" American medical tradespersons especially from the New York Academy of Medicine, had begun using herbal salves and other preparations.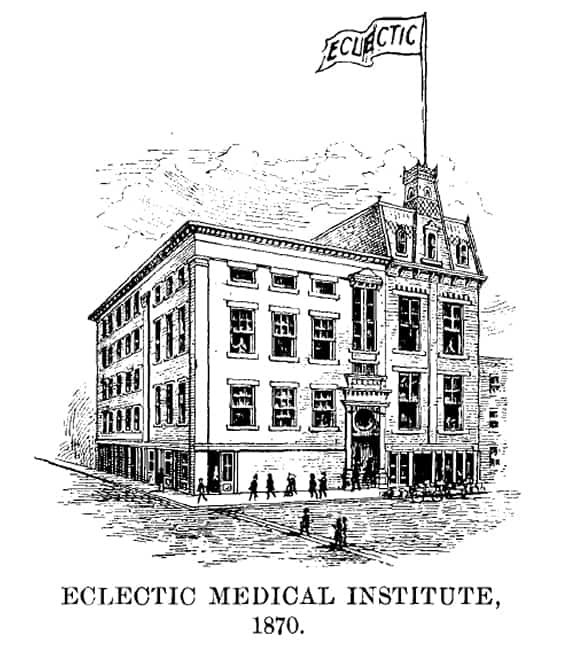 The movement peaked in the 1880s and 1890s. The schools were not approved by the Flexner Report (1910), which called for medical schools to use evidence-based practices. In 1934, J. C. Hubbard, M.D., the president of the Eclectic Medical Association said, "We must choose between being absorbed by the dominant section, our professional activities dictated and controlled, our policies subject to the approval of an unfriendly, prejudiced, self-constituted authority, and soon lose our identity as the Eclectic Section of American Medicine, or adapt ourselves to the general social change and retain the old Eclectic values of individual freedom of thought and action, independence in practice and the right to use that which has stood the test of experience in our service to mankind."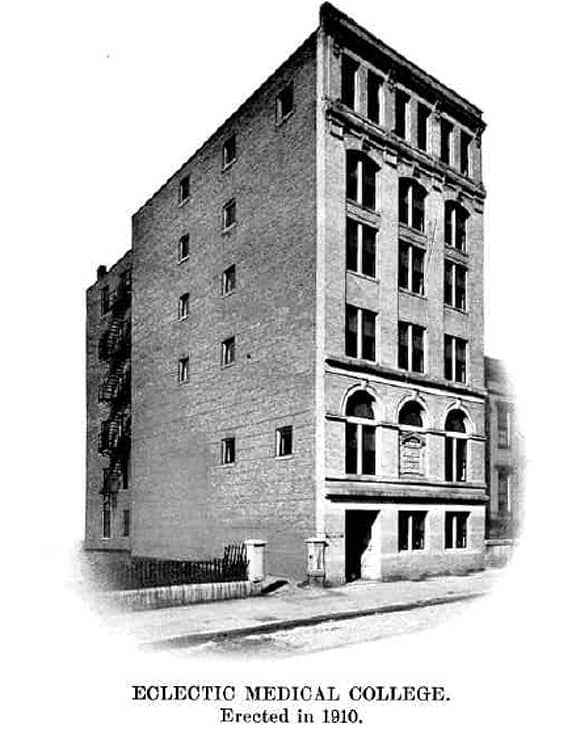 The last Eclectic Medical school closed in Cincinnati in 1939. The Lloyd Library and Museum still maintains the greatest collection of books, papers and publications of the Eclectic physicians, including libraries from the Eclectic medical schools.
The contemporary herbalist Michael Moore recounts: "In 1990 I visited the Lloyd Library in Cincinnati, Ohio, where, in the basement, I found the accumulated libraries of All the Eclectic medical schools, shipped off to the Eclectic Medical College (the "Mother School") as, one by one, they died. Finally, even the E.M.C. died (1939) and there they all were, holding on by the slimmest thread, the writings of a discipline of medicine that survived for a century, was famous (or infamous) for its vast plant 'materia medica,' treated the patient and NOT the pathology, a sophisticated model of vitalist healing."
Major Eclectic practitioners include John Uri Lloyd, John Milton Scudder, Harvey Wickes Felter, John King, Andrew Jackson Howe, Finley Ellingwood, Frederick J. Locke, and William N. Mundy. Harvey Wickes Felter's Eclectic Materia Medica is one of several important Eclectic medical publications dating from the 1920s. It represented the last attempt to stem the tide of "standard practice medicine". This was the antithesis of the model of the rural primary care vitalist physician who was the basis for Eclectic practice. [Wikipedia]
Dr. Wooster Beach
In the early 1820s, in New York City, Wooster Beach (1794-1868) set out to reform the existing forms of medical practice. He did so well that he is now revered as the pathfinder and founder of American Eclecticism in Medicine. He was an accomplished author and was honored on several occasions with royal recognition from ruling princes and kings of the Old World. That is what he was referencing with all of the medals at the top of the subject advertisement in this post.
Dr Beach says:

"that gold medals were received from Sovereigns of Europe whose name they bear"
Wooster Beach was born in Trumbull, Fairfield County, Connecticut in 1794 and learned medicine in an unorthodox way by studying under an unlicensed country doctor living in a secluded part of New Jersey. He obtained unique and uncommon facts regarding treatment and medical procedures and upon returning to the city he obtained his university education and degree. This unique path allowed him an open perspective to practice medicine with his own vision without the interference of modern practice techniques. He leaned strongly toward the use of vegetable medicines opposed to what was then termed mineral medicines. To spread the gospel, he opened a clinical school known as the United States Infirmary in 1827. Prior to this he instructed students at home as early as 1825. By 1829 the school was enlarged and was named the Reformed Medical Academy. The following year it was called the Reformed Medical College of the City of New York. He practiced medicine and was a physician at a number of addresses in New York city including 51 Roosevelt in 1846 and 1827. In 1839 and 1840 he is at 196 Bowery. He also has a partner and they practice as Beach and Upham. In 1846 he is at 239 Bowery. His son, Lewis Beach is also a physician at the same address.
Dr. Beach next migrated westward toward Ohio, where he was accepted by a medical school in Columbus, Ohio around 1834. Between 1820 and 1834, he like others promoted Thomsonianism, and attended their regional and national Friends' meetings. But Beach's Reformed Medicine was also into certain allopathic principles as well, and so soon came to be called "Eclectic Medicine" according to the recollections of a fellow student, historian and practitioner of this field), due to comments about "the eclectic nature" of how its practitioners selected their remedies. This field allowed for most kinds of treatment then popular with the exception of blood-letting and the use of mineral remedies (although some exceptions exist), and due to some ongoing politics then developing, the practice of homeopathy. This form of non-allopathic medicine had a very strong following between upstate New York and Ohio. Its association with the Shaker's herbal medicine market however is uncertain during the early years (pre-1835).
Dr. Wooster Beach died in New York in 1866.
Conclusion:
We certainly have a couple of unlisted bitters here with the Dr. Beach's Restorative Wine Bitters and the Dr. Beach's Compound Bitters. The Dr. Bones's Bitters listing can also be updated. I see no direct link to my Dr. Beach's Bottle being put out by Wooster Beach. Probably the name was used down the line somewhere. I will continue looking.