Knapp's Health Restorative Bitters – New York City
06 December 2014

It was widely reported that Peter B. Knapp ran the oldest drug store in New York City at 362 Hudson Street. His Knapp's Wholesale and Retail Drug Store and Knapp's Medical Laboratory was established in 1839 when herb remedies were in vogue and prescriptions unknown. He operated the business without interruption until the time of his death, at the age of 89 years, in 1900. After his death, his son Franklin F. Knapp of the Lee Broom & Duster Company in Chicago, came to New York to continue to run the business. He was a graduate of the New York College of Pharmacy, class of 1875. That is Peter B. Knapp standing in the doorway above.
Mr. Knapp also put out Knapp's Health Restorative Bitters from around 1835 – 1850 as the advertisement below indicates. He sold it for 50 cents per bottle.
What prompted this post was the very similar Restorative Bitters by Charles H. Ring, also from New York City.
The Carlyn Ring and W.C. Ham listing in Bitters Bottles is as follows: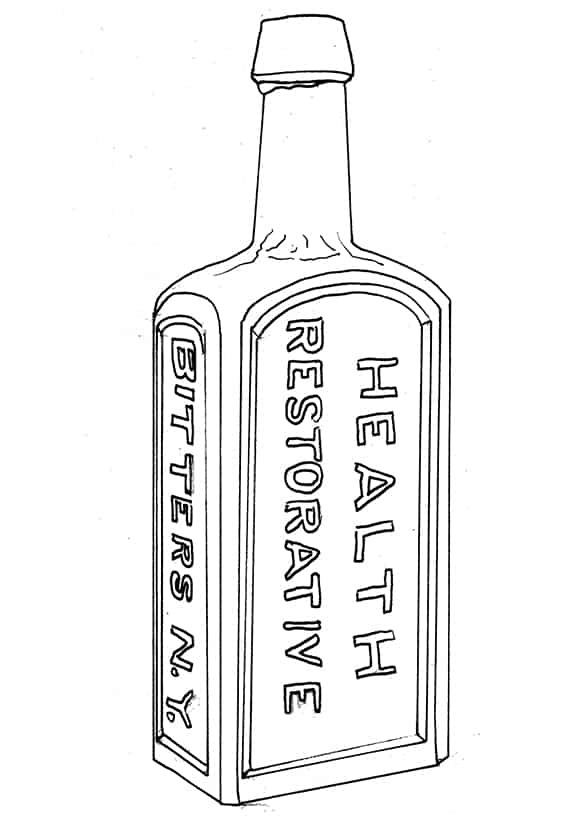 K 62

 KNAPP'S HEALTH RESTORATIVE BITTERS
KNAPP'S // HEALTH / RESTORATIVE  // BITTERS
8 1/8
Rectangular, Aqua, LTC, Applied mouth, Rough pontil mark, Very rare
New York Daily Times May 12, 1852
Drug Catalog: 1883 Schieffelin
Peter B. Knapp
1839: Knapp's Wholesale and Retail Drug Store was established in 1839.
1842: Peter B. Knapp, botanic medicine, 362 Hudson – The New York City Directory
1844: Peter B. Knapp, druggist, 362 Hudson, h. 362 Hudson – The New York City Directory
1850: Knapp's Health Restorative Bitters advertisements (see above)
1855: Peter B. Knapp, age 44, druggist, New York City, Ward 12, wife Elizabeth, children, Mary E., Emma A., Julia F. and Franklin  – New York State Census
1856: Peter B. Knapp, druggist, 362 Hudson – Trows New York City Directory
1877: Peter B. Knapp, druggist, 362 Hudson – Gouldings New York City Directory
1900: Peter B. Knapp, one of the oldest retail druggists in New York city, died last month, July 1800 – The Western Druggist