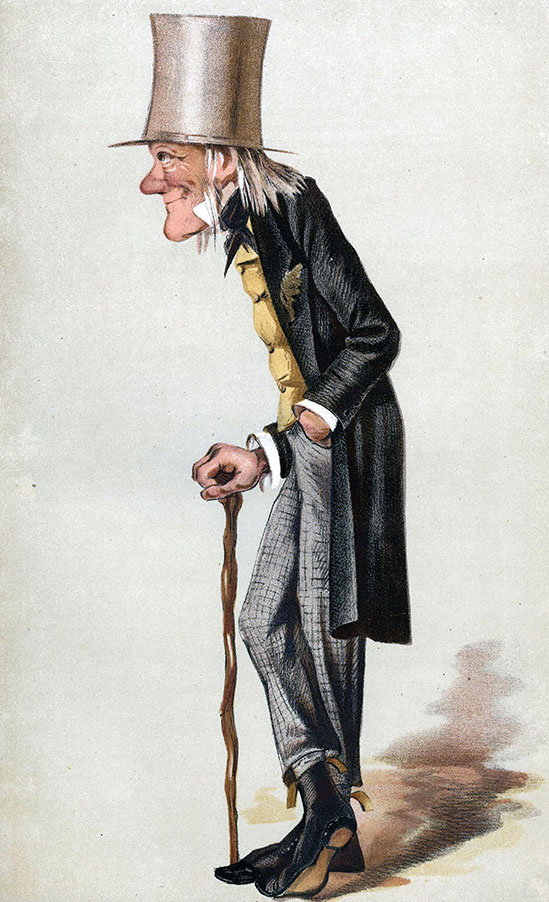 Old Dr. Bone's Bitters and Pills
10 December 2014

At first when I saw mention of an Old Dr. Bones' Bitters I thought it was in reference to a fictitious person and product. I was wrong. Dr. Bone is real. When I imagine what he may have looked like, I conjure up the image above.
This world's benefactor all nations will bless —
     EXCELSIOR! he towers alone —
The sick and the feeble will ever express
     Their gratitude to OLD DR. BONE!
Like the Fountain of Health, his Bitters and Pills,
     Endowed by the blessings of Heaven,
Have proved a specific for all human ills,
     When'er to mankind they've been given!
The Dr. Beach's Restorative Wine Bitters post the other day led me to Dr. Bone. One of the Beach advertisements said that Dr. Beach's formula for his Compound Bitters was made from Dr. Bone's Bitters and that it was four times the strength of the predecessor.
Dr. Lewis H. Bone was the son of Dr. Christian Bone. He was one of the pioneering physicians of New York. Lewis was born in New Jersey about 1831. His father was from Germany and his mother was born in New York. The Bone family were one of the original members of the Eclectic Medicine Movement. Dr. Lewis Bone said that his bitters had been used by for seventy years, and if true, take this product back to 1797 or so. Quite old for a bitters. In 1857, his Medical Depot and "The Root Doctors Family Medicines" was addressed at 559 Sixth Avenue and the intersection of Broadway in New York City.
Quite wisely, Dr. Bone said that you needed to take both his bitters and pills to make the cure effective. The bitters sold for a dollar and the pills 25 cents per box. It is odd, other 1857 advertisements say he is located at 284 Grand Street, east of the Bowery. That is probably where he practiced. He said "he would much prefer having a personal interview with each of his patients, but those residing at a distance, by remitting $3, and stating symptoms of their disease, will receive medicines by express that will shortly restore them to health."
Dr. Bone had a son with the same name who was a physician and graduate of The Eclectic Medical College. The Old Dr. Bone's Bitters was only marketed in 1857 in New York and 1858 in Ohio, at least from the advertisements that I could find. Of course he said that his products were sold by druggists and "country merchants" everywhere.
Old Dr. Bones' Bitters is listed in Bitters Bottles as B 145, Old Dr. Bones' Bitters from an advertisement in 1857 in the New York Daily Times. This listing probably wants to be expanded in the forthcoming Supplement 2.
Select Listings:
1831: Lewis H. Bone born in New Jersey about 1831. Father from Germany. Mother born in New York.
1857: Advertisement for Old Dr. Bone's Bitters and Pills, 284 Grand street, NYC – Rockland County Journal, December 19, 1857
1859: Lewis H. Bone, physician, 284 Grand – New York City Directory
1860: Lewis H. Bone, New York County, Township: 8 W. Nyc Div.3 – Federal Population Schedule
1862-66: Lewis H. Bone, physician, tax assessment, New York city – U.S. IRS Tax Assessment
1867-1868: Lewis H. Bone, physician, 114 W. 16th – Wilson's Business Directory of New York City Directory
1870: Lewis H. Bone, physician, age 39, Lewis H. Bone, clerk in drug store, age 18 (son) – United States Federal Census
1870-1873: L. H. Bone, physician, 106 W 16th – New York City Directory
1874-1875: Lewis H. Bone, M.D., student, practitioner, New York – The Eclectic Medical College
1876-1879: Lewis H. Bone, M.D., physician, graduate, 106 W. 16th. New York – The Eclectic Medical College
1877: Dr. L. H. Bone, New York City, Names of Some of the Pioneering Physicians of New York – Documents of the Assembly of the State of New York, 1877
1880: Lewis H. Bone, M.D., age 49, New York City, wife Amie. – United Stated Federal Census
1880-1891: Lewis H. Bone, physician, 243 W. 24th – New York City Directory