I was pleased to see that you chose to use all of the photos relating to my John Moffat Phoenix Bitters. I sure would like to find the rare aqua one dollar or two dollar variant sometime. It certainly gives me something to keep searching for.
I was also pleased to see and read your support post on the Moffat family and literature. Can one assume the C. Brinckerhoff Health Restorative product (medicine or bitters?) was related to the Moffat family (Rachel-Isaac-William) noted in your post? Very interesting.
Jack (Stecher)

C. Brinckerhoff's Health Restorative
New York – Price $1.00

I was surprised to find out that the 'B' in 'William B. Moffat', of John Moffat Phoenix Bitters fame, stood for 'Brinckerhoff'. This unusual name must be somehow related to the 'C. Brinckerhoff's Health Restorative' bottle pictured above. The bottles overlap in the same time period of 1845 – 1849 and they are also both New York City products.
Well unfortunately, it is not that easy to connect as I can find no reference to 'John Moffat Phoenix Bitters' in 'Health Restorative' material or vice versa. This really is a puzzler for me as the C. Brinckerhoff is of similar style, color and typography with the Phoenix Bitters (see picture below). Even the pricing conventions such as listing the price on the bottle is similar.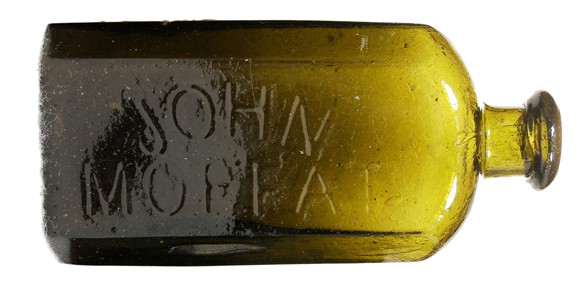 Read More: Jack Stecher and his John Moffat Phoenix Bitters
Read More: John Moffat Phoenix Bitters Support
Cornelius Brinckerhoff
What we do know is the the 'C' in 'C. Brinkerhoff' is for 'Cornelius' as in a 1842 Directory listing there is a notation for Cornelius Brinckerhoff, proprietor of the Health Restorative located at 589 Broome with a residence at 70 Eldridge. There is also reference of a Brinckerhoff's Almanac for 1846 which I can not find an example of.
Cornelius Brinckerhoff began to prepare and sell proprietary medicines in New York City around 1840. He retired after a decade of successfully marketing his Health Restorative, a Pile Injection Fluid and the Celebrated Ulcer Specific (1846). This product was advertised between 1845 and 1849 as a cure for consumption (tuberculosis), liver complaint, asthma, colds, coughs, and pains in the side and chest. The bottle usually has a crudely applied mouth and was blown in a two-piece "hinge" mold (as indicated by the mold seam crossing diagonally across the entire base). There is usually a sand pontil scar.
Brinckerhoff Crossover
John Moffat was born on 03 August 1788 and died in New York City on 03 November 1863. He was married in Troy, New York on 10 September 1816 to Rachel Marie Brinckerhoff, (daughter of Isaac Brickerhoff and Sophie Quackenbos). Their son was William Brinkerhoff Moffat.
Maybe Cornelius Brinkerhoff was a son of John and Rachel Marie Moffat which would make him Williams brother though I see no support for this in Ancestry.com. The Moffat family will also break up and sue each other over the Moffat brand in 1863. What a mystery! I bet someone out there can help tie or disconnect these brands.
C. Brinckerhoff Health Restorative Examples