Cotton's Southern Star Stomach Bitters
On September 9, 1957, Hattie Cotton was dynamited because one African-American girl had been enrolled in first grade.
Top picture is a crowd gathered at the bombing site.
07 December 2014

Cotton's Southern Star Stomach Bitters was manufactured by Martin C. Cotton at 292 South Cherry Street in Nashville, Tennessee. He said that his bitters were "purely medicinal and are presented to the public as a remedy prepared especially for the miasmatic diseases of the South". I am not aware of any examples of this bottle nor can I tell you if it is labeled and/or embossed. Neat name though. I can almost imagine what an embossed example might look like.
Finding the advertisement below was the motivation for this post. The Carlyn Ring and W.C. Ham listing in Bitters Bottles is as follows:
C 239

 COTTON'S SOUTHERN STAR STOMACH BITTERS

*

N. C. Cotton, Sole Proprietor, Nashville, Tennessee

*Should be M. C. Cotton


Nashville Union & American May 24 1870
Martin C. Cotton
Martin C. Cotton was born in Davidson, Tennessee in 1827 and lived in Nashville most if not all of his life. He married Margaret Mosely and they had three children, Fanny, Willie and Hattie.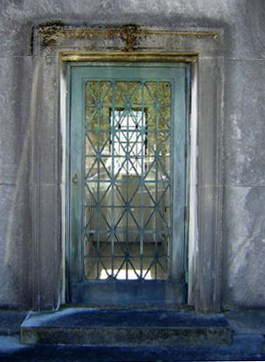 From about 1855 to 1860, Cotton was Nashville's sexton working and living at the Nashville City Cemetery. One directory listing says, "keeper of the city grave yard, near the gate", meaning if you have mail for him or if you are looking for him, look near the gate. Addresses were so much simpler then. In 1865 he moves into the retail drug business as a partner of Cotton and Adams (A. A. Adams, M.D.), druggists and apothecaries at South Cherry Street near Fireman's Hall. Again, pre zip-code. Gravekeeper to druggist? Not that common of a career change.
From 1867 to 1872, Cotton has his own drug store at 292 South Cherry Street, presumable the same location as Cotton & Adams. From 1868 to 1872, he is the proprietor of Cotton's Southern Star Stomach Bitters. He quits the drug business in 1873 he next sells insurance for Aetna Life Insurance Company until his death in 1879.
Here is some interesting information about his daughter Hattie.
Hattie Reeder Cotton
A teacher for forty-nine years in the Nashville Public Schools, Hattie Reeder Cotton was the third child of Nashville druggist Martin C. Cotton and his wife, Margaret. She began her teaching career at the age of fifteen. Miss Cotton loved teaching and understood children. Then superintendent of Nashville Schools, H.C. Weber, said, "she had more power to inoculate children with a desire to learn than any person he had ever known." Miss Hattie had a winning way and a good sense of humor. She was popular with the board of education and parents. She taught in two East Nashville elementary schools, Main Street and Warner. Tuberculosis ended Miss Hattie's teaching life. Retiring only when she became too ill to continue, the last eighteen months of her life were spent at the Davidson County Tuberculosis Hospital. Miss Hattie is buried in the historic Nashville Cemetery. The original Hattie Cotton building had been designed by one of her former pupils, architect Joseph Holman and was built as a tribute to her. Miss Hattie was a small lady in stature but a great person and invaluable in the lives of many children's' education.
Haddie Cotton Elementary School
Hattie Cotton was built because there had not been an elementary school for the white children in the community west of Gallatin Pike to attend. The community petitioned the Nashville Board of Education for an elementary school to meet their needs.
The school was named in honor of a teacher by the name of Hattie Reeder Cotton. She had taught for forty-nine years in the Nashville Public School system. Hattie Cotton School opened in 1950 and Miss Margaret Cate was the principal. There were 385 students and 13 teachers housed at Hattie Cotton. The school was opened to teach grades kindergarten through sixth grades. In the fall of 1957, the Supreme Court had already ordered desegregation of schools. About thirteen African-American elementary school students had gained the right to attend five different predominately white schools. Some white parents resisted their attending these schools by keeping half of the white students at home from school. This passive resistance lasted about a month. On September 9, 1957, Hattie Cotton was dynamited because one African-American girl had been enrolled in first grade. The entire front right corner was damaged in this explosion. Through the tireless efforts of Miss Cate and the staff the damage was cleared and school was able to be conducted in the remainder of the building after just a few weeks.
Beginning in the 1980's the needs of the school had outgrown the original building and in 1996 a new building was built on the original 6.98 acres. Today, Hattie Cotton is a two-story building with 28 classrooms, one computer lab, a library media center, lunchroom/ auditorium, four specialized rooms for art, music and small reading groups, and a full size gymnasium.
Martin C. Cotton
1827: Martin C. Cotton born about 1827 in Davidson, Tennessee
1855-1857: Martin Cotton, sexton, Cherry st at cemetery – Nashville Tennessee City Directory
1859: Martin Cotton, keeper of the city grave yard, near the gate – Nashville Tennessee City Directory
1860: M. C. Cotton, city sexton, residence near the cemetery – Nashville Tennessee City Directory
1865-1866: Cotton & Adams, druggists and apothecaries (M. C. Cotton, A. A. Adams, M.D. , e s S. Cherry nr Fireman's Hall) – Nashville Tennessee City Directory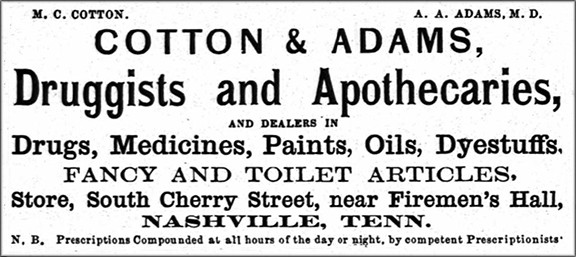 1867-1869: M. C. Cotton, druggist, 292 S. Cherry, h. 313 S. College – Nashville Tennessee City Directory
1870: M. C. Cotton, age 42, Nashville Ward 8, Davidson, Tennessee, wife Margaret, children: Fanny, Willie and Hattie – United States Federal Census
1870: M.C. Cotton, Drugs and Medicines – Nashville Tennessee City Directory
1871: M.C. Cotton, retail druggist, 292 S. Cherry – Nashville Tennessee City Directory
1871: Cotton's Southern Star Stomach Bitters advertisement – Nashville Union and American, Wednesday, February 8, 1871 (see below)
1872: M. C. Cotton, druggist, 292 S. Cherry, h. 313 S. College, proprietor Cotton's bitters – Nashville Tennessee City Directory
1873-1876: M. C. Cotton, agent, Aetna Life Insurance Company, h. 313 S. College – Nashville Tennessee City Directory
1877: M. C. Cotton v. Brien and Woodard, Davidson, Tennessee – Tennessee Supreme Court Case
1879: death M. C. Cotton, Nashville, Davidson County, Tennessee, 8 December 1879
1880: Margaret Cotton, widow Martin C. Cotton, h. 234 S. College – Nashville City Directory