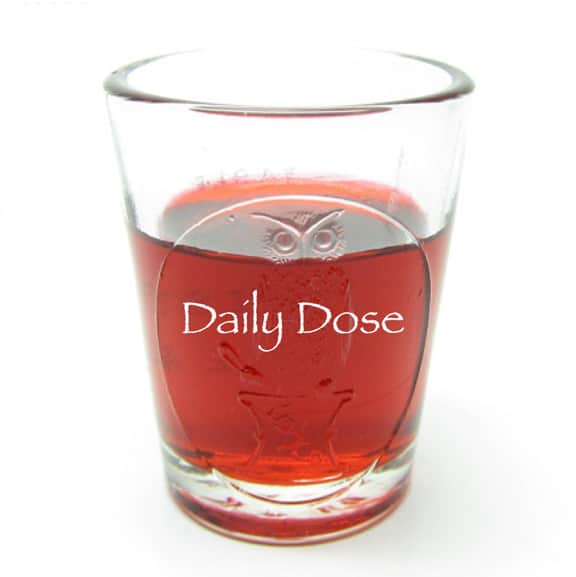 SEPTEMBER

  

|

 

2 0 1 4
Monday, 29 September 2014
Kind of fun with all these extremely rare, listed and listed bitters that are surfacing. It is a great time to be a bitters collector. Hearing of an extremely rare Dr. Whitney's Bitters from Olean, New York this morning. The neat thing is, at least for me, is just learning and recording these bitters. Of course if I can add it to my collection, that is nice to Ke-mo sah-bee.
Saturday, 27 September 2014

I like this excerpt from an early Iron Bitters newspaper advertisement. From Dr. Cure. Read: Baltimore's Iron Bitters – Brown Chemical Company
Friday, 26 September 2014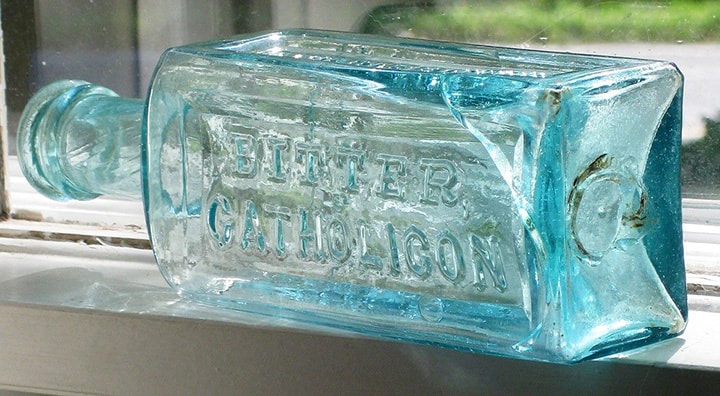 Working on a post for an early, extremely rare and pontiled, "Swayne's – Valuable Bitters – Bitter, / Catholicon – Philada" bottle that I purchased last night from a Vermont dealer and collector.
Thursday, 25 September 2014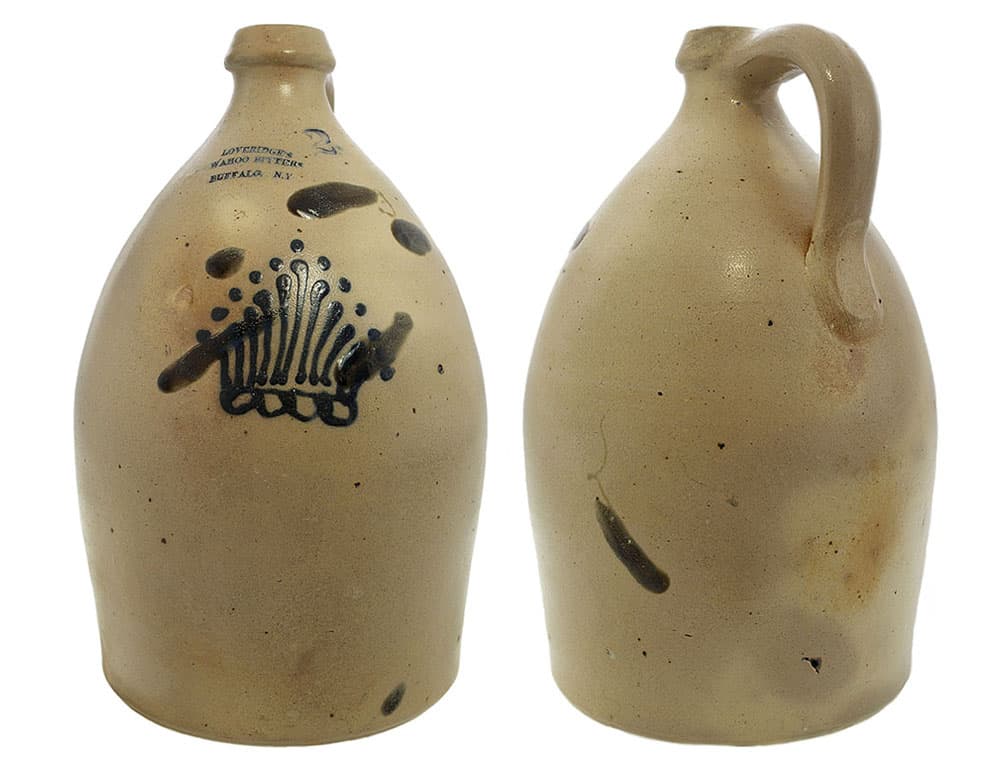 Picked up the Loveridge's Wahoo Bitters Jug the other night from the Glass Works auction. If you remember, I saw this same jug at the Lexington National. Read: Loveridge's Wahoo Bitters Jug – Buffalo N.Y.
Tuesday, 23 September 2014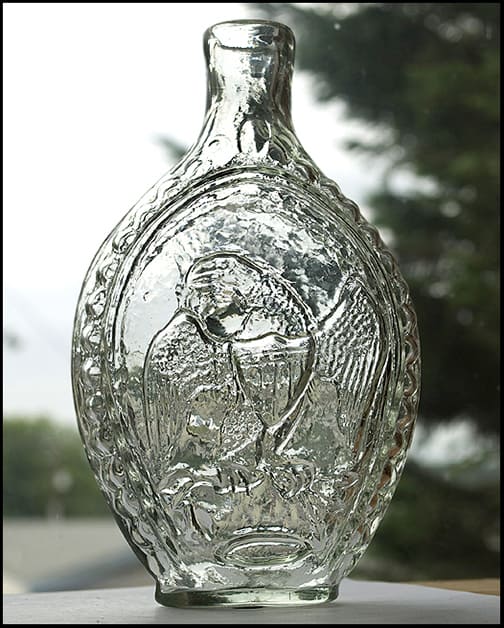 Sorry just so busy. In Kentucky again today on business. Was watching the Glass Works Auction last night. Of particular interest was the "Snake of Corruption" historical flask. Wow-o-Wow. I understand one exists in screaming yellow.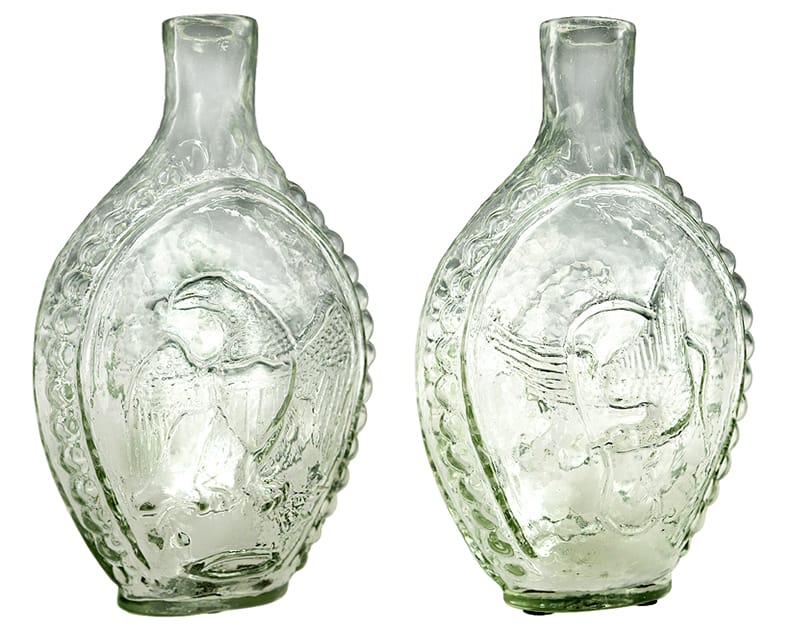 150. AMERICAN EAGLE – EAGLE WITH SERPENT IN BEAK, (GII-9), Pittsburgh District, ca. 1835 – 1840 clear glass pint, pontil scarred base, sheared and tooled lip.
Pristine perfect and with an exceptional impression, one of the best! This very rare flask was rated as number 29 in McKearin's, American Glass 'top 40' historical flasks. Referred to as the ' 6f9 Snake of Corruption' it has always been believed to have been made for either William Henry Harrison Presidential campaign of 1836, when he lost to Martin Van Buren, or 1840 when he defeated Van Buren trying for his second term. In our opinion this is the finest example of this historically important flask that we have seen!
Thursday, 18 September 2014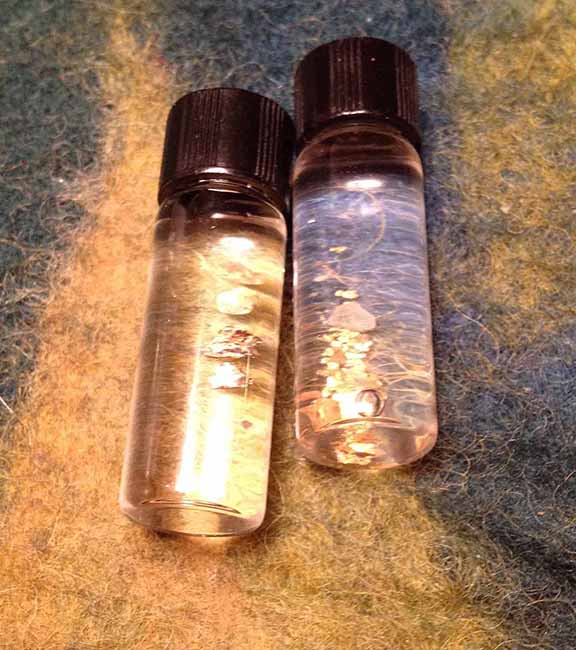 Just getting back from Downieville and Sacramento last night. A quickly paced and fun week for sure. A group of bears visited us each night. That added some suspense. Especially since one got into the local pizza parlor. Jerry Forbes and I tried our luck panning for gold on Tuesday. Thought I would share some pictures.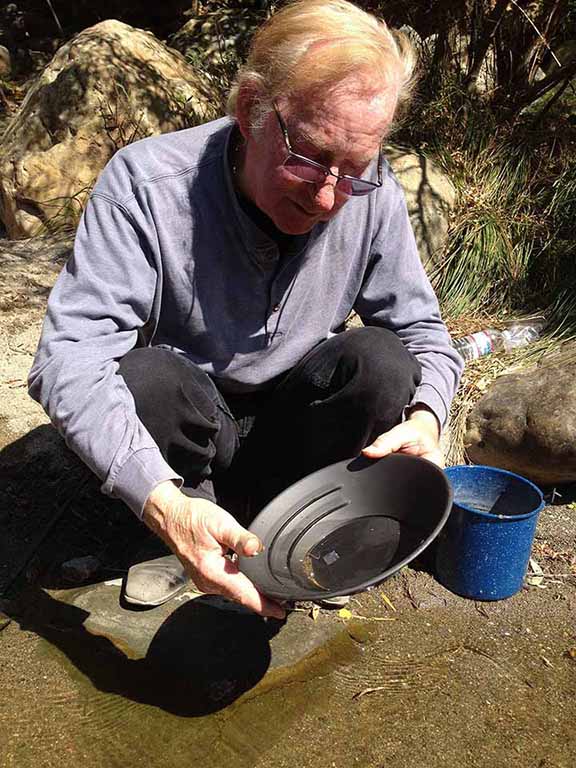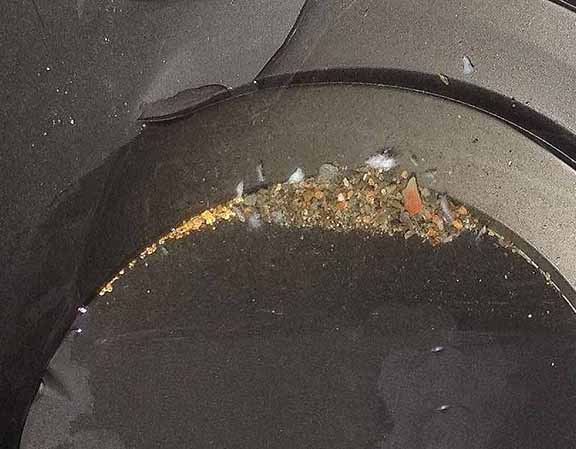 [from Eric McGuire] Regarding Jerry's very nice labeled example of the Hufeland's Celebrated Swiss Stomach Bitters bottle, as you noted, it all began with J. G. Frisch, the earliest proprietor. I have attached a copy of the label (see below) which was deposited with the Secretary of State of California as Trade Mark No. 40, in 1864.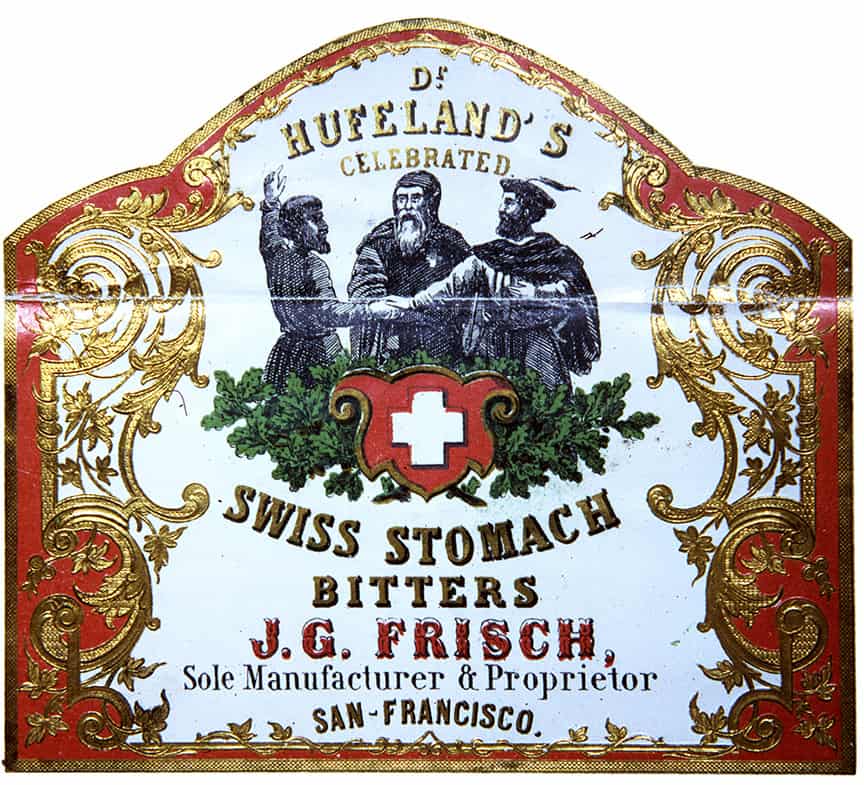 Frisch was an important figure in the early liquor industry of California but is not well-known, as he died fairly early in the history of the West. Johann Gottfried Frisch died in San Francisco on December 26, 1865. That Thomas Taylor, the well-known San Francisco and Virginia City liquor dealer would succeed in Frisch's business was natural since Taylor was running the business anyway in Frisch's later years, and most importantly, Taylor was his son-in-law. He had married J. G. and Dorotea Frisch's daughter, Bertha. To make things even more interesting, the Frisch's had another daughter, Wilhelmine. She married Amandus Fenkhausen, who was also a successful San Francisco liquor dealer.
Monday, 15 September 2014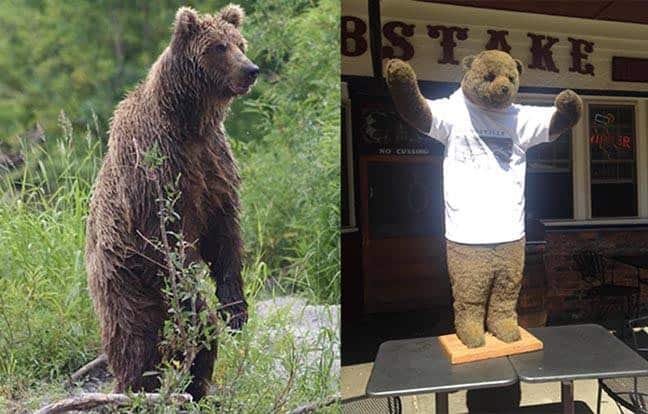 [from last Friday] CoCo and I took our run in the mountains and saw a big BEAR this early morning in Downieville as we prepare for the big party tonight at Rick Simi's. It was only later when the sun came up, and I had my glasses on, that I saw that mean bear again. At least that is what I told Elizabeth. Yipes Strips. [Update] Not kidding. Bear broke into Downieville pizza joint last night and razed it. Bottle Show just started. Not good if bear gets into show.
Thursday, 11 September 2014
Remember 9/11 my friends. Flight to Sacramento here shortly. Dropped CoCo off at PetSafe. Lunch with Jeff Wichmann, and meeting some folks at the FOHBC 2016 Convention and Hotel facility. Then off to Downieville to meet Jerry Forbes and Cutter, his MinPin.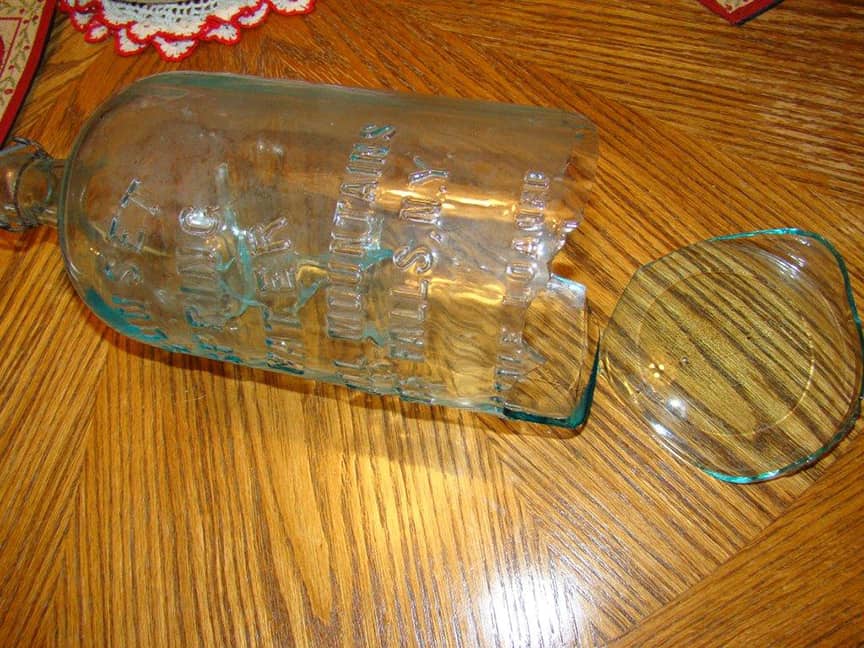 In from Jim Bender… Hi Ferd, I have to tell you in all the years of collecting I have never had this happen. I received my copy of Bottles and Extras the other day and saw where the base had popped off a bottle. I thought boy he must have had a big temperature change or something. Well guess what happened to me last night? I go to our local flea market early Sunday mornings whenever I can to see if there is anything. I normally hope to find something I can sell and at least cover gas. I picked up this Sunset Spring Water bottle. It had been in a barn or something so I put it in our big sink in the laundry room to soak. I left it in there almost a week and decided to finish wash it. Looked good and I sprayed Windex inside as I do most of the time after cleaning a bottle. Carried it out to the sink in the kitchen and put in it the dish strainer. Walked away 15 feet and heard a pop. Looked back and the base had popped off. I have never had this happen before. Please don't run any articles about necks falling off.  Jim Bender
Tuesday, 09 September 2014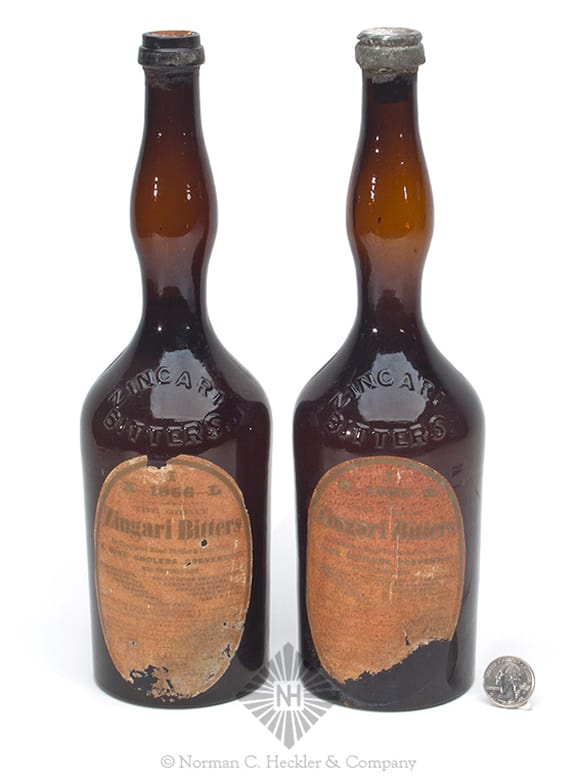 Two outstanding examples of a labeled Zingari Bitters lady's leg in the upcoming Heckler Premier Auction 115. Heckler had one a year ago or so. Suspect someone found a case and is letting a few go at a time.
Read: Lady's Leg Series – Zingari Bitters
Sunday, 07 September 2014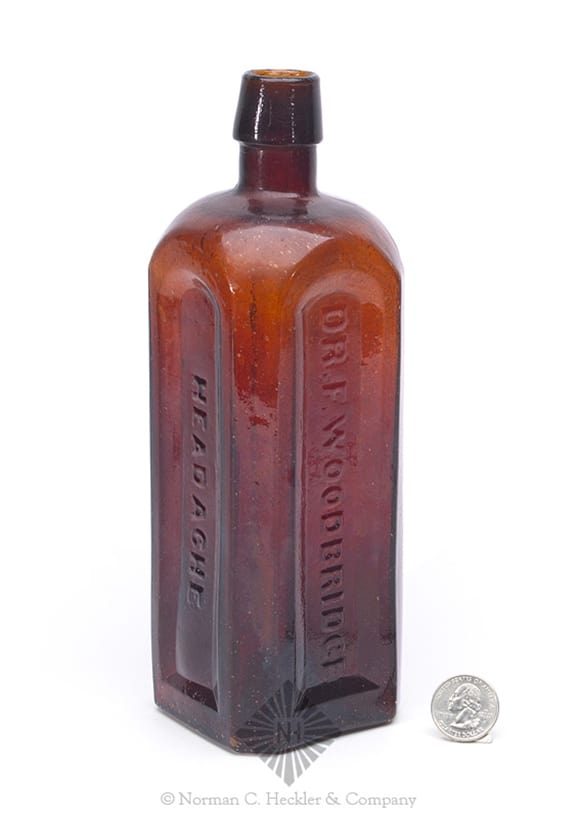 Wow-o-wow. Norman Heckler has a Dr. F. Woodbridge Headache Bitters in his upcoming Premier Auction 115. This is a KILLER square!!!
Read: A 'Fancy' Bitters Square for Headaches
Saturday, 06 September 2014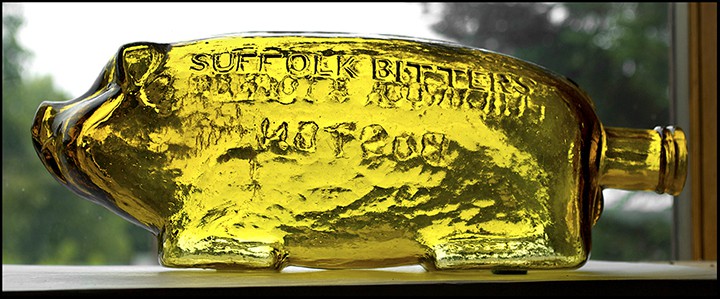 Liking this Suffolk Pig at the new Glass Work Auctions Catalog Auction #104. Ex. Dr. Burton Spiller Collection, Paul Hadley Collection.
Read: Figural Pig Series | Suffolk Bitters
Read: 1970's Suffolk Pig reproductions, but way cool…
Thursday, 04 September 2014
Been in Louisville with client since Tuesday. Finally getting used to losing Monday to a holiday, which was nice but it threw off my weekday internal clock. Off to Miami tonight for business then back to Houston. Sacramento trip next week for American Bottle Auctions, Jeff Wichmann meeting and 2015 Sacramento Convention meeting later in day. Then off to Downieville for show. Can't wait. CoCo coming too!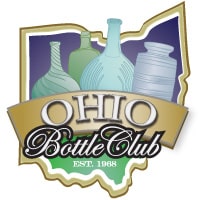 The Ohio Bottle Club announced their new web site yesterday.
I just thought you all would like to see the color news article the Daytona Beach News Journal Newspaper wrote up about our Bottle Club and about our upcoming 45th Annual Bottle & Insulator Show and Sale coming next year on March 20 & 21, 2015. I just wish she would of used the photo of me holding the Wine Bottle (Demijohn/French BonBonne) in the upright position. I was just trying to show folks what a rare Emerald Green Alsace BonBone Looks like with the light shining through it. This is the only small emerald green one I have ever seen in looking for them for 20+ years. Happy Bottle Collecting and Enjoy!!! Dwight (Pettit) Read Article
Monday, 01 September 2014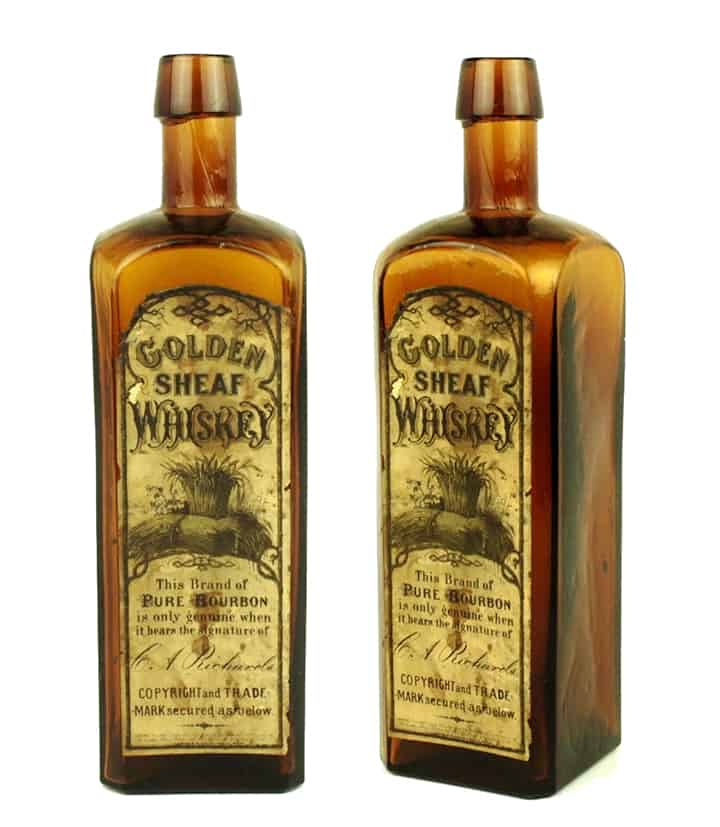 Nice labeled C.A. Richards Golden Sheaf Whiskey on ebay. Read More: Two examples of a C.A. Richards 99 Washington St. Boston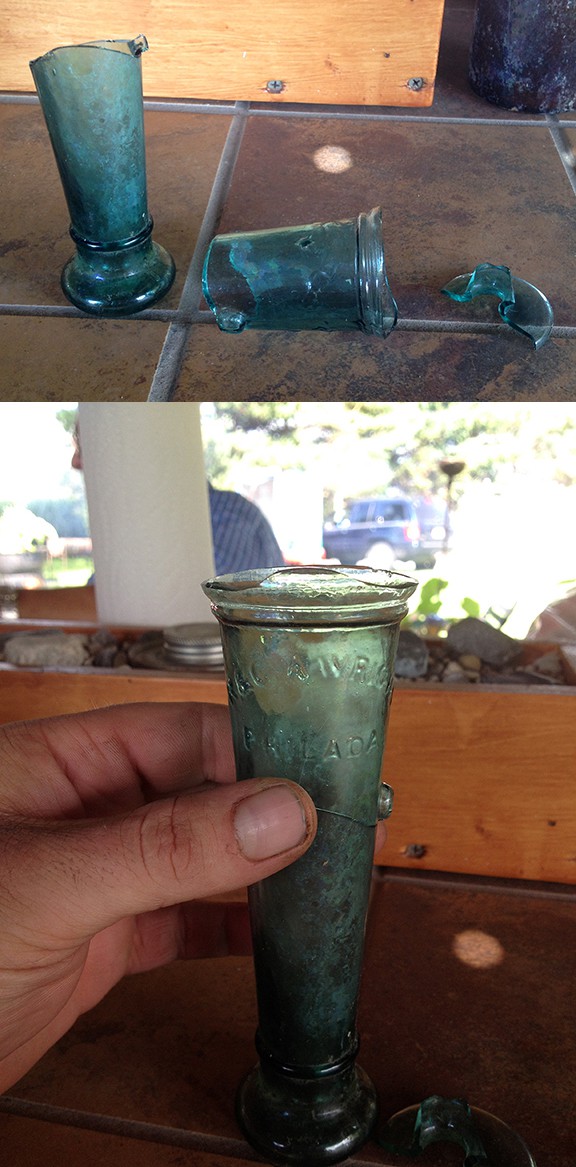 Hi Ferdinand, this is Nic Meyer from Bay City, Michigan. I dug this up today and thought you might be interested in see it. Came out of a pit 6 ft by 6 ft and 5 ft deep. It was full of stuff from the 1860s to 1880 including a nice IRA Paines cobalt target ball, also broken of course. I have almost the whole Wright bottle, it's in three pieces and unfortunately about 2/3 of the top is missing. I sifted for hours but no luck. I was just wondering if this is as rare as the amber ones and if I could find someone interested in this one. Thanks. Nic Meyer
Read: R. & G. A. Wright – Great Gun Cologne