Two California collections at Holabird's Western Americana Collections
07 September 2014
My name is Joe Elcano and I work with Fred Holabird. He has asked me to contact you to see if you could help us. Our September and December auctions have materials that your membership may be interested in it.
In September, we have paper label bottles and California whiskey and brewery paper and envelopes from the Ken Prag Collection. There is quite a variety of other bottle related materials. All together there are 132 lots. I have attached a couple of photographs and the descriptions of those lots are at the bottom of this e-mail.
In December we have a world-class California Brewery Collection from Tom Burt including glassware, signs, back bar, only known Buffalo Brew cooler.
You can see the entire catalog online at Holabird's Western Americana Collections or let me know and I will send you a catalog(s).
If I can be of any further service, please contact me,
Joe Elcano
joe@fhwac.com
3555 Airway Drive
Suite #308
Reno, Nevada 89511
775.851.1859
Fred was very excited to hear from you. He says 'hi.' I attached a list of items for sale in the major wine, whiskey, and brewery related ephemera, paper label bottles, California wine menus, etc in the next e-mail. I have also included a couple of photographs that might be useful. The descriptions for those photographs are below.
Please let me know if I can do anything else to make this easier for you! Joe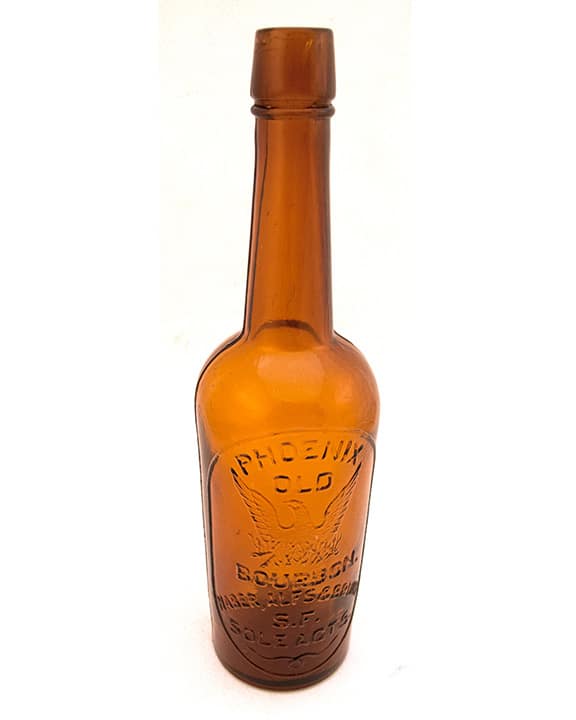 Lot 1465 Fabulous full face Old Phoenix whiskey bottle, c1890 PHOENIX / OLD / picture of eagle / BOURBON / NABER, ALFS, & BRUNE / S.F. / SOLE AGENTS. 11 3/4″, amber, cylinder fifth, glop top, 1880-1895. Barnett #578. tine 1/4 – 1/2″ split inside back. As is!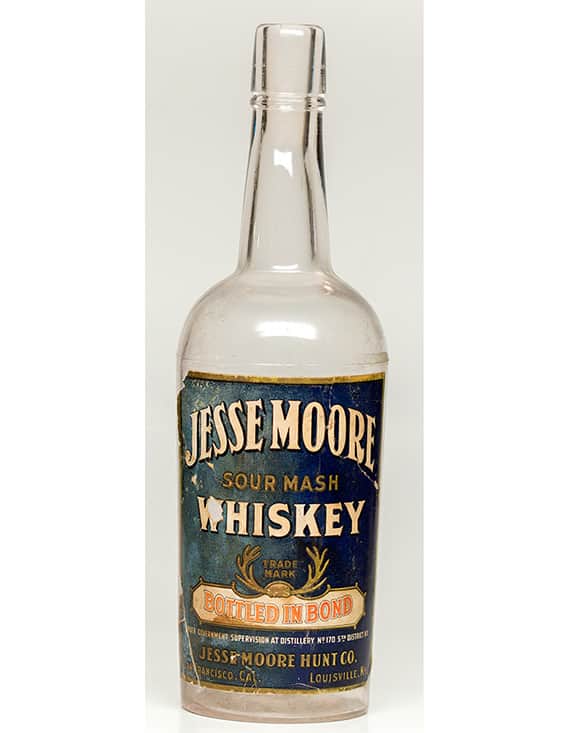 Lot 1480 Jessie Moore Sour Mash Whiskey Under government supervision at distillery #150 in the 5th district. Label has one hole and some tears on left. One rip on right.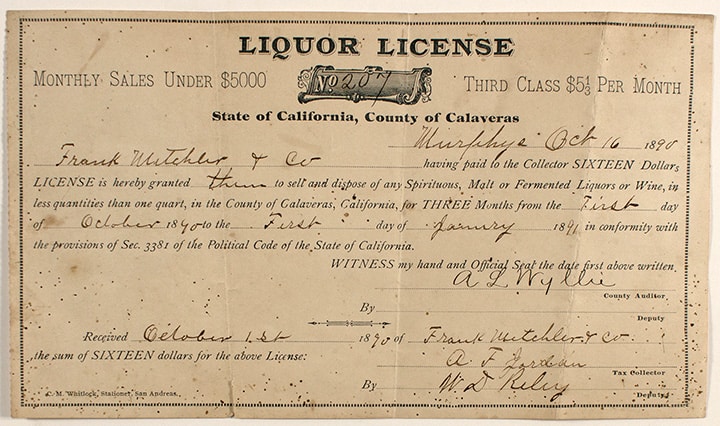 Lot 1484 Original 1890 Liquor License for the Mitchler Saloon in Murphys Signed by Mitchler, auditor A. L. Wyllie, tax collector A. F. Jordan and deputy W. D. Riley. $16.00 ($51/3 per month) for the last quarter of the year. Some spotting, but an incredibly historic piece.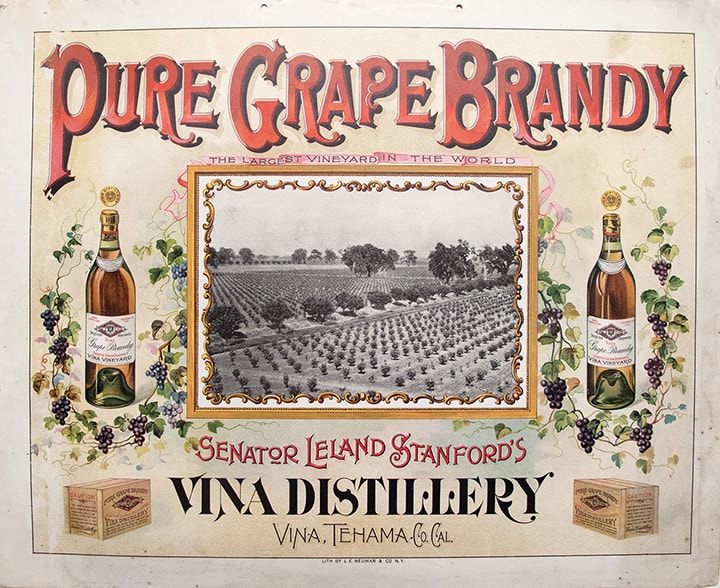 Lot 1550 Senator Leland Stanford's Vina Distillery Leland Stanford acquired some land in Tehama County and he built it into the Great Vina Ranch. In 1955 it came into the hands of Trappist Monks. Very nice broadside of the Stanford Winery in Vina, California. Advertising 'Pure Grape Brandy.' Stanford was U. S. Senator from 1885-1893. He was also the Governor of California, one of the founders of the transcontinental railroad, and founder of Stanford University. There are some small issues for this 125 year old piece: please see photograph.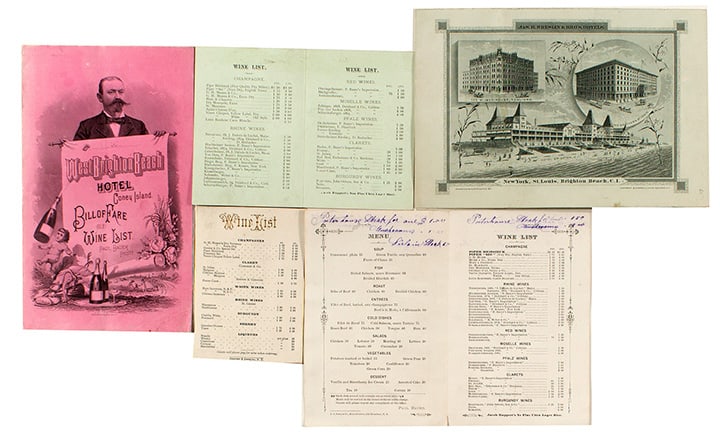 Lot 1577 Brighton Beach Wine List and Menu Group c1870-1880 This is a really fun lot from the resort town of Brighton Beach. This lot has 5 various wine lists and menus from the various establishments during the 1870s-1880s. Just some of the wines featured in the menus are; champagnes, Rhine, burgundy and Moselle. 1) West Brighton Beach Hotel bill of fare and wine list for June 15, 1882. 2) Another item from the West Brighton Beach Hotel, only this was for the 1879 Arion Sea-side Summer-Night's Festival. 3) Small wine list from an unknown location. It features a short list of champagnes, claret, white and Rhine wines, burgundy, sherry and liqueurs. 4) Hotel Brighton dinner and wine list from August 23, 1882. 5) Another item from the West Brighton Beach Hotel's 1879 Arion Sea-side Summer-Night's Festival. This is just a small wine list from the hotel.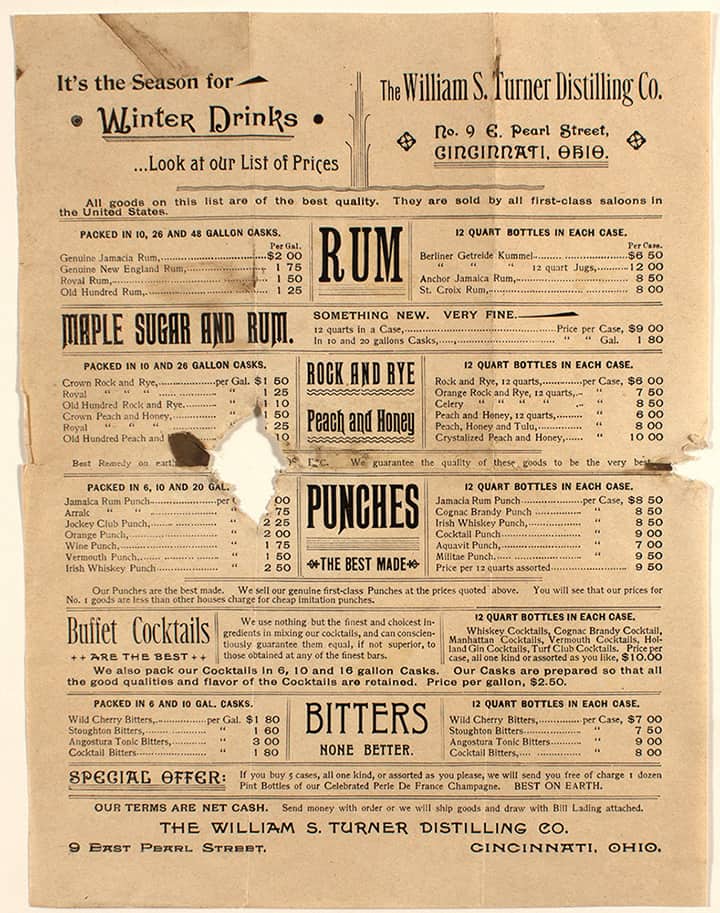 Lot 1578 William S. Turner Distilling Company hand bill and price list Includes Crown Rock & Rye and Wild Cherry Bitters. Hole in middle of paper.