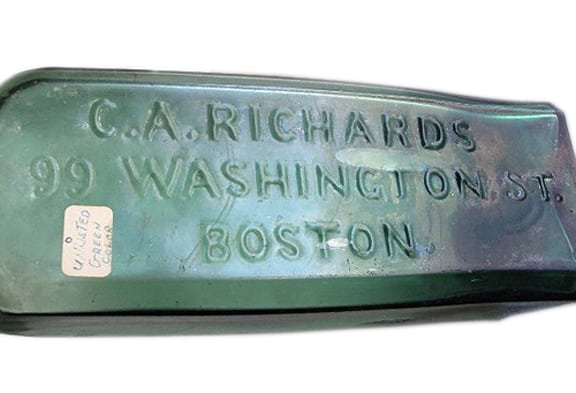 Two examples of a C.A. Richards 99 Washington St. Boston
30 May 2012

An interesting bottle closes on eBay today. This is an extraordinary example of a C. A. RICHARDS 99 WASHINGTON ST. BOSTON square. I believe it is a Bitters though there is thought that is is a Whiskey too. I first saw a C.A. RICHARDS on eBay a year or so ago. It seemed like it stayed up there forever. I suspect the example never sold and was moved to American Glass Gallery. If not, the amber example that just closed on AGG was the third example to pop up recently.
Today's post was prompted by the killer green example. Yum. Wish it had BITTERS embossed on it. That would really be interesting!
Updated 14 September 2012 (R•083014)
Calvin A. Richards
One practically unknown retailer of the period, whose name is associated with whiskey and wine from the Bertrand cargo, was Calvin A. Richards. Boston City Directories (1861, 1867) list Richards as a retailer of wines, cigars and cigarettes at 91 Washington Street during the period between 1861 and 1867. He apparently retailed several brands of bitters in addition to bar goods. Dr. Abbott's Bitters, made by C. W. Abbott and Company, Baltimore, bearing a paper label with the signature of C. A. Richards, was one such product. Richards was also the proprietor of Richard's Sonoma Wine Bitters made from California grapes and "aromatic and healthful plants" (Watson, 1965, pp. 247, 270). His obituary in the Boston Evening Transcript for Tuesday, February 15, 1892, which appears below, indicates that, although he sold wines and liquors for a short time, he was successful in other business ventures, including real estate:
CALVIN A. RICHARDS DEAD. He Succumbs to Heart Disease About Noon
Sketch of His Career.
Calvin A. Richards died at his home 394 Beacon street today shortly after noon. Heart disease is the cause ascribed. At quarter before twelve he answered a telephone call from his office and within half an hour from that time he was dead. Mr. Richards was about sixty years of age. He was a member of the Common Council in 1858, 1859 and 1861, while in 1862 he was a member of the Board of Aldermen.
As a businessman Mr. Richards had been very successful. He began with the manufacture of proprietary articles and with the money made this way he opened a liquor store on the corner of Washington street and Williams court, where he continued for a long time. His earnings he invested in real estate at the South End, including the Metropolitan Hotel. In 1874 he was induced to go into the board of direction of the Metropolitan Street Railroad and he in a short time succeeded President Draper. To take this responsible position Mr. Richards was induced to relinquish many business cases, and endeavor to ascertain if the old-time prestige of the valuable property could be recovered. The Highland Railroad had secured a franchise and was launched into immediate success. The energy at once displayed by Mr. Richards was felt in every department, and his direction was always noted for prompt, vigorous policy. After the Metropolitan was absorbed by the West End Railroad Mr. Richards became connected with the latter road as general manager under President Whitney, but after a few weeks in that position he resigned.
Mr. Richards was one of the largest owners of real estate in the city. For thirty years he has been a large investor in property from Dover street out, and he is believed to have been the largest single owner of real estate in that section. He also owned the John C. Paige building at No. 20 Kilby Street and the Richards building at No. 114 Hate street. For about twenty years he was a resident of West Chester Park, and for the last two years he had lived on Beacon street.
Mr. Richards was the son of L. D. Richards (I think this should be Isaiah D. Richards), who died a few years ago, and with whom he was a partner in the liquor business. He had a wife and one daughter, and his brother Henry also survives him. The funeral services will be held at Mr. Richard's late residence, 394 Beacon street, Thursday noon. The burial will be private.
H. A. Richards
H. A. Richards, whose name and address appear on cases of Kelly's Old Cabin Bitters, may have been a brother or a cousin of Calvin Richards. No references to H. A. Richards were found in the Boston Public Library, indicating that he may have been in silent partnership with Calvin, although the addresses differ.
eBay
C A Richards 99 Washington St Boston Bottle. 9.5″ tall Green Bitters Teal Color. We have a Green, Teal color, CA Richards 99 Washington St Boston Bitters Bottle. Measures about 9.5″ tall and about 2.75″ wide. There are no flea bite cracks or breaks. There are beautiful bubbles in the glass and an iridescent in the color. This is a beautiful bottle. (so far this one is my favorite) What a great find. Great addition to your collection. Please ask all questions before bidding.
American Glass Gallery
C.A. Richards / 99 Washington St. / Boston." Whiskey Bottle, America, 1865 – 1875. Attractive orangy amber near the shoulders with some rich deeper reddish and puce tones, particularly through the center and lower portions of the bottle, square with beveled corners, applied sloping collared mouth – smooth base, ht. 9 ½", near mint; (a pinprick bit of roughness on the edge of the applied lip and a couple of tiny open surface bubbles). A heavy crude example with great character and color.
See Another Similar Post on eBay: Collectible Antique Bottle James Dingley 99 & 1585 Washington St Boston
See picture of another example (near bottom of post) that sold on eBay where seller said this was a Stoddard product.
Note example or variants with slightly different embossings (Co. after C.A Richards) at bottom of post.
ADDITIONAL EXAMPLES