The extremely rare

Shurtleff's Bitters

from Bennington, Vermont
31 May 2014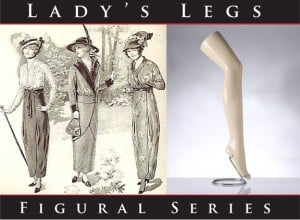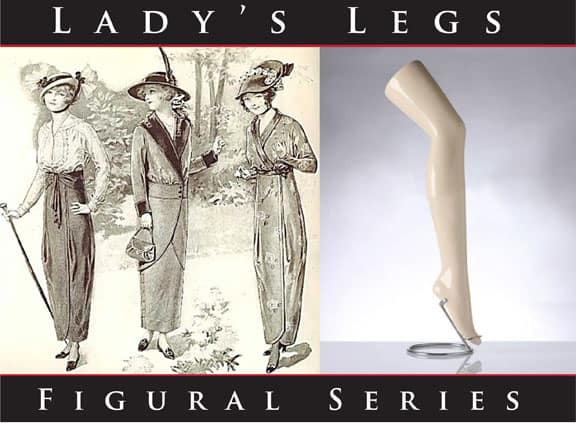 I always like opening my well worn Bitters Bottles books by Carlyn Ring and Bill Ham. Even though I've looked at the two books a million times, I always find something new and interesting. Today it was the lady's leg figural Shurtleff's Bitters and reference to a letter from John Shurtleff's granddaughter dated August 26, 1971, which is reposted below.
John Taylor Shurtleff was an apothecary in Bennington, Vermont. He attended the University of Michigan School of Medicine for two years. Also he attended a small medical college in Woodstock, Vermont. He apprenticed for a chemist in New York City. While in New York he heard of a drug store for sale in Bennington. He bought the store about the time of the Civil War. He made all of his own medicines including cough medicines, headache powders, etc. After his death in 1904, the new owner of the store destroyed all of the medicines and prescriptions, which were worth a great deal of money.
The Carlyn Ring and W.C. Ham listing in Bitters Bottles is as follows: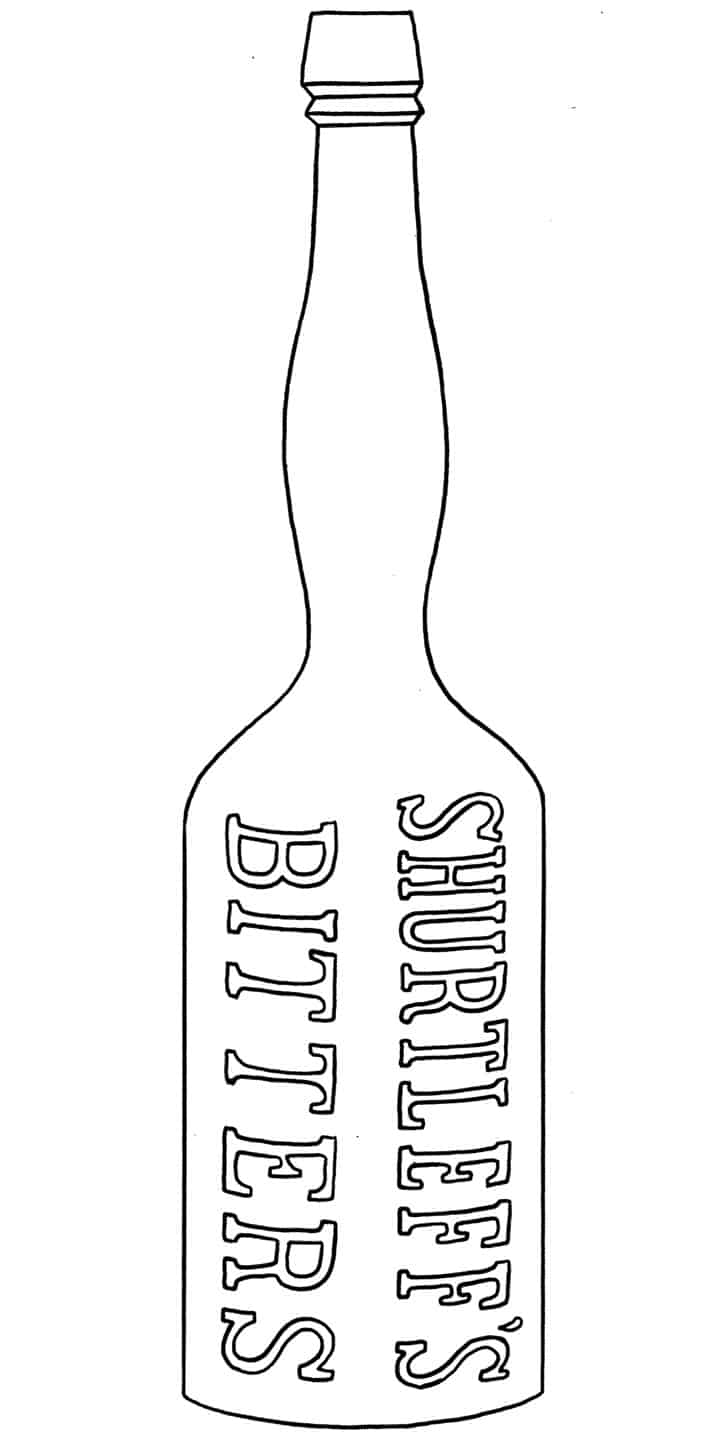 S 104 SHURTLEFF'S BITTERS
SHURTLEFF"S / BITTERS // c //
12 7/16 x 3 5/16 (5 5/8)
Round lady's leg, Amber, LTCR, Applied mouth, Extremely rare
Example dug in Iowa in 1997.
*Top picture and bottle sketch from Bitters Bottles courtesy of Bill Ham
Further research shows that John Taylor Shurtleff was born in Williamsport (Tioga), New York on 31 December 1834 and was the son of Jonas B. Shurtleff and Elizabeth Mower. He was the grandson of Benoni Shurtleff who had a plantation near Trenton, New Jersey and furnished cattle for the Revolutionary army camp near Philadelphia. General Washington was godfather to the planter's son. His grandfather, Benoni, also served in both land and naval battles of the Revolution.
Shurtleff received his early education in the public schools of Bridgewater and Phillipsbury, Pennsylvania, and afterward pursued a course of studies in the Waterville Institute in the state of Maine, and in St. Mary's Academy, P.Q. In 1851, Shurtleff came to Woodstock, Vermont where he entered the Vermont Medical College until 1855. He subsequently found employment as a prescription clerk in the store of Hageman, Clark & Company in New York City, and later took medical courses in the Ann Arbor Medical College.
For two years Shurtleff was employed in drug stores at Ottumwa, Iowa, and Springfield, Illinois, and in 1859 he established himself in the drug business in Bennington, Vermont where he built up one of the largest trades in this line and patented several valuable remedies of his own. It was here and then that he put out Shurtleff's Bitters.
Shurtleff filled many minor public positions and in 1886 was sent as a representative from Bennington to the Legislature, serving on the general committee and was a director of the Bennington County National Bank since first organized. He was also a trustee and treasurer of the Bennington County Savings Bank, and a member of the Bennington Monument Association, which organization he served as director and one of the finance committees. Shurtleff was also actively associated with the Masonic fraternity, for twelve years and presided over Mount Anthony Lodge, No. 13, for many successive terms and filled the positions of High Priest of Temple Chapter, No. 8, and past Grand King of the Grand Chapter of Vermont. He was also past commander of Taft Commandery, No. 8, and for many years acted as senior warden and treasurer of St. Peter's Episcopal Church of Bennington.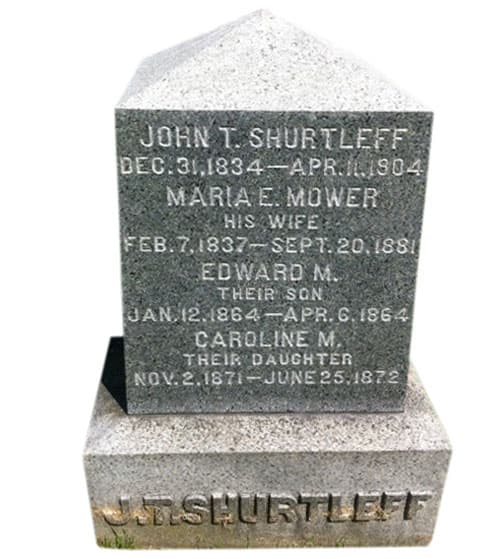 On June 26, 1862, John Taylor Shurtleff was united in marriage to Maria Elizabeth Mower, daughter of Samuel and Julia Mower, of Woodstock. She departed this life in September, 1881, leaving two surviving children: George Henry, and Mary Elizabeth. John Taylor Shurtleff died on 11 April 1904 in Bennington, Vermont. Another great bitters bottle with a story.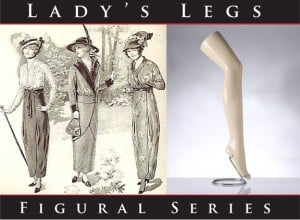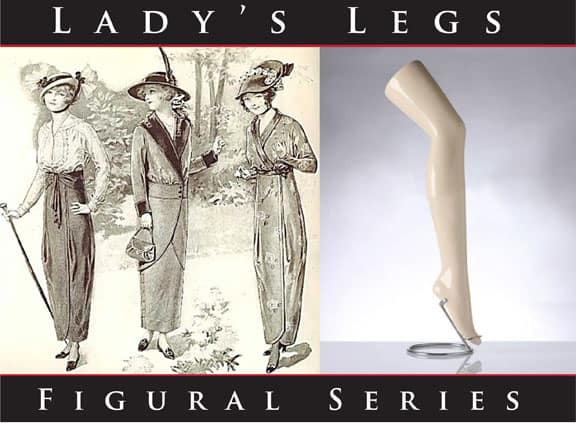 Read More: Lady's Leg Series – Weis Bros Knickerbocker Stomach Bitters
Read More: Russ' Stomach Bitters – A New York Lady's Leg
Read More: The old but sexy, Brown & Drake Catawba Bitters lady's leg
Read More: Labeled Theller's Bitters Lady's Leg – New York
Read More: Lady's Leg Series – Zingari Bitters
Read More: Holloway's Bitters from Syracuse
Read More: The best Lady's Leg in the Galaxy – Universe Bitters