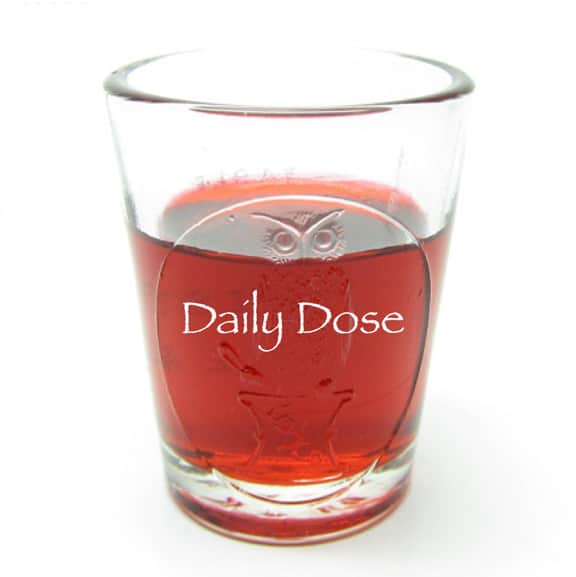 JUNE

  

|

 

2 0 1 4
Friday, 27 June 2014
Many western collectors heading to the Reno Antique Bottle & Collectibles Club 51st Annual Show & Sale at the Grand Sierra Resort today and tomorrow. I heard of two great bitters that will be showing up!
Anybody talked to the west coast Pitch5Productions outfit looking for diggers to profile. They are OK, I've talked with them as have a few others.
What about Jeff Wichmann putting up another $5k for the Lexington National!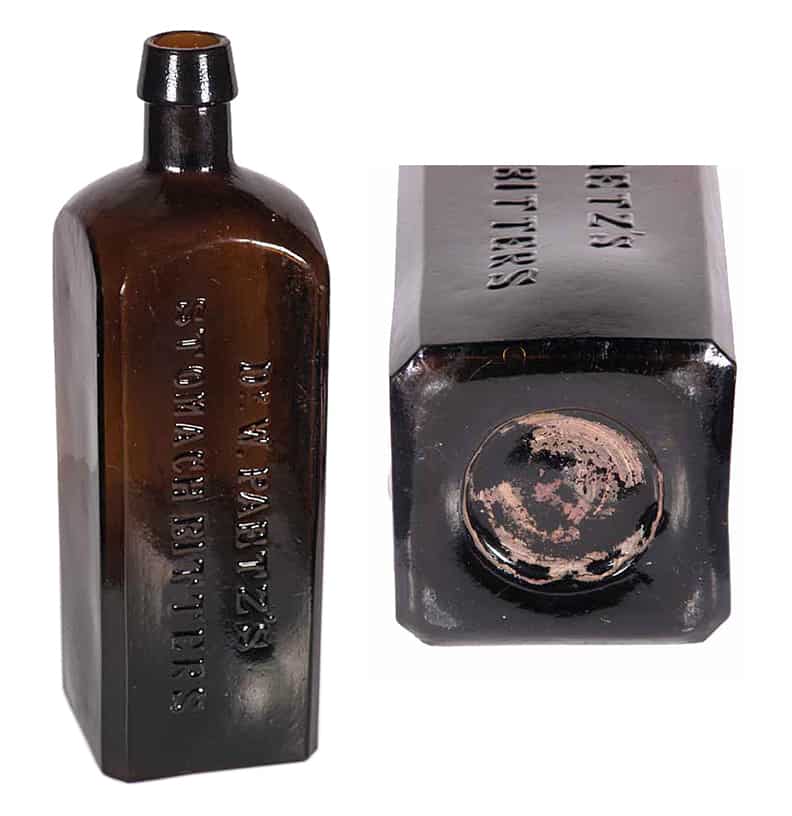 Was anybody watching or bidding on the Dr. W. Paetz's Stomach Bitters (red iron pontil) that closed on North American Glass Monday night? A sleeper in a fruit jar collection! Look for a post.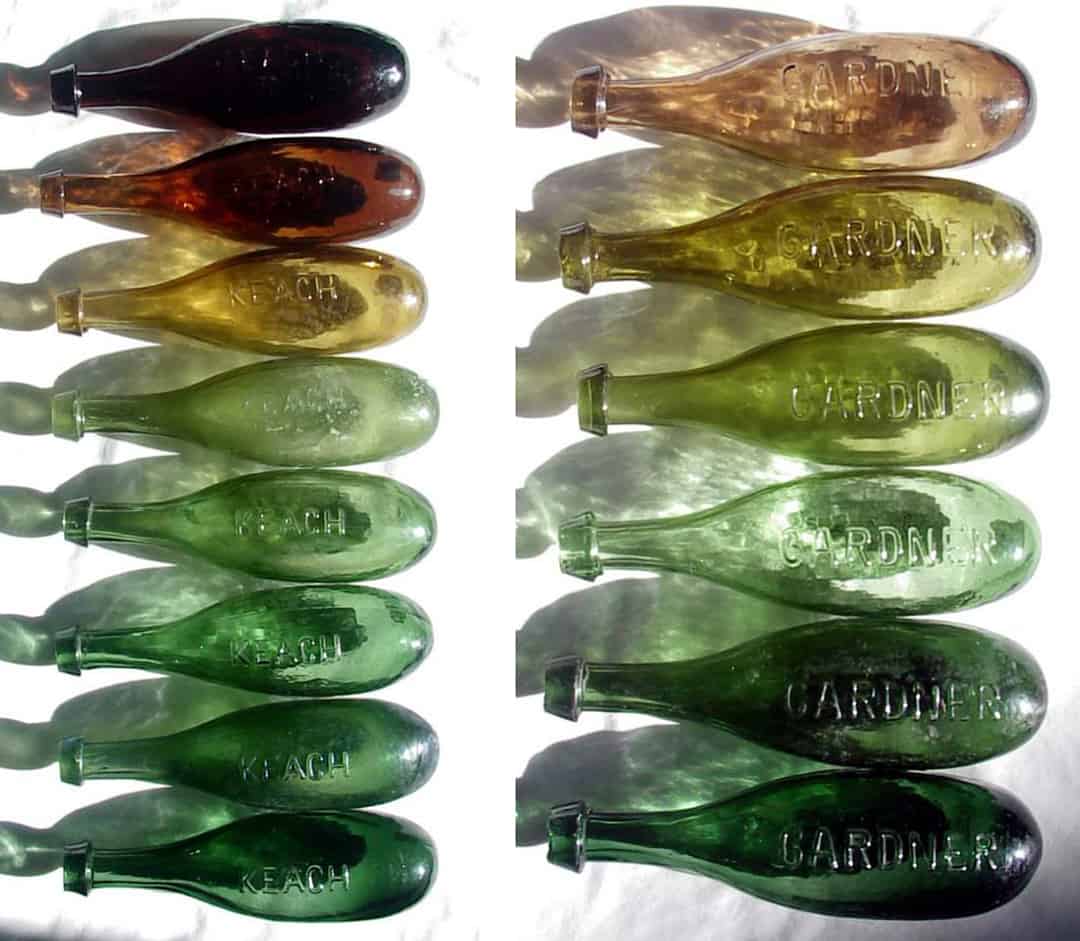 Now for some color, "After some of the responses to yesterdays bad cell phone picture. I thought I'd post a couple good pictures of my Keach and Gardner & brown color runs". – Chris Rowell. Chris dug a new color example this past week.
Read: "Damn the torpedoes, full speed ahead!"
Thursday, 26 June 2014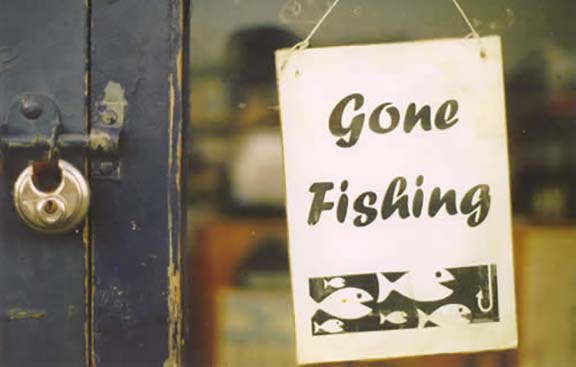 Sorry.. just swamped here with work, the Lexington National, Bottles and Extras, Show Program, yada dada. Should have just hung a Gone Fishin' sign. Just found out that Jeff Wichmann has again donated $5k for raffle money at the Lexington National!!!!! My hero.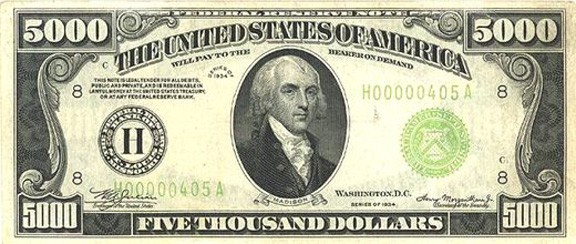 Monday, 23 June 2014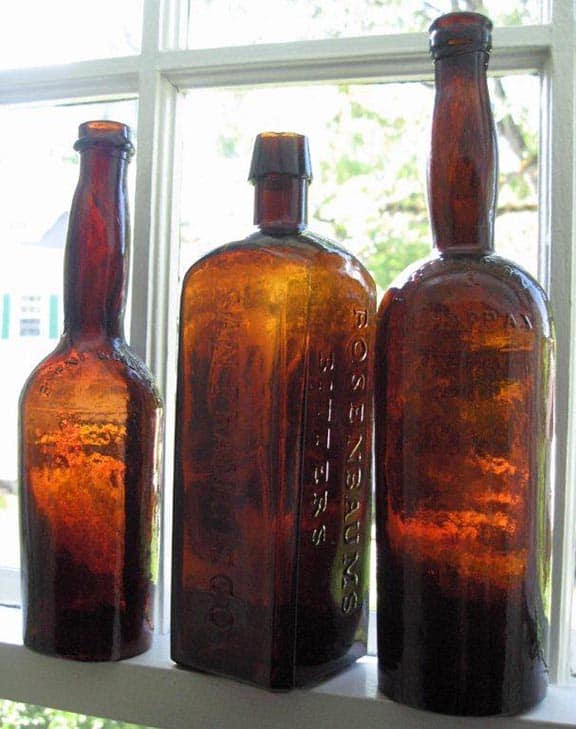 From cobalt blue to puce, in from Dale M, "Hey Ferdinand, Here is a photo of three 1860s western bitters. They are in puce and left to right, Byrne & Castree Salutaris Bitters, S.F.; Rosenbaum's Bitters, N.B. Jacobs & Co. San Francisco; E. Wideman & J. Chappaz (Alpine Stomach Bitters, Marysville, Cal.) I have green counterparts to each except the E. Wideman & J. Chappaz. Regards, Dale" Super picture. As I said on Facebook, looks like he captured the sky in each bottle.
Saturday, 21 June 2014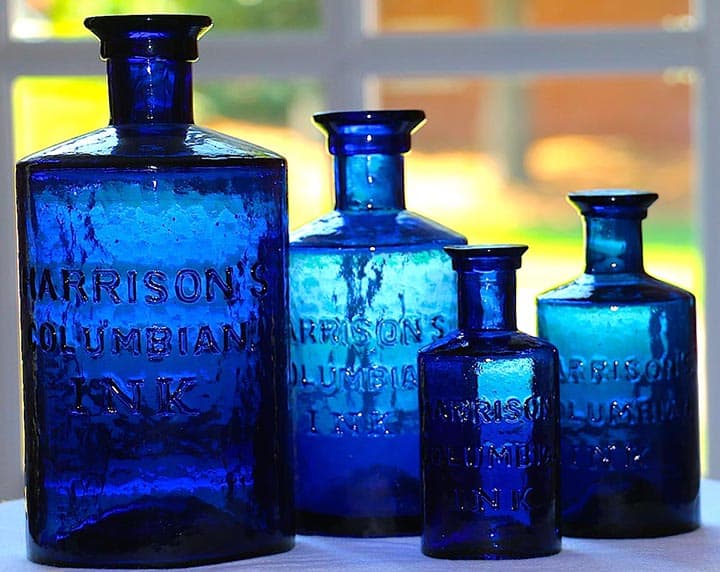 Ferd, Just added the smallest size to my grouping that now stands at four sizes. Posted the exact sizes on Facebook bottle page, and wondering what sizes I am missing. Mike (Newman)
Friday, 20 June 2014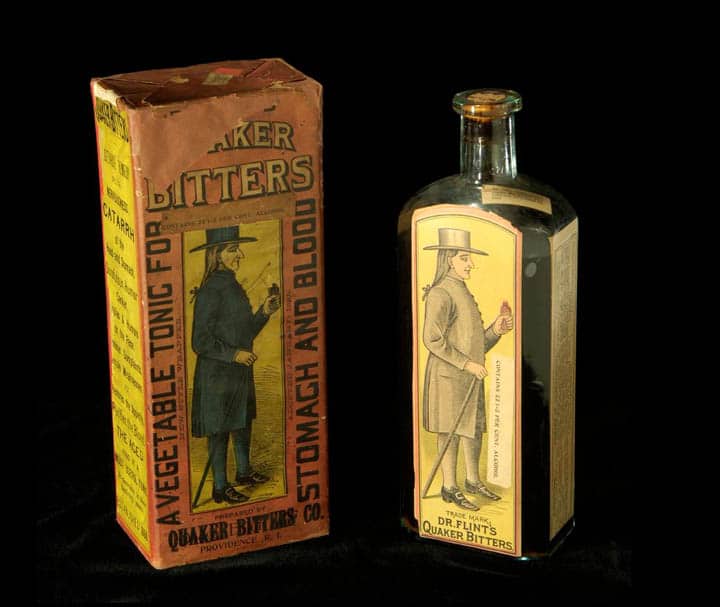 Good morning. Updated the post on the Dr. Flint bitters.
Thursday, 19 June 2014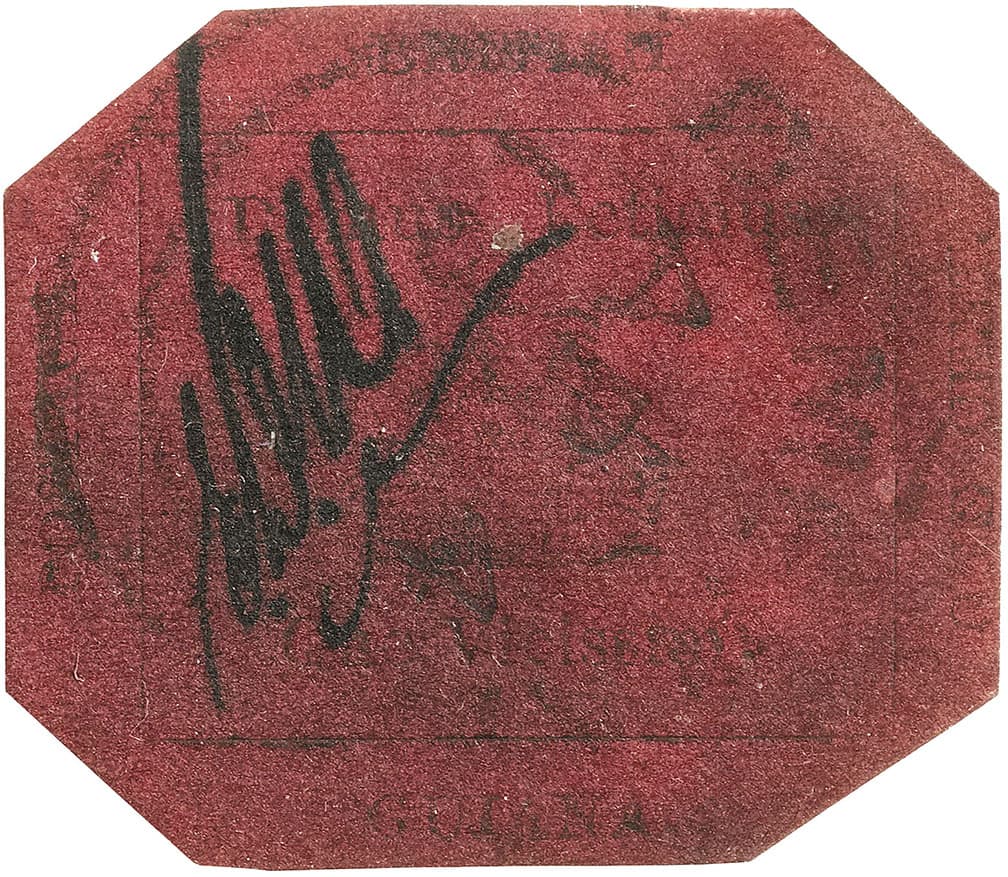 Don't know if you saw this but in case you didn't: The British Guiana One-Cent Magenta just became the most expensive stamp ever sold. Interesting that past owners marked the stamp. Outrageous.
Wednesday, 18 June 2014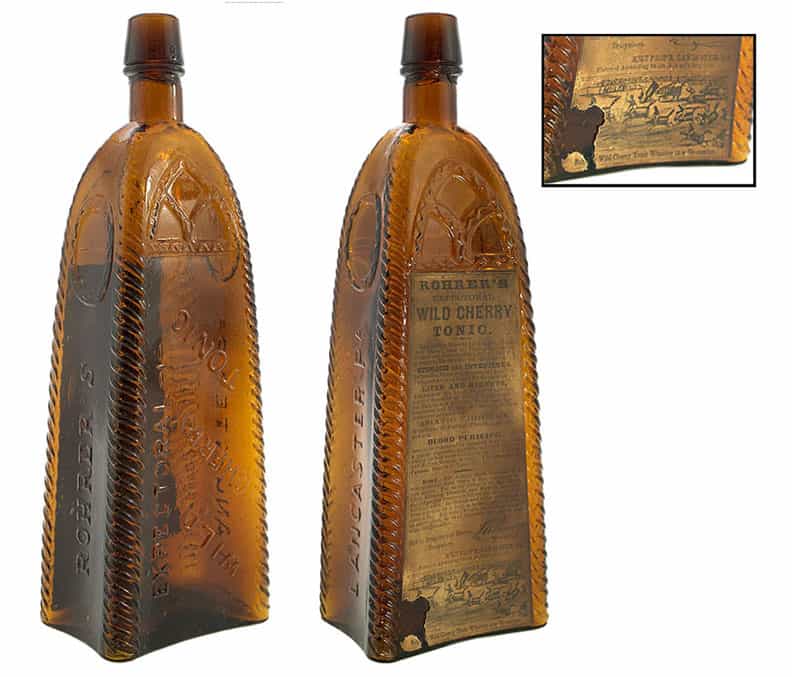 Just a reminder to you bitters collectors out there. The Rohrer's Expectoral Wild Cherry Tonic was sold as a bitters. That was an exceptional labeled example that sold on Glass Works Auctions, Auction 102 this past Monday night.
Tuesday, 17 June 2014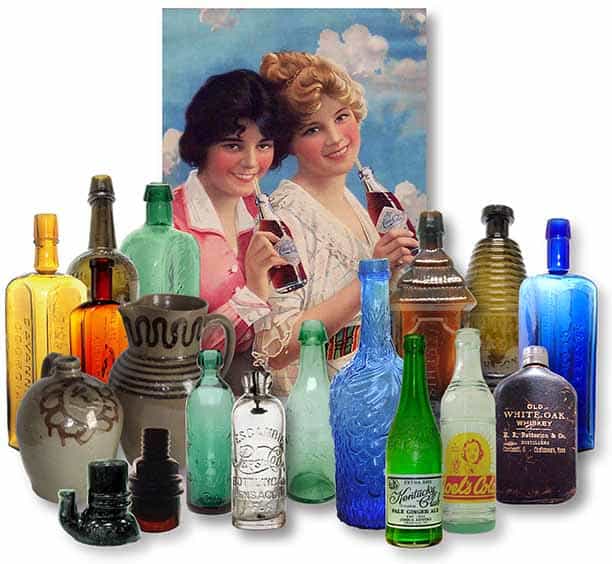 Added some ACL's and representative insulators to mix.
Wyatt Earp Saloon Dig Update – 6/1/2014
Read: Wyatt Earp's Northern Saloon and Toonpah, Nevada by Mike Polak
I talked with Ray Forrey today to get an update on how the dig was going. He said they've had a little delay since some construction guys needed to do some work that wasn't coordinated with Bill (Owner of the Hotel next to the lot). Bill will be back on 6/14 and then they'll be back in full production. They're still going to do some work about with the dirt that's already been piled up. Before the delay, they moved quite a bid of dirt and with metal detecting have found 20 Vienna Bakery Tokens, an 1899 V Nickel, another Cobalt Blue Poison (I think that's 4 they have now found), and a few common bottles. Ray's brother John, who's a big metal detecting guy, has been finding most of the tokens. Over the Memorial Holiday Weekend (Jim Butler Days), San Diego Club member Cal Frederick got in on the action and also found a Vienna Bakery Token (We always know where you are Cal, especially over the Memorial Day Weekend). And, the weather has been in the mid 80's but over the next couple of weeks it will starting hitting the 90's.
Regarding my plans, I'll be arriving in Tonopah on Sat June 21st to meet up with Dave Finnern, who is a Diver and also writes for a number of magazines. Dave plans on doing some digging, taking photos, talking with everyone, and then writing an article on the dig for Treasure Magazine which has a large reader distribution. I plan on staying and digging the site and the dump until Wed 6/25 when I'll be headed for Bishop, then onto Reno for the June 27th -28th Reno Bottle Club Show. If you're looking for a room, I think the Best Western High Desert Inn is the best place to stay plus they provide a hell of a free breakfast every day. As a back-up, the Ramada Station House is ok as well, and the newly renovated Mizpah is obviously excellent. If you're coming in from Las Vegas, it about a 3 hour trip. You'll hit Goldfield first which is about 20 miles south of Tonopah and a must stop place to see. The saloon dig site is at the far end of town on the left hand side going North towards Reno. Tonopah isn't huge so you really won't have a problem finding the site. When you get down there just ask for Ray. Be sure to bring your own gear, shovels, hand shovels, metal detectors, and anything else you think you'll need. And, be sure to bring a lot of water, hat, and gloves.
That's about it. I'll keep everyone updated on any news before I leave.
Mike Polak
Sunday, 15 June 2014
Some really cool KENTUCKY barrels that you will see at the 2014 Lexington National.

Saturday, 14 June 2014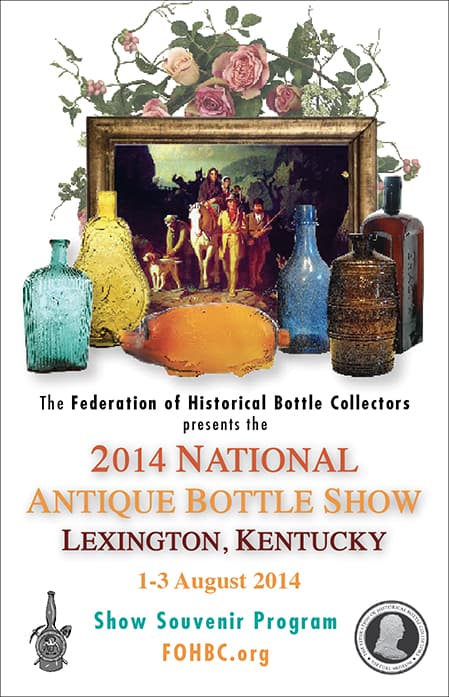 Sorry, knee deep in alligators working on the 2014 Lexington National Show Souvenir Program and 2015 Chattanooga National Show art for contract. Looking for some Southern Whiskey's and ACL's to add to collage below.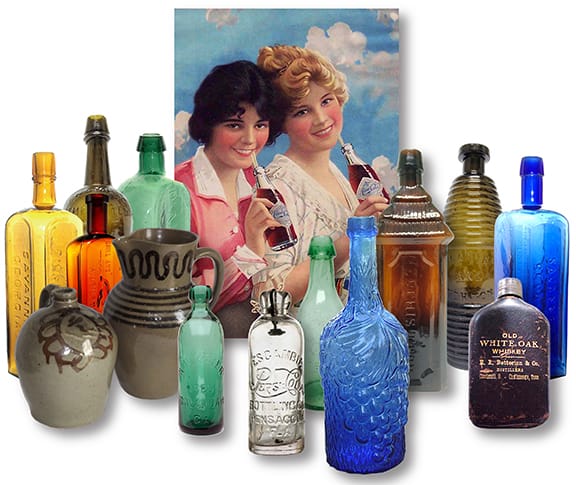 From Mike Newman in Augusta: Ferd, Thought you might like these photos. The quart GI-37 came out of the recent Heckler auction. Provenance is McKearin and Vanderbilt. Hope you are well. Call me next time you are coming to Augusta. Mike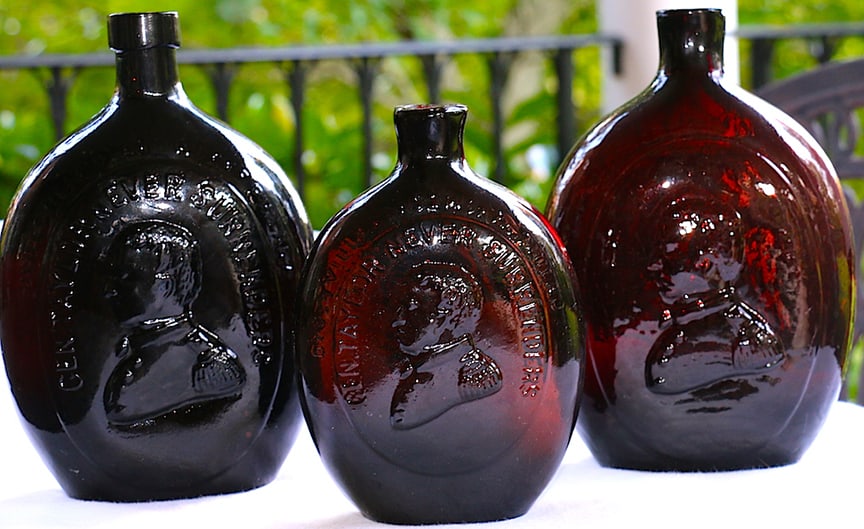 Wednesday, 11 June 2014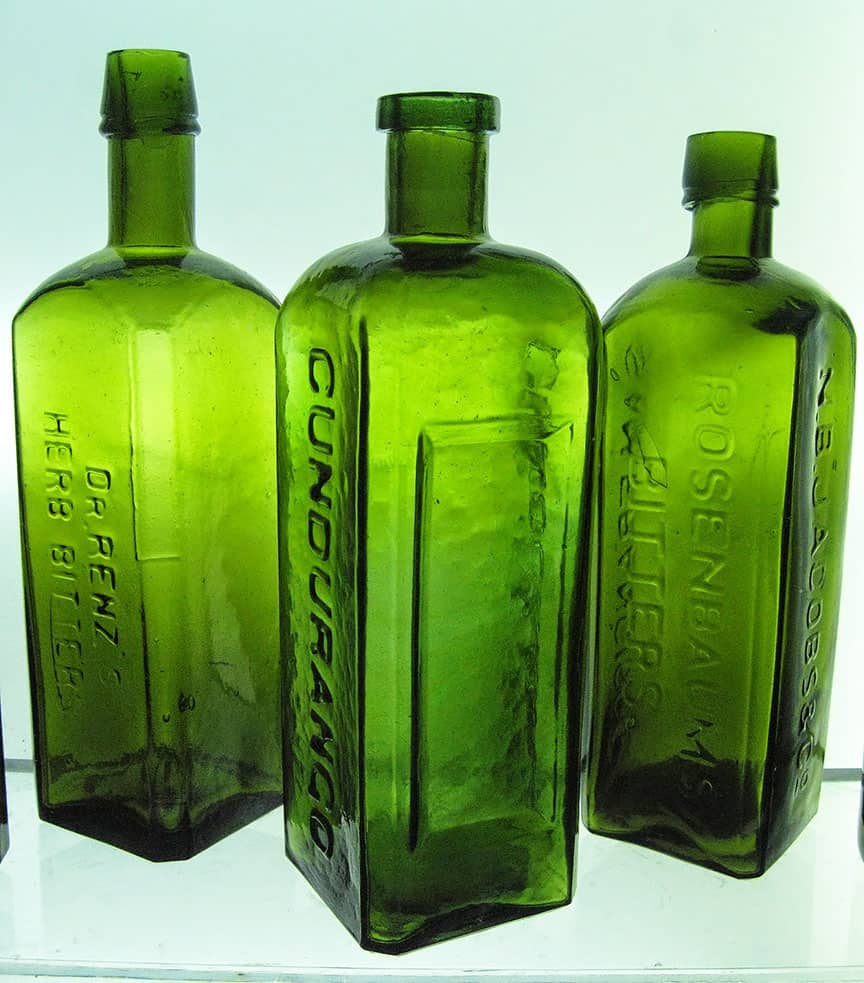 "Three Squares a Day" – Just an insane picture of three western bitters square over at Western Bitters News. Nice Dale.
Monday, 09 June 2014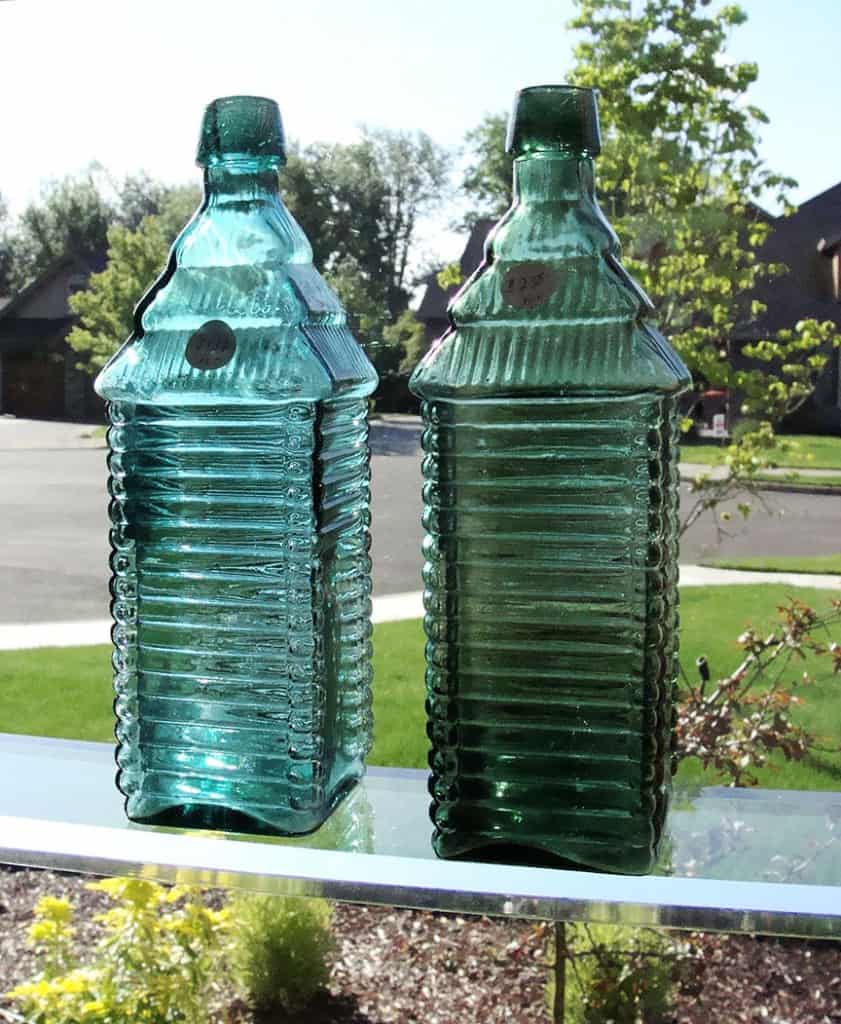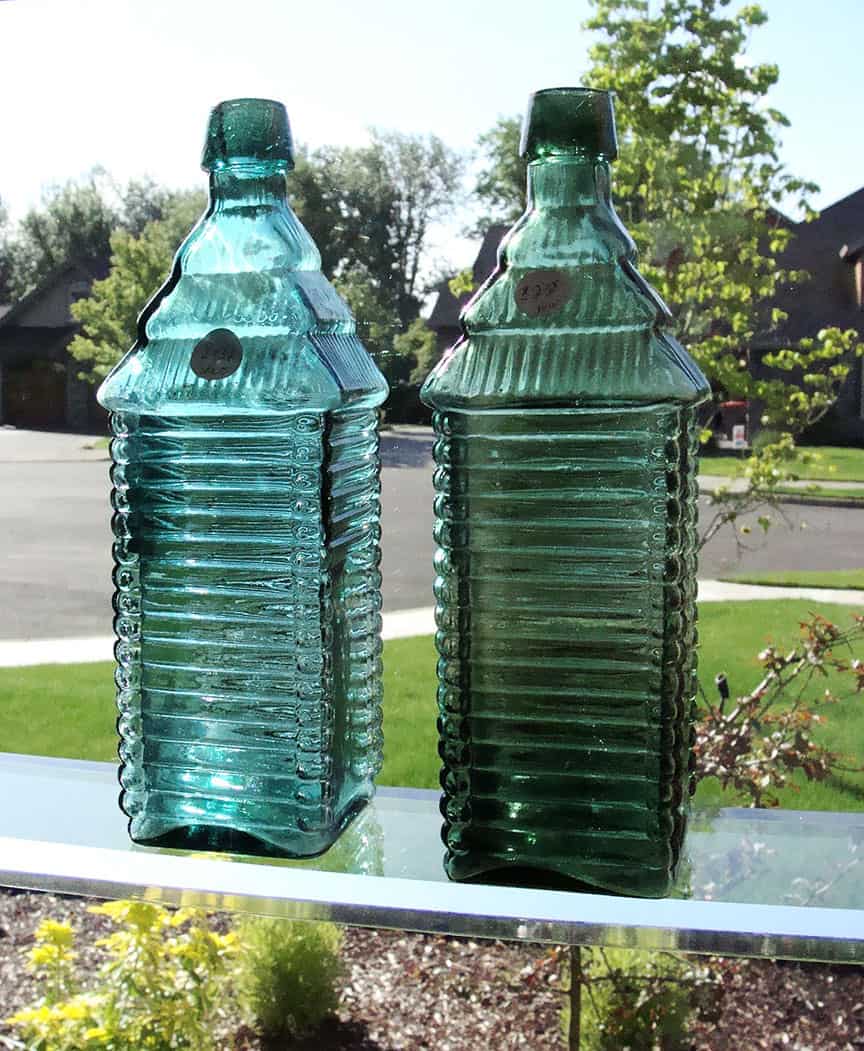 Michael Seeliger is advancing on his scientific pursuit to measure bottle colors. Here is the latest: Guys, Well I'm back from Washington/Oregon and we had a great time. Alice and I spent a lot of time with the Taylors and it was fantastic. Some interesting finds. I will share the teal Drake information here other stuff will come later. Guys, I'd like to write it up for an article in Bottles and Extras later if that is OK with you. First…Ferd's Drakes measured 31 38, Second Jeff's Drakes measured 30 37. When I measured the two teals that Bill had they were at night and it was dark to get a great reading on the standards. The two results we tabulated and I checked what Ferd and Jeff had the next day. Believe it or not Bill's measured 30 37 and 32 38. We placed them in the window to compare colors. You will agree that they are two different colors. Since I have seen all of these I have to agree. See for yourself. In other words Jeff's is exactly like the light teal one Bill has and Ferd's is very very close to the other one. I'd like to have all 4 together sometime to see for myself. Here are the pictures and data: First two are Bills data, next Jeff last Ferd.
Michael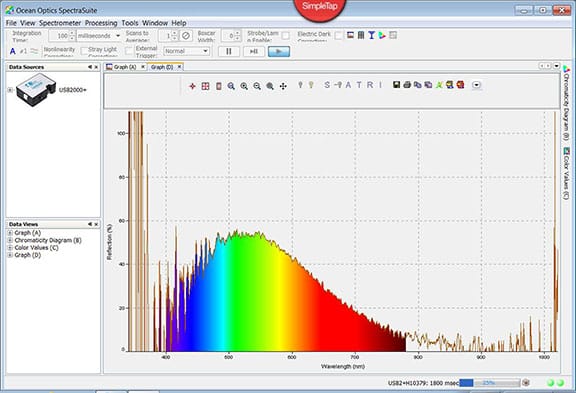 Friday, 06 June 2014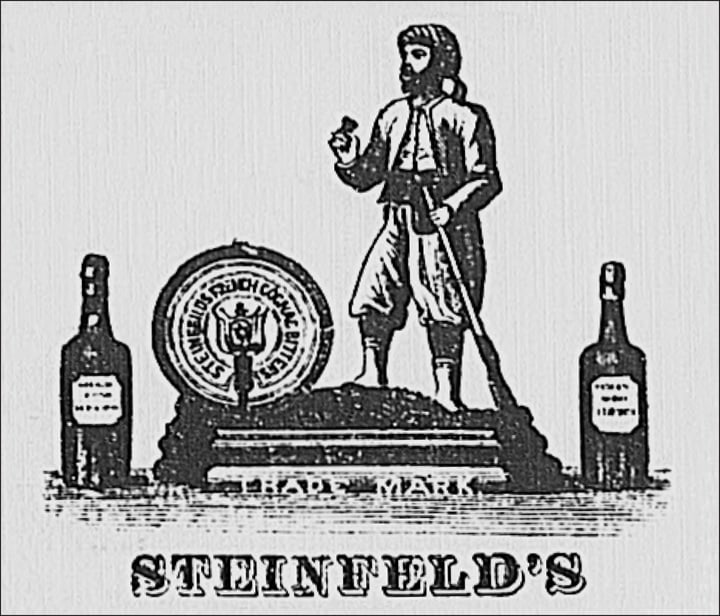 I haven't seen this trademark for Steinfeld's French Cognac Bitters. Pretty cool. Speaking of NOLA, looks like an unlisted Universal Bitters…
Hello, My name is Steve and I dug a bottle here in my hometown of New Orleans 30 years ago and have been trying to find information on it ever since. Here is a description of the bottle: Gilka shaped. One side panel is embossed UNIVERSAL BITTERS. On another side panel is embossed N.- K. PATENT. The 2 front and back panels have no embossing on them at all. It is a BIMAL. I've attached 4 pictures of it for viewing. Hard to tell in the pics, but it is amber in color. I appreciate any information on it or any links to information you can share with me as to finding more out about it. Thank you most graciously, Steve [Stay tuned for pics. Talking about old Nicholas Kieffer here. We certainly know him!]
Looks like another XR Fond du Lac bitters is headed to Houston.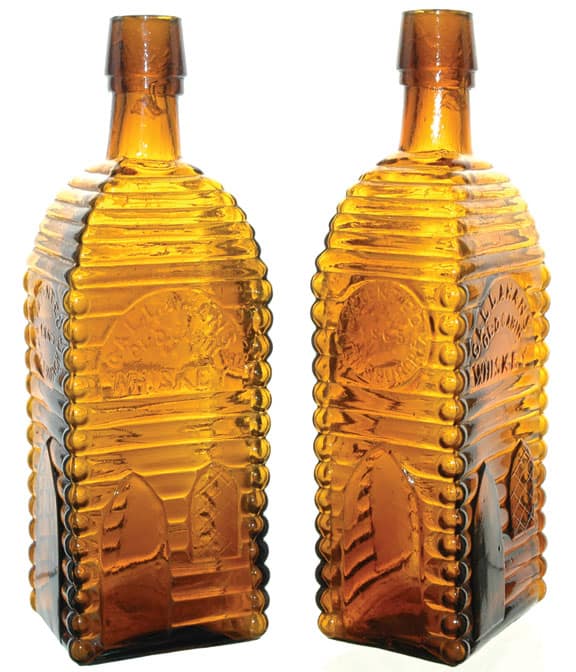 Callahan's Celebrated Old Cabin Whiskey post updated showing proprietor as Hugh Callahan from Pittsburgh.
Working on a Hungarian Bitters post (semi-cabin) post. Example has surfaced in the UK.
Thursday, 05 June 2014
News from Outhouse Patrol Visit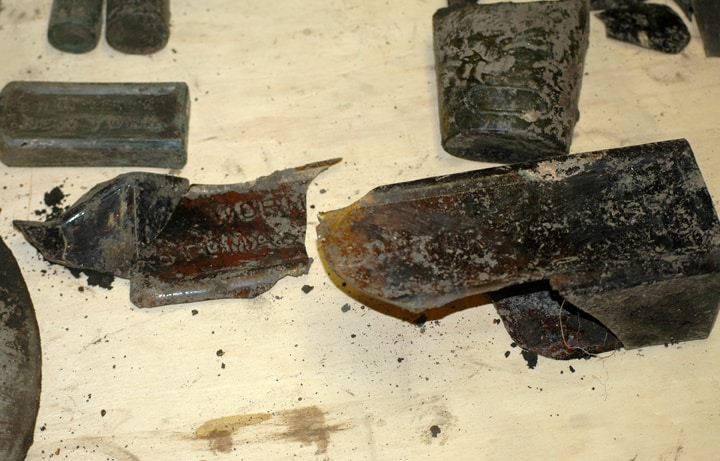 Fragments of a Dr. John Russ Wormwood Stomach Bitters
Hi Ferdinand, Digging report from central Iowa. Dr. John Russ Wormwood Stomach Bitters shards Dug after work today (June 4, 2014)  in Belle Plaine, Iowa. I found shards of a cabin type bitters bottle never heard of by me before and not in Ring, found your pictures in the daily dose and E-bay listing. (the other was from Muscatine?) Will do more research, could be from Iowa. Your Friends, Mark Wiseman and Jimmy the pup  (Reginald Shoeman, James Campiglia & Johnnie Fletcher, Mark Wiseman)
See example that recently sold on ebay for $6,200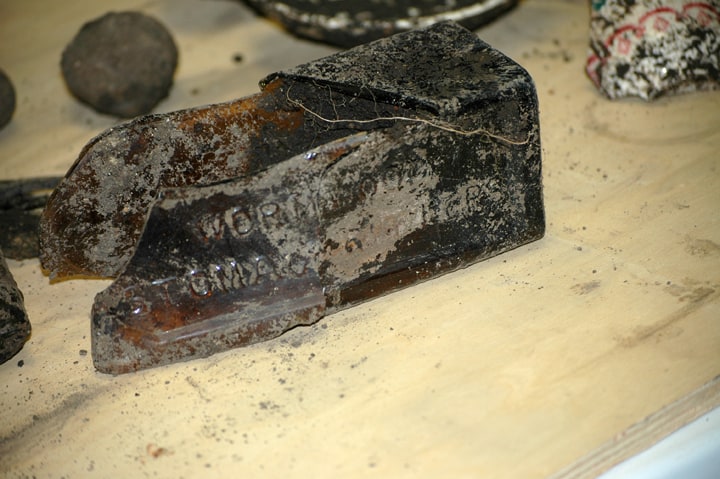 Wednesday, 04 June 2014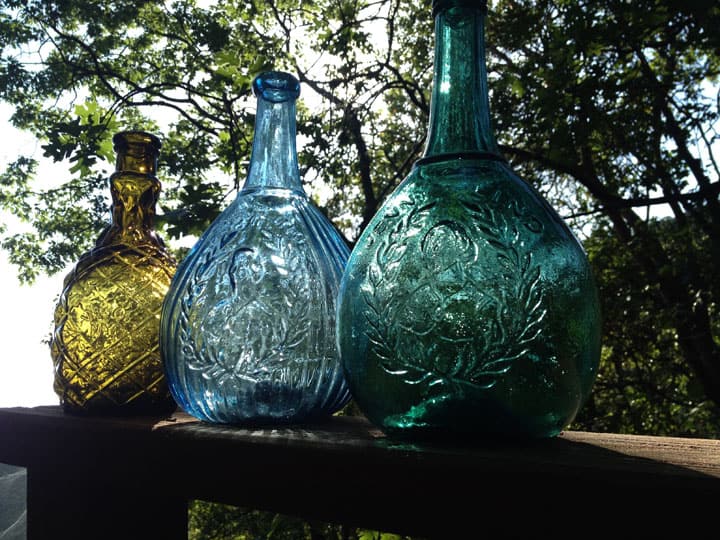 Three beauties that Jerry Forbes picked up at the Santa Rosa, CA show this past weekend. Congrats!
Tuesday, 03 June 2014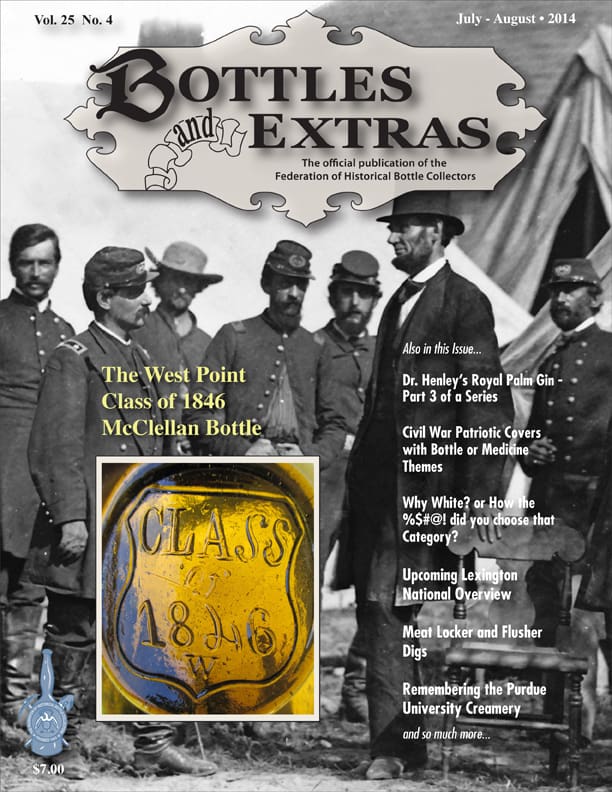 Cover design for the July – August issue of Bottles and Extras.
Sunday, 01 June 2014
Another odd picture of the day. See yesterdays odd picture. From Marianne Dow: Josephine Myrtle Corbin (May 12, 1868 in Lincoln County, Tennessee[1] – May 6, 1928 in Cleburne, Texas) was born a dipygus. This referred to the fact that she had two separate pelvises side by side from the waist down, as a result of her body axis splitting as it developed. Each of her smaller inner legs was paired with one of her outer legs. She was said to be able to move her inner legs, but they were too weak for walking. More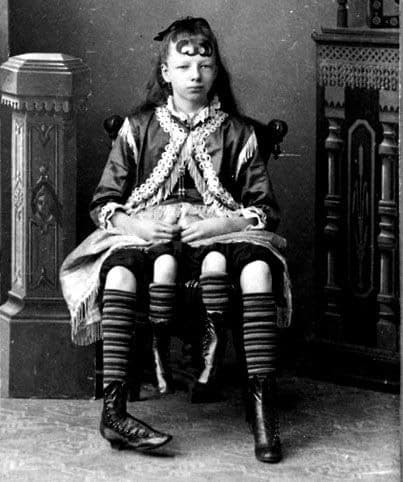 According to Marianne Dow, Josephine Myrtle Corbin (May 12, 1868 in Lincoln County, Tennessee – May 6, 1928 in Cleburne, Texas) was born a dipygus. This referred to the fact that she had two separate pelvises side by side from the waist down, as a result of her body axis splitting as it developed. Each of her smaller inner legs was paired with one of her outer legs. She was said to be able to move her inner legs, but they were too weak for walking.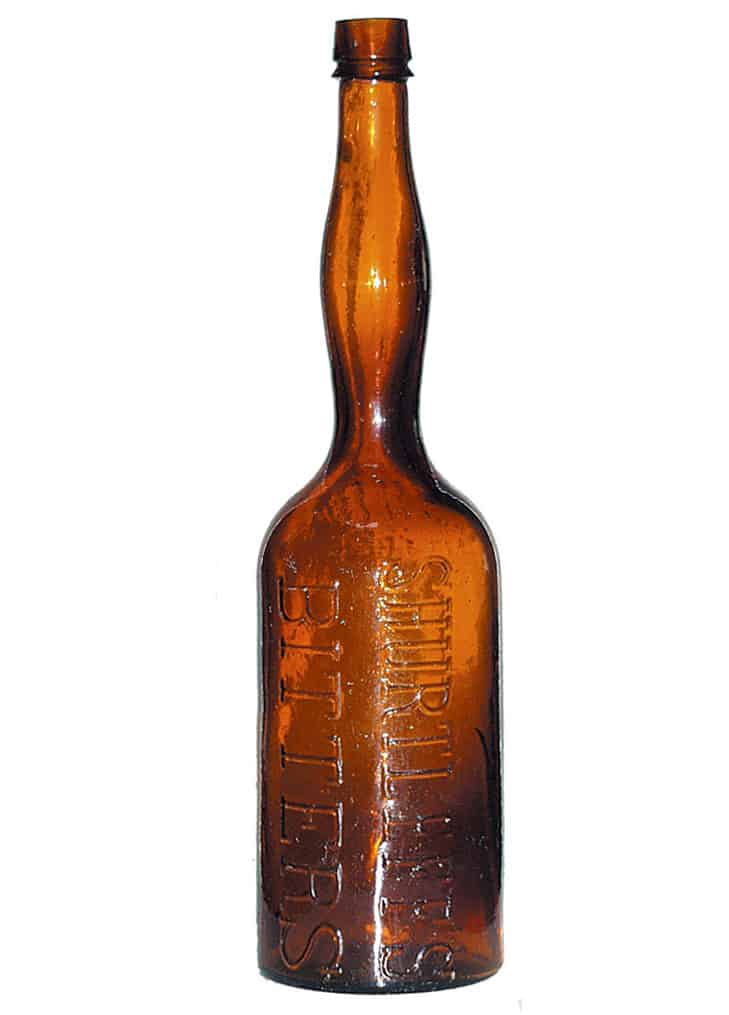 Back on lady's legs again. Was searching for a sexy image to go with the beautiful Shurtleff's Bitters form and pulled up the pictures referenced above.