Bavarian Bitters
Two Examples worth Comparing
21 February 2012

Last May 2011, I was able to add the elusive B 34 Bavarian Bitters in the single line typographic arrangement, to my Bitters collection. Photography of this bottle was completed last week so now we can compare! This was a private purchase from collector, Brad Francis from Arkansas. This will join my other B 34.5 Bavarian Bitters in a 2-line typographic arrangement that I obtained from Glass Works Auctions in October 2009. These are both tough-to-get Bitters bottles with comparatively little information available.
As a side note, Ring & Ham states that it is unusual to find the mold seam in the middle of the bevel on the two opposite sides. The bevel is rounded on the edge between the two lettered panels. Its opposite edge is between the rounded and beveled lettering. Bavarian not centered nor equally spaced over the word BITTERS. Same unusual spacing for reverse panel.
*[PRG Update] Received call from a Hoffheimer in Sarasota who said one of the brothers was his great, great grandfather.
---
Interestingly enough, the green example, and I believe it might be my example, was pictured in the famous Carlyn Ring sale in 1995 conducted by Jim Hagenbuch. (see picture below). Read further: Carlyn Ring Collection: Second Offering of 121 Bottles – Part 2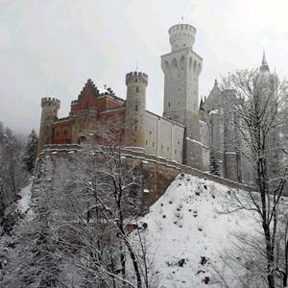 I like the BAVARIAN name as I am of German ancestry. This product was produced by Hoffheimer Brothers in St. Louis and Cincinnatti, both cities with a large German population. The product also appeared in an advertisement I found online (pictured above) in the Memphis Daily Appeal on 24 November 1865.
---
The Ring | Ham information is as follows:
B 34  BAVARIAN BITTERS, Circa 1865 – 1875
BAVARIAN BITTERS // f // f // HOFFHEIMER BROTHERS //
Hoffheimer Bros.   St. Louis & Cincinnati
9 3/8 x 2 3/4, 9 1/4 x 2 3/4, 9 1/8 x 2 7/8
Square, Amber and Green, LTC, Applied mouth, Rare
B 34.5  BAVARIAN BITTERS, Circa 1865 – 1875
BAVARIAN / BITTERS // f // f // HOFFHEIMER BROTHERS //
9 1/2 x 2 5/8-2 3/4 (7 1/8)
Square, Amber, LTC, Applied mouth, Rounded corners, Extremely rare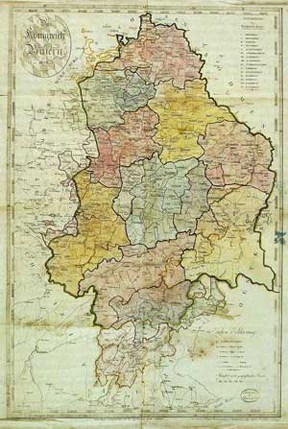 [from Wilipedia] Bavaria, formally the Free State of Bavaria is a state of Germany, located in the southeast of Germany. With an area of 70,548 square kilometres (27,200 sq mi), it is the largest state by area, forming almost 20% of the total land area of Germany. Bavaria is Germany's second most populous state (after North Rhine-Westphalia) with almost 12.5 million inhabitants, more than any of the three sovereign states on its borders. Bavaria's capital is Munich.
One of the oldest states of Europe, it was established as a duchy in the mid first millennium. In the 17th century, the Duke of Bavaria became a Prince-elector of the Holy Roman Empire. The Kingdom of Bavaria existed from 1806 to 1918, and Bavaria has since been a free state (republic). Modern Bavaria also includes parts of the historical regions of Franconia and Swabia.