Class of 1846 – West Point Bottle?
This gentleman told me that it is indeed documented in a cadet memoir that the father of one of the cadets supplied liquor for the graduation party which they called "Fandango."
[Fascinating incoming email and bottle. Jim Schmidt…you out there? Editor: A few pictures have been added to illustrate the email further.]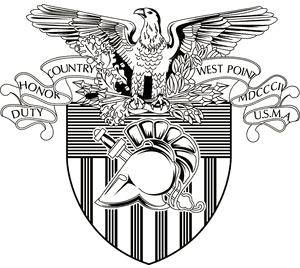 Hi Ferdinand,
I wrote you back in June in reference to a blown mug in which you, and your ability to network to all the right people, were an invaluable help to me. This time, I have something a tad more interesting than any 'ol mug.
I acquired this fascinating bottle from the late Tom Hartz Collection auction at Glass Works and was hoping you could help me with a "Roll Call," to see how many are out there, if anyone has an example and what they know about theirs. Right now I know of only four including my example. One is pictured in McKearin's "Bottles, Flasks, and Dr. Dyott," page 119, Plate 9, number 1. That example was in the notorious Charles Gardner Collection, and as far as what college or school, McKearin simply stated unknown. She was more interested in bottle types and their makers than who may have commissioned them.
The second one is in the City of Port Isabel Museum, Port Isabel, Texas, and belongs to a gentleman who owns sixty percent of the Mexican American War Collection displayed there. He acquired his example from the late Ruth Contu some 20 years ago. (It is unknown if she got it from the famous Galloway collection, but possible.) She did sell it stating it was a West Point bottle. This gentleman told me that it is indeed documented in a cadet memoir that the father of one of the cadets supplied liquor for the graduation party which they called "Fandango." I surmise the name came from the fact that they knew they were off to fight in the Mexican War which had broken out that year. Of course West Point would have never have commissioned these bottles themselves, nor allowed the drinking of whiskey on their institution grounds. If any College or School had commissioned these, you would see examples from different years show up, but that hasn't happened. For sure, this was a one time commission of an unknown number of these bottles from Dyottville Glass Works from a private individual or family. This is the only date and type and the color always matches from what I've seen thus far. If you google image: West Point Class of 1846 graduation party bottle (without quotes,) you will see two pictures of the bottle listed in the University of Texas Brownsville repository with links to the Port Isabel Museum. An interesting fact is that Museum stands on the grounds where General Zachary Taylor had his men dig a well when they were encamped there. In those days it was called "Point Isabel."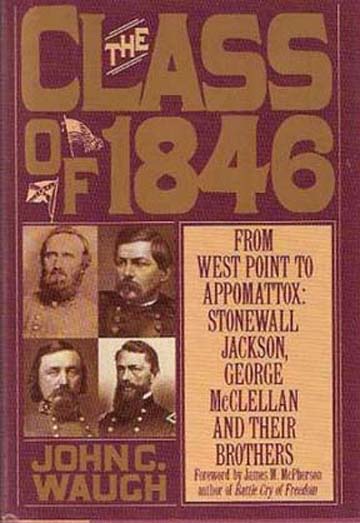 I am currently reading "Class of 1846" by John Waugh (pictured above) and I am hoping to locate the memoir within it's bibliography. (Or simply call my new bottle friend in Port Isabel, Texas and have him scratch his chin a bit harder to remember the memoir he read years ago to keep me from the endless buying and reading of obscure memoirs until I find it.) I feel, given time, I can prove the provenance without a doubt, right now, I could use a little help to see if there are any other examples out there and what their owners have to say.
If you google: Dyottville Class of 1846 bottle, Worthpoint shows a 2007 eBay auction, now that is my example, that ended up in the late Tom Hartz collection. Undeniably, as I have noted the identical chip on the seal and identical bubbles and characteristics, etc. It is the same bottle beyond all doubt. Also showing up on that google search is the third one, a picture of one from Heckler's, that example I have no information on. That comprises the four that I can locate. (The one in my kitchen window is easy 😉 It could be possible that the Gardner example could have ended up in the Port Isabel collection as the gentleman has many Ex McKearin bottles as well and again, it remains unknown where Ruth Contu acquired it. I expect more to come out of the woodwork, I think more than four survived and am hoping to see and hear what their owners have to say.
The West Point Class of 1846 was the largest class in the institution's 44 year history at that time; 59 cadets graduated, 10 went on to become Union Generals, 12 became Confederate Generals. Second in that class was none other than George B. McClellan. Interestingly, Thomas "Stonewall" Jackson struggled from year one, almost failing out, yet painstakingly achieved 17th in ranking in that class. Curiously, last in that class, was none other than George E. Pickett, whose name is a tad familiar in the Gettysburg area. Those are the 3 biggest "Household" names from the Class of 1846. My personal opinion is that the father who did the providing of the bottles of whiskey was that of a more well to do cadet, and Crittenden comes to mind as his father was a Senator in New York at the time. Knowing exactly which family or father would be quite amazing. Interesting to note that McClellan hails from Philadelphia.
I have very little doubt as to the provenance and these bottles being what they are. Even if six dozen, a hundred, or possibly a full gross were ordered from Dyottville, the survival rate is logically ten percent, likely less. I am very curious to know if anyone in the FOHBC bottle collecting world can add anything to the current existing knowledge, especially if one has an example and can share their knowledge of it. Ruth Contu knew, the gentleman in Texas knows, I know, but somehow, this bottle has remained very low on the bottle collecting radar screen as it's usually described as "Rumored to the the 1846 graduating class of Harvard." That being said, Harvard does not begin with a "W" nor did Harvard have a Federal Shield which points directly at this being a Federal, or Military School. Getting my hands on the memoir which goes more into detail about the Party would leave me with no doubt. If someone were to prove me (and my Texas friend, and Ruth) wrong, I would welcome that as well, as I could put the matter to rest. I realize I am putting a lot on the table so to speak, but what else could these be, given the information I have thus far? Also google image and note the identical Federal Shield is engraved on Custer's Grave Marker surrounding the words and on several other West Point Cadet Gravestones, but not on all of them.
The interesting fact is that these bottles have quite a cross collecting spectrum, and I think, are more interesting as Civil War/Military/Historical genre than mere 1840's bottles made at Dyottville.
You are welcome to post this if you would like and I hope you will. This bottle is not for sale, I value this more than money and I am not looking to take advantage of a venue to sell it; I want to learn more about it. I collect Dyottville Glass and this, so far, is the "Holy Grail" of my Dyottville collection. I simply have to know more about it. I'm sure a lot of collectors know that feeling.
Thanks,
Eric M. Richter
Lancaster, Pa
28 September 2012 – Some follow-up emails and postings:
There are at least two more Dyottville cylinder whiskeys out there with seals. One says in script letters ELS. It is a very dark green. Last I knew, there were two of these known. The other says Renault & Co. Cognac-1805-W.H.Y. It's the only one I've ever heard of. I owned these and the 1846 piece in the past. Jerry "DYOTT" Dauphinais
Very interesting. I've had three or four over the years and they have always been referred to as "Harvard" bottles. I really like the thesis of the article however (very sensible points) – would love to have more info…Jeff Noordsy
Remembering that there are two versions of this seal – one with the "W" and one without. Jeff Noordsy
I'm here! 🙂 GREAT POST! Class of 1846 is one of my favorite books…have had the great pleasure of meeting the author Jack Waugh (a Texan) a few times…I wish I knew the title of the memoir he's looking for as I'd be happy to try and find it…one of my first articles I had published was on the early history of chemistry education at West Point and Class of 1846 was a great reference…another terrific book, but harder to find, is "Best School in the World" by James L. Morrison and it also has references to some great student memoirs…the folks at the West Point archives are VERY helpful and kind…I know from experience! I think I'll post that West Point article of mine soon on the blog. GREAT post and info Ferdinand!!!!! Jim Schmidt
The couple I've seen actually had Harvard Class of 49 or 47 embossed on them. Woody Douglas