Forty Up Vigor Bitters – Who are You?
01 November 2015

About a year or two ago, Ellen & Curt Faulkenberry, from up Saint Louis, Missouri way, sent me some pictures of some extremely rare bitters from their collection. I didn't know what to expect but I was hoping to see the Pony Bitters. Curt had shown me this baby once before at one of the FOHBC National Shows.
The digital files included a West India Stomach Bitters (Moody Michael & Co.), Celebrated Eagle Bitters (Lange & Bernecker), Crittenten's Dyspepsia Bitters, DeLuce's Bitters (stoneware), Dimmitt's 50 Cts Bitters (flask), Empire Tonic Bitters, Dr. Harter's Bitters (aqua medicine), Landsburg Century Bitters, Fever & Ague Bitters, Dr. Lynch's Entericon Tonic Bitters, Malarion Bitters, Peruvian Bitters & Blood Tonic, Dr. Rattinger's Root & Herb Bitters (clear), a San Diego Bitters, the Pony Bitters (Read: The extraordinary Pony Bitters from St. Louis) and an oddball, unlisted, Forty Up Vigor Bitters, the topic of this post. I asked Ellen for some more pictures and she kindly sent the images used in this post. The cropped images and detail enlargements were done in Photoshop on this end.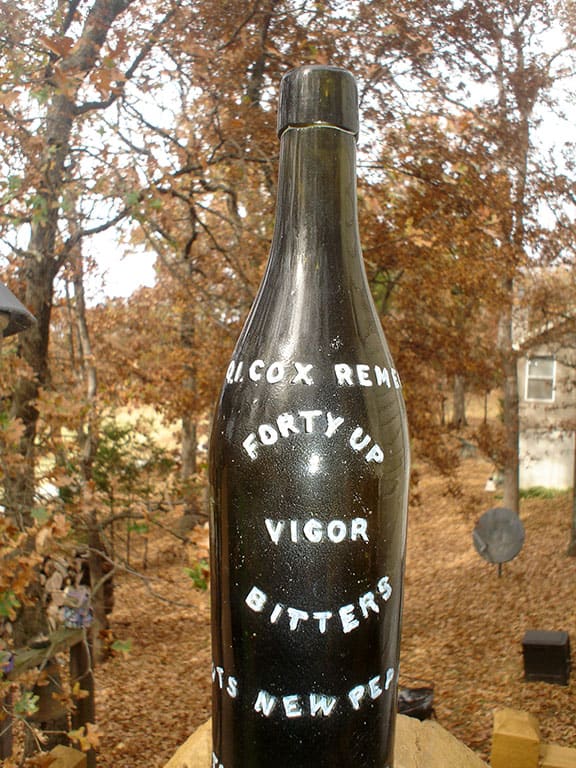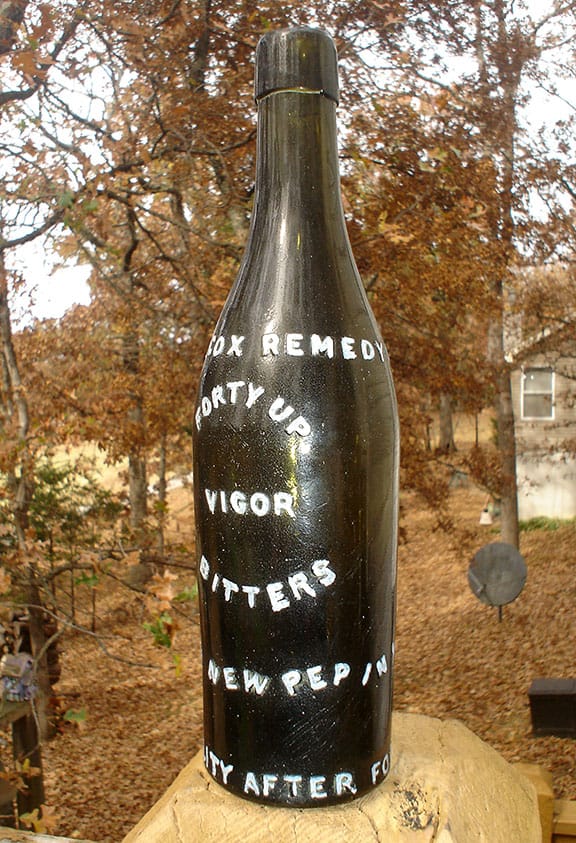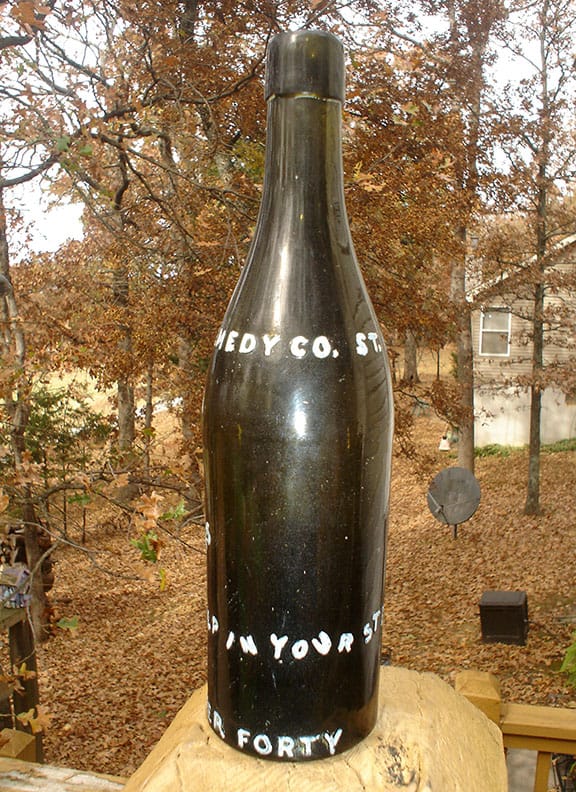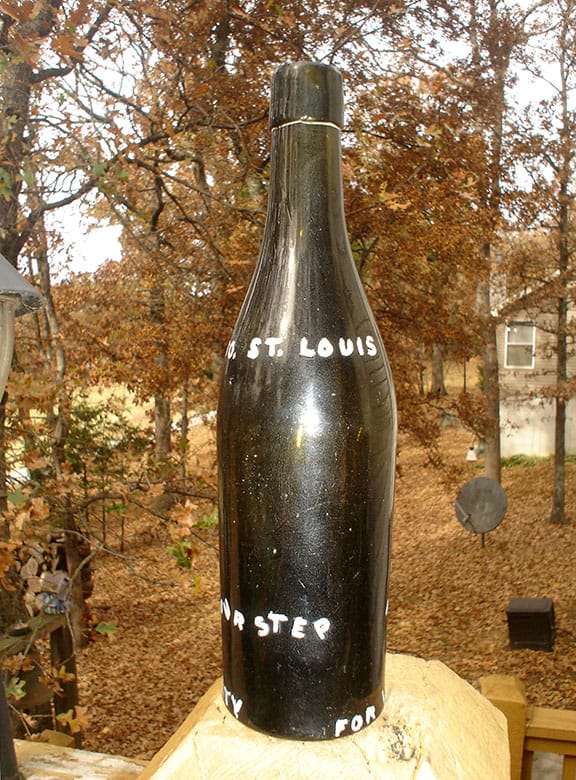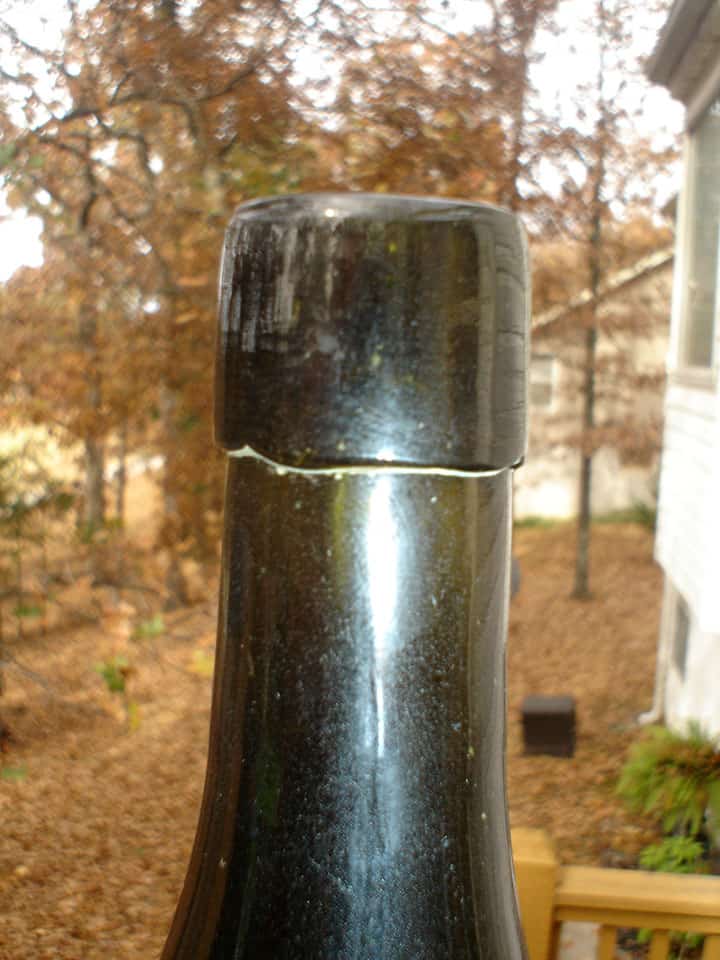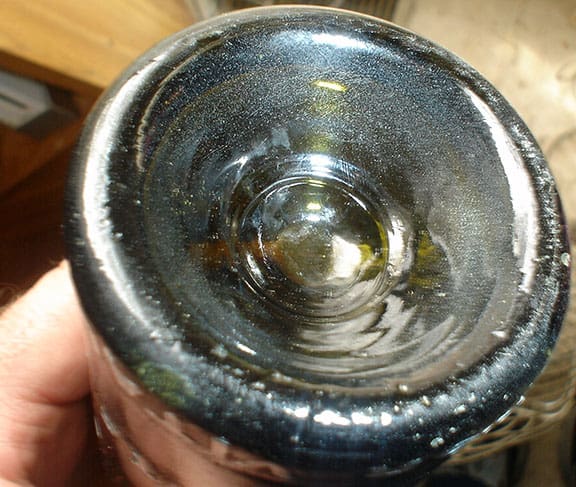 You have to admit, this is a pretty strange bitters bottle including the shape, name, typography placement and dancing letters at the bottom. At first glance, it looked like the lettering was painted on the bottle, at least on the original image that is not included in this post. Maybe it was a joke bottle? That is clearly not the case as you can see from the image enlargements below. The bottle has raised characters. Yes the painting is poor, but some collectors paint their bottles. My father did.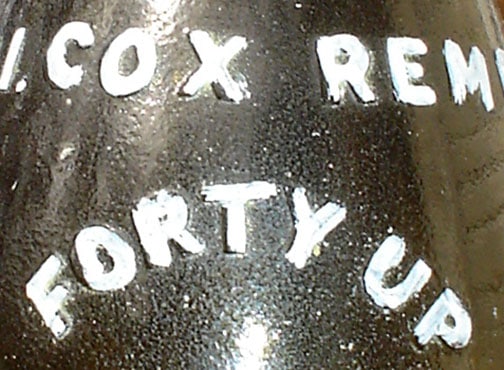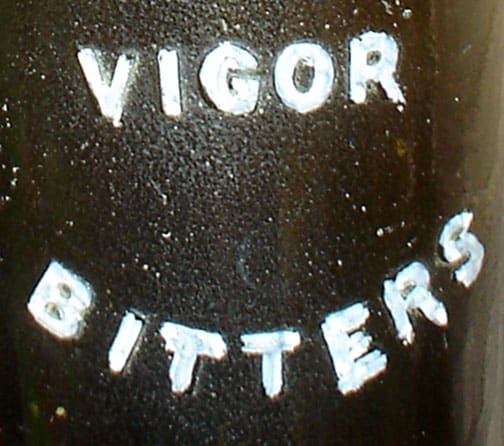 A thought was then put forward that the letters were applied, kind of like that goofy Dr. Wonser's Bitters square that I saw at Jeff Wichmann's in Sacramento this past September. I don't believe that is the case either though the enlargement below does show some action around the "New Pep" letters

I contacted Ellen and she confirmed that the bottle typography was 100% embossed which was reassuring and added that they got the bottle about ten years ago. I will press for more information. I wish I could get it in my hands, wash the paint off and inspect the bottle.
Anyway, I am going to put these pictures out there and ask for some help. My initial searches reveal absolutely no information on this bottle. I could not find a Q. I. Cox in St. Louis in the second half of the 1800s.
I would also like to ask the Doctor, Marianne Dow, to see if she has time to look into this bottle. She has a master in internet search configuration. Stay tuned.
Select Listings:
1866: Advertisement for Bagot & Cummings proprietors of St. Louis Glass Works. They made bottles. There was a glassmaker named Bernard Cox who worked at the glassworks. – 1866 St. Louis City Directory