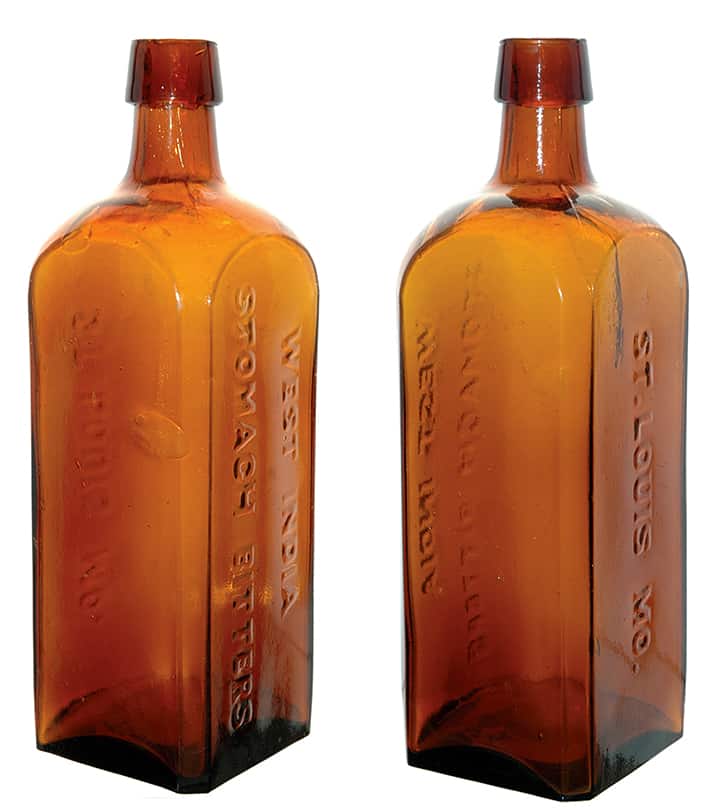 West India Stomach Bitters 

–

 

St. Louis, Missouri
20 August 2014 (R•031815)

OK, so we already looked at two "East India" embossed bitters and one embossed "India" bitters. Now we will look at a scarce and extremely rare "West India" embossed brand from St. Louis. This being the West India Stomach Bitters from St. Louis, Missouri. The top pictured W 79 example is from my collection and does not have the rarer and earlier Moody, Michel & Co. embossing as the second example further below depicts.
Using 'West India' in the name sure gives the product some global, old-world, marketing reference as many at that time were familiar with the great Dutch, Danish, French and Swedish West India Trading Companies.
Read: East India Root Bitters – George R. Clapp
Read: Kennedy's East India Bitters – Omaha, Nebraska
Read: Dr. J. W. James India Bitters – East Brady, Pennsylvania
The Carlyn Ring and W.C. Ham listing in Bitters Bottles is as follows:
W 79

  WEST INDIA STOMACH BITTERS
WEST INDIA / STOMACH BITTERS // f // ST. LOUIS MO. // f // b // WIM CO.
West India Mfg. Co, Inc.
8 1/2 x 2 5/8 (6 1/4) 3/8
Square, Amber, LTC, Applied mouth, Scarce
Drug Catalogs: 1882 VS&R, 1896-7 and 1901-2 JP&K Co.

Note: Moody, Michel & Co., proprietors, St. Louis Missouri (known from 1 cent revenue stamp) 4 cent black revenue stamp, West India Manufacturing Co., Proprietors, St. Louis, Missouri (see above)
There are also 2 extremely rare variants embossed West India Stomach Bitters. One is also embossed Moody Michel & Co and St Louis and is 8 1/2 inches tall and the other is embossed West India Stomach Bitters, Moody Michel & Co, St Louis and is 8 3/4 inches tall. Both are amber and square. See picture below.
Moody, Michel & Company
Wholesale Grocers and Commission Merchants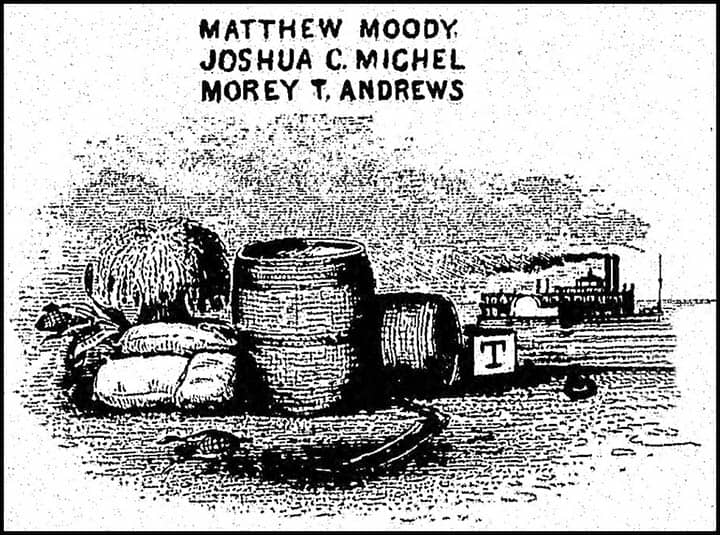 Matthew Moody was prominent among the businessmen of St. Louis and was born in 1816, in the County Tyrone, Ireland. Like many other men of sound business qualifications, his early years were spent on a farm. His father, who was quite an extensive farmer of that section of the country, possessed the highest regard for education, and spared no pains to bestow upon his family the very best instruction his means and the educational facilities of the country he lived in would permit. Young Moody was first sent to a country school, and for four years afterwards to what is known in Ireland as a boys' seminary, where the youth of the country secure instruction in the higher branches of English and the classics.
In 1831, he left his native land for a home in the Western world, and lived for two years in Philadelphia. But the City of Brotherly Love did not offer many attractions to young Moody, who soon removed to Lexington, Kentucky, where he engaged in a wholesale grocery store. This employment lasted for two years, when, meeting with another young man from Ireland anxious to improve his condition, and enter business for himself, the two joined fortunes, and, purchasing a stock, removed to Beardstown, Illinois.
The business under the partnership continued in a flourishing condition for very nearly three years, when Mr. Moody resolved to seek other and wider fields for enterprise and the exercise of his business capacity. With this intention, he sold out his interest in the Beardstown business, and started South on a trading expedition, which lasted several months. In search of fortune he visited St. Louis. In those days the transportation of the West was chiefly conducted by water; railroads had not then succeeded in revolutionizing the carrying trade as they have since done. Mr. Moody resolved to turn his attention to steamboating, and entered as a clerk in the Illinois River trade. This occupation lasted one year, when he entered the mercantile house of Davis, Tilden & Richards.
Here his strict attention to business, and his manly and upright bearing, soon won for him the esteem and confidence of his employers to such a degree, that when, four years afterward, the firm determined upon opening up a retail branch of their business on Broadway, Mr. Moody was one of the parties chosen to manage it. He continued at this business four years, when the firm of Smith & Moody purchased the business of which they were merely the managers, though all along it had been ostensibly their own. After the expiration of three years, he retired from this concern and became a partner in the well-known house of Samuel C. Davis & Co.
In 1855, he removed to Chicago, to establish and conduct a branch house organized there under the style of Davis, Moody & Co. He remained in Chicago until 1859, when, having disposed of his interest in the business of the firm, he returned to St. Louis, and for about one year was in the employment of Robert Campbell. He then purchased an interest in the mercantile house of Singleton & Co., and thus laid the foundation of the present flourishing concern of Moody, Michel & Co., of which Mr. Moody in the senior partner. During the many years in which he has been engaged in trade, Mr. Moody has enjoyed the reputation of an attentive, prudent and energetic business man, and his record is unstained by a single questionable transaction. He is full of public spirit, and never fails to take a prominent part in all matters and things tending to advance the commercial growth of St. Louis. [Northern Illinois University Libraries]
Joshua Canby Michel was born in Harrisburg, Pennsylvania on 15 November 1832. He worked for several years in St. Louis in the wholesale grocery and commission merchant business with Matthew Moody and Morey T. Andrews under the banner Moody, Michel & Company. The 1860 Kennedy's St. Louis Directory lists their address as 41 and 43 N. Commercial Street. Moody, Michel and Andrews put West India Stomach Bitters on the market in 1873 and obtained a patent on February 8, 1876. That year Michel dropped out of the grocery business and became a broker for the bitters and apparently some other West India medicines. West India Stomach Bitters was later in drug catalogs from 1882 through 1902. Michel died on 14 October 1904 in St. Louis.