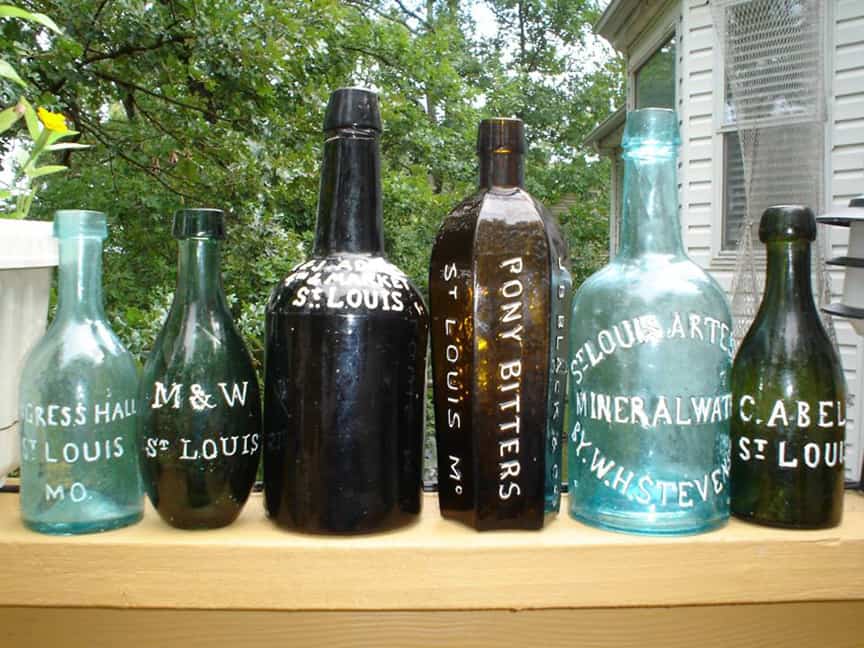 "the bottle came out of an estate. The gal that had it dealt in vintage cloths and didn't know the value. She almost listed it on ebay with a Buy it Now option of $50"
PONY BITTERS – ST. LOUIS
The extraordinary Pony Bitters from St. Louis
18 July 2013

Ellen Haas Faulkenberry posted the above picture of some killer, early St. Louis bottles recently on Facebook. Of course I recognized the only known example of the Pony Bitters. This bottle was found somewhere around 2002/2003 in Las Cruces, New Mexico and was auctioned off on ebay shortly thereafter. According to Ellen, "the bottle came out of an estate. The gal that had it dealt in vintage cloths and didn't know the value. She almost listed it on ebay with a Buy it Now option of $50".
Back in late 2003, I remember being so excited about this bottle on ebay that I drove in to Houston to my office from Peachridge. I thought it was a Saturday morning or afternoon. You see my internet connection out in the county was horrific at the time. Well I set up at my work station and anxiously waited to enter my bid at the right moment. Gues what, I was so nervous I keyed in the wrong amount and screwed it up. By the time I righted my bid amount, the auction was over. I believe Bill Ham was also doing the same from California as he was the underbidder.
Bill and I both finally saw this bottle at the 2007 FOHBC National Antique Bottle Show in Collinsville, Illinois. I remember being really impressed while Bill seemed a little underwhelmed. Make no mistake, this is a killer, pontiled bitters that is a one-of-a-kind example and in a shape and form unlike no other bitters. I suppose that I am glad the Pony Bitters is in its' home locale St. Louis if it could not be in Houston. One of these days.
Anyway, the Carlyn Ring and Bill Ham listing for this bottle in Bitters Bottle Supplement is as follows:
P 121.5  PONY BITTERS
J. B. BLACK & CO'S // PONY BITTERS // ST LOUIS Mo // f // f // f //
9 x 2 3/4
Six sided, Amber, LTC, Applied mouth, Metallic pontil mark, Extremely rare
Example was found in Las Cruces, New Mexico
So far, just about the only information I can find is this listing below for J. B. Black & Co, liquor dealers in a 1857 St. Louis City Directory. At first I suspected that this bottle was referencing the Pony Express but that did not start until 1860. It also reminds me of my uniquely shaped Bartlett's Excelsior Bitters which was found in a stagecoach stop in Texas. It is also the only known example. Both, absolutely killer bottles.
PONY BITTERS CLOSE-UPS
All pictures in the top gallery provided by Ellen Haas Faulkenberry. All pictures cropped by PRG.