Henry Ferris Porter Bottle
27 February 2015

The following e-mail was in my in-box from last month and I haven't had a chance to pursue until now. It is represented below from a fellow in Florida. Pretty neat old ale bottle of some sort. So who is Henry Ferris? Was this a beer, cider, porter, ale or ginger beer? I was re-watching Django Unchained this past weekend. You can spot a few bottles like this in one of the scenes.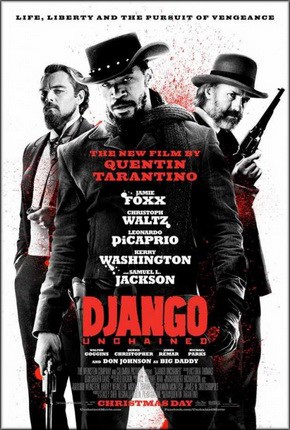 Hello! I'm sorry to bother you. I live in Florida and would like some information on my Porter bottle. It reads; 'HENRY FERRIS/ No 221 Tchapitoulas St/ NEW ORLEANS'. It stands at 9 1/2″ and is 3 3/4″ wide at the base. The manufacturer is inscribed POWELL / BRISTOL at the base. I Googled the name and found that an ad appeared in the Times Picayune on June 23, 1837 and reads; "PORTER STORE. FERRIS & BARDIN respectfully inform their friends and the public that they have commenced the business of bottling porter." Any further information as to the date, rarity and value would be appreciated. Thanks for your time. Regards Vernon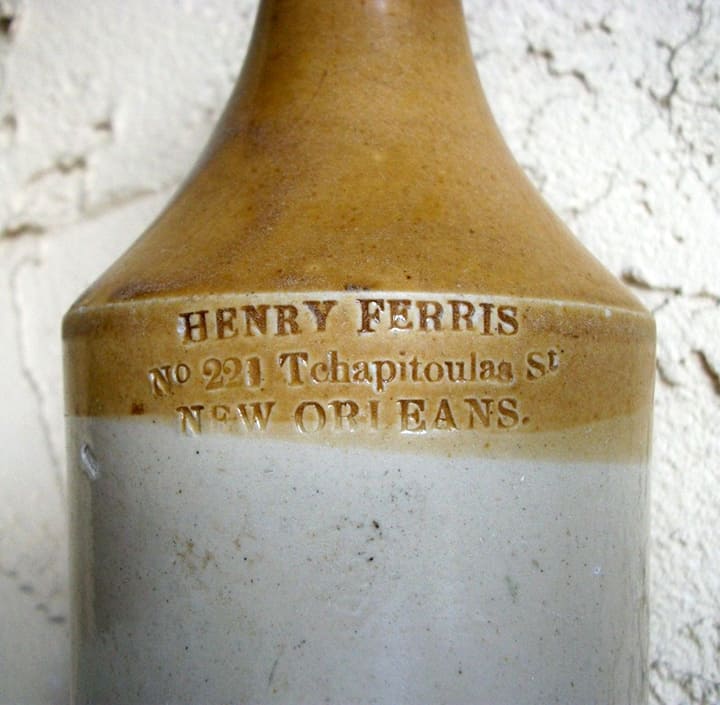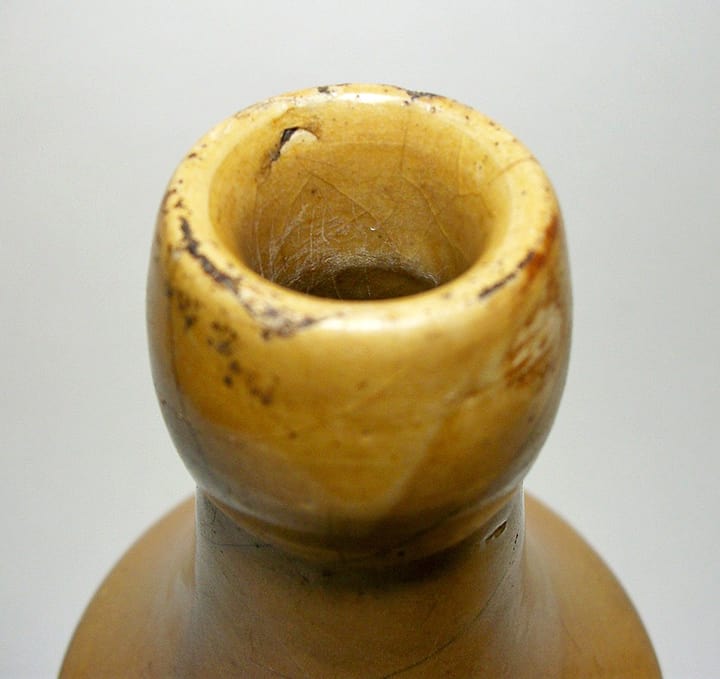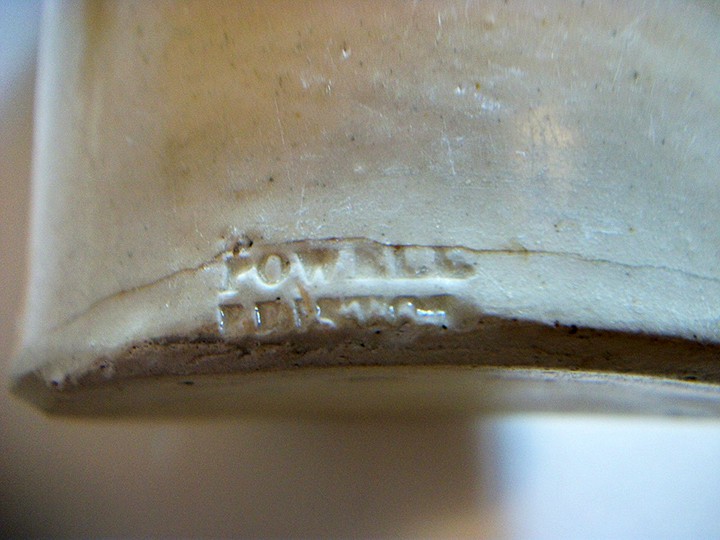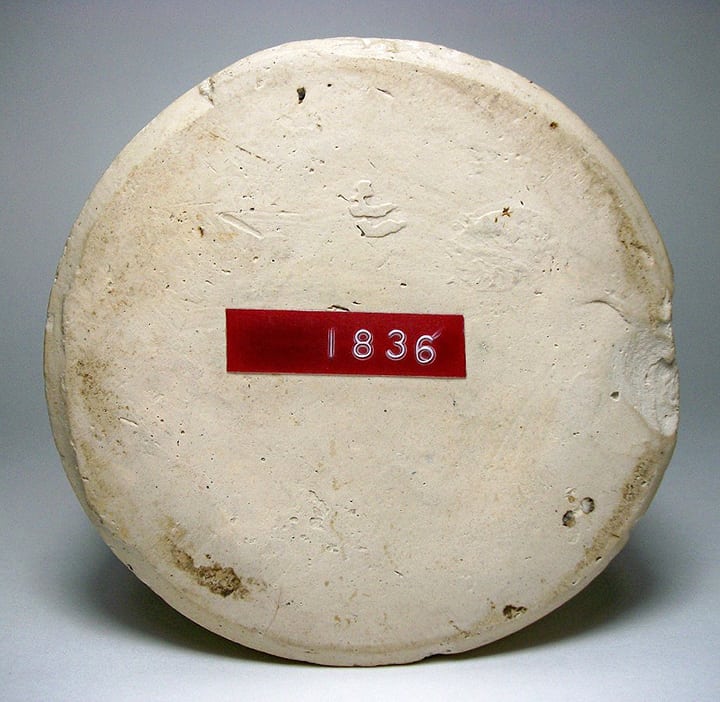 Here below is the advertisement that Vernon references in his e-mail. Pretty easy to find. Ferris & Bardin bottling Porter at 39 St. Joseph Street in New Orleans in 1837. Targeting ships, steamboats and coffee houses.
The next advertisement below pretty much confirms an 1845 date for the subject bottle as Henry Ferris just receives, from Bristol England, a quantity of stone bottles for his Porter, Ale and Cider business. He is addressed at 221 Tchoupitoulas in New Orleans. Remember the stamp on the bottom of the bottle references POWELL BRISTOL.
Here below we can see that Henry Ferris was posting a $10 reward for a runaway slave named Julia in 1846. Wonder if he ever found Julia? I bet she headed north. Henry seems to disappear too. There is some evidence he went north too, possibly to Baltimore or New Jersey.
The Porter bottle is stamped Powell Bristol as noted above. The Powell family had been brown stone potters at Thomas Street, Bristol from 1780 and were also manufacturers of glass bottles.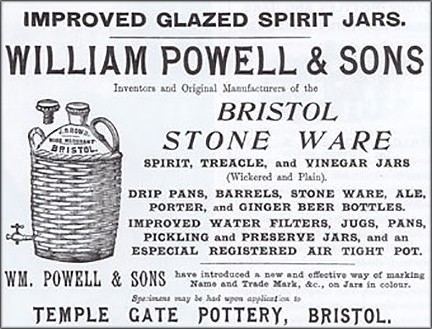 Around 1816 William Powell established a pottery at Thomas Street Bristol and in 1829/30 the pottery moved to Red Lane, Temple Gate, Bristol. William Powell died in 1854 and he was succeeded by William and Septimus Powell and by the end of the nineteenth century they were the second largest maker of stoneware bottles in Britain. The company remained at Temple Gate until they were absorbed by Price in 1906 but they had also expanded to include premises in Redcliff Mead Lane. Powell was also instrumental in the discovery of the 'Bristol Glaze' which improved the appearance of glazed vessels and also enabled the achievement of the two-tone effect which many of the jugs and flagons display. Previously stoneware was salt glazed which produced a finely pitted glaze. The 'Bristol Glaze' form of glazing was first used at Powell's pottery by Anthony Ammatt in 1835. Powell never patented the discovery but some of his adverts did include the wording 'Inventor and sole manufacturer of the Improved Stone Ware, which is Glazed inside and out with a Glaze Warranted to resist Acids and will not Absorb'. [reference Winchester Museum]
Select Listings:
1837: PORTER STORE – FERRIS & BARDIN advertisement (see above) – The Times Picayune, Thursday, April 27, 1837
1840: Henry Ferris, Free White Person, New Orleans Ward 2, Orleans, Louisiana – United Stated Federal Census
1845: Henry Ferris just receives, from Bristol, England a quantity of stone bottles for his Porter, Ale and Cider business notice (see above) – The Times Picayune, Sunday, November 30, 1845
1846: Henry Ferris was posting a $10 reward for a runaway slave named Julia (see above). Addressed at 221 Tchoupitoulas Street, the same address debossed in the bottle – The Times Picayune Thursday, April 30, 1846