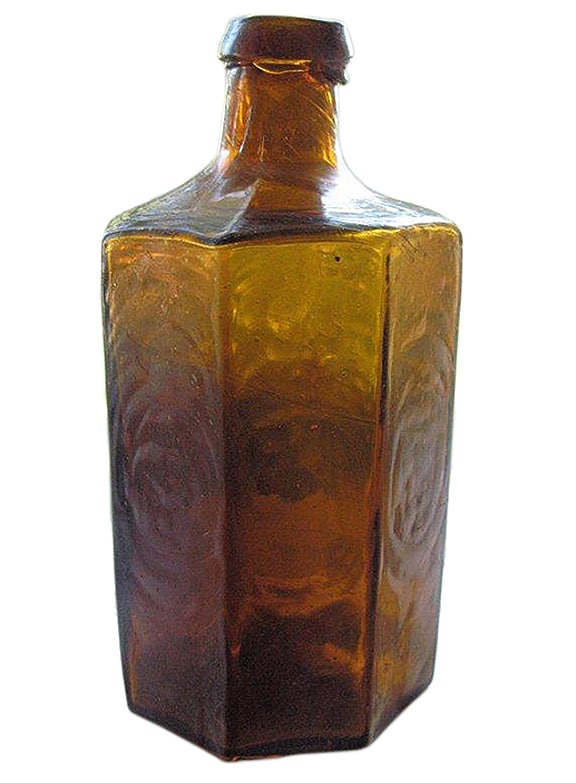 Amazing 8-Sided Bottle…Is It Baltimore?
29 August 2014

As part of the "Dale Mlasko and great bottles found at the bottom of a San Francisco Hole Week" we now show you this amazing utility or ink bottle that Dale found in the San Francisco gold rush collection that he is going through, box by box. Read: The E. Julin – ABO football sized torpedo Read: Bertinguiot… French or American Inks?
"Hi Ferdinand, Here is an amazing eight sided medicine (ink?) found in an early 1960s dig in San Francisco. While it has no embossing, it is crude with a tubular pontil and trails of black slag throughout. The whittle effect is amazing. It is 6 1/2″ tall. I have been told that it may be Baltimore blown? Any thoughts? Thanks, Dale Mlasko"
I was curious why one would say Baltimore on this bottle. I mean I know it may have been a much earlier predecessor to other multi-sided bottles out of Baltimore like the Wheeler's Berlin Bitters, Walters & Company, London Medicated Health Restorer and the ten-sided Greensfelder & Laupheimer. Buy why Baltimore? Some felt so sure of this when this bottle was posted on the PRG Facebook page. The comment I was most looking for came in from noted Baltimore bottle authority Chris Rowell.
"I would not jump right to Baltimore with these. I have seen pictures of a few of them. And they all seem to be exactly the same color. Sort of a yellow amber. Almost all "amber" Baltimore blown bottles from the 1840s have peach, topaz, or puce tones to the glass. True yellow amber would be a scarce color for Baltimore glass of that era. I would agree with calling them Mid Atlantic. But I can't rule out a New Jersey or Philadelphia area glass house yet with these." – Chris Rowell
Noted New England collector Michael George added the following with a picture (below):
"I have one that has the same CRAZY whittle, in a beautiful orange amber color! Really cool utility bottles!" – Michael George
Another interesting follow-up comment from Dale Mlasko:
"What is scary is that the color, texture and pontil look eerily like Baker & Cutting. I know of 5 of these all dug in early pits in San Francisco." – Dale Mlasko
Some multi-sided Baltimore bottles