Bertinguiot… French or American Inks?
27 August 2014 (R•082814)

Must be Dale Mlasko week (visit Oregon Trail Antique Bottles & Glass). Keep getting these drop-dead, stunning pictures of bottles that were dug in San Francisco. Earlier this week it was the E. Julin – ABO football sized torpedo and last night, a killer, 8-sided medicine. Stay tuned on that one. Today it is a gorgeous Bertinguiot ink (see top of post and below pontiled base) in a purple puce coloration. The embossing could imprint wet concrete and be read it is so crisp. Dale's e-mail:
Hi Ferdinand, I recently came across this light purple puce Bertinguout ink. It has an open pontil and was dug in San Francisco in the 1960s. I have seen these in many shades of olive and green and one in cobalt blue. Never in this color. I believe these were originally thought to be French in origin but now I believe they are known to be American? I would appreciate knowing if this color variant is unique or if there are more out there. Regards Dale
French or American Ink? or both?
What I find interesting here is an obvious French ink that is showing up in the continental United States. These are probably late 1830s and early 1840s pieces though some pieces may be from the 1850s and 1860s. One advertisement from Washington DC in 1836, says "Bertinguiot French Inks, red and black", for sale (see below). There is some thought as them being blown in the northeast United States, some say Coventry glass works, though the purple puce coloration is not representative of this area at that time. This is a tough name to research. We could be talking about Frenchman, Jean Baptiste Bertinguiot (married Jeanne Claude Masson 1822). One clip says the AM in front of Bertinguiot is Adrien Maurin, the well known French ink merchant. Maurin was the successor of Bertinguiot (see billhead below). Another name in the mix is Perine Guyot. His French inks were being sold in New Orleans in 1858. I know, this is all pretty inky so far. I need to find out if all pieces or just some have the "AM'" embossed in front of "BERTINGUIOT". Also, who was representing the brand in United States?
A couple of quotes to ponder:
"I have always believed them to be a product of Coventry, Connecticut but could be wrong. Just looking at them they are screaming New England. I've dug an intact example and several broken ones here in Ohio so at very least they were sold in the States. I would think they were marketed by a U.S. company if they are showing up this far inland at that time." – AppliedLips (antique-bottles.net)
"I also believe this to be a CT inkwell. Examples exist with a paper labels that indicate a CT town… Columbia I believe. Also… the glass, pontil, form, and sheared top are all characteristics of early Coventry production." – Michael George (antique-bottles.net)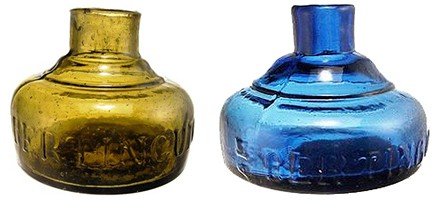 I have owned a yellow olive one before and did some research. Many sources on the net and maybe a bottle book or two called it a US ink. There were a couple sources I found that did say French but they were outnumbered and I believe incorrect. I was thinking they were a southern ink company, (Louisiana comes to mind) and bought their bottles from the north.  I might be way off but thought I would share my foggy recollections. – Coboltmoon (antique-bottles.net)
I've seen these in this color which is certainly rare but what's even more rare is the strike on that thing as most are weak. – Lou Lambert (Antique Bottles – Facebook)
There has been multiples of these inks that were recovered in New Orleans. With the heavy French and Creole population there, they were definitely marketed to the local population. They are an obvious Northeast glass product from a French ink manufacturer for distribution here. I don't think that they wanted a crate full of glass inks rattling around on a boat ride across the Atlantic Ocean. – Brandon Smith