The E. Julin – ABO football sized torpedo
23 August 2014 (R•091814)

Incoming e-mail from prominent west coast bottle collector, Dale Mlasko. We've seen many of Dale's great western bitters pictures before. He had this oddity needing identification. I quickly cross referenced it with the great Julien's Imperial Bitters, thinking a misspelling, but no connection. Read: The two Julien's Imperial Aromatic Bitters Variants
Hi Ferd, I recently picked up this huge torpedo and have been unable to find anything about it. It is Jurassic looking in age, and is a gigantic 10″ tall and as large as a football. It looks 1840-ish to me but I honestly have no clue. None of the collectors I have asked had ever seen one before. The embossing reads " E. Julin" Reverse reads "ABO." Any thoughts? It was dug in downtown San Francisco over 50 years ago. I have a small torpedo from the same company also. Thanks! – Dale Mlasko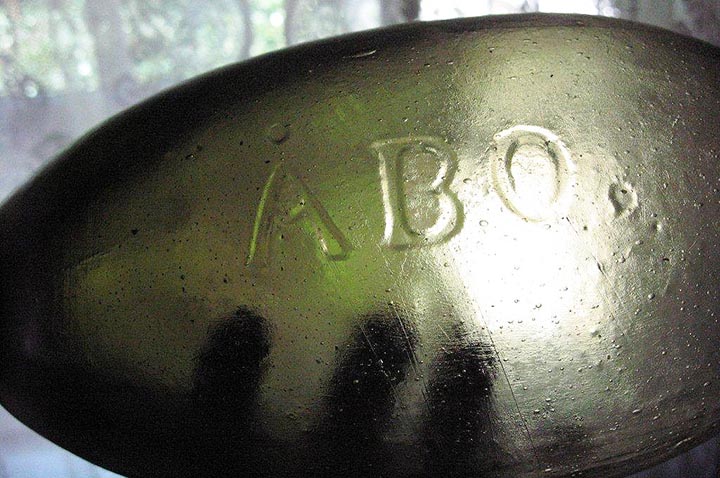 Taking a stab at San Francisco, I look for E. Julin and don't really see anything in Ancestry.com and a few other sources. There is an E. Julin who was a carpenter and train engineer in the 1890s though. When I open up the search globally, I do start to see some E. Julin's listed as a passenger on cross atlantic and European ship passenger manifests. One find is particularly interesting as it lists an E. Julin and E. Julin Jr. as passengers on the John Bull (see below) arriving in London, England from Hamburg, Germany on 11 August 1851. Both are listed as natives of Finland. If you read closely, the occupation is Apotheker (Apothecary) for both.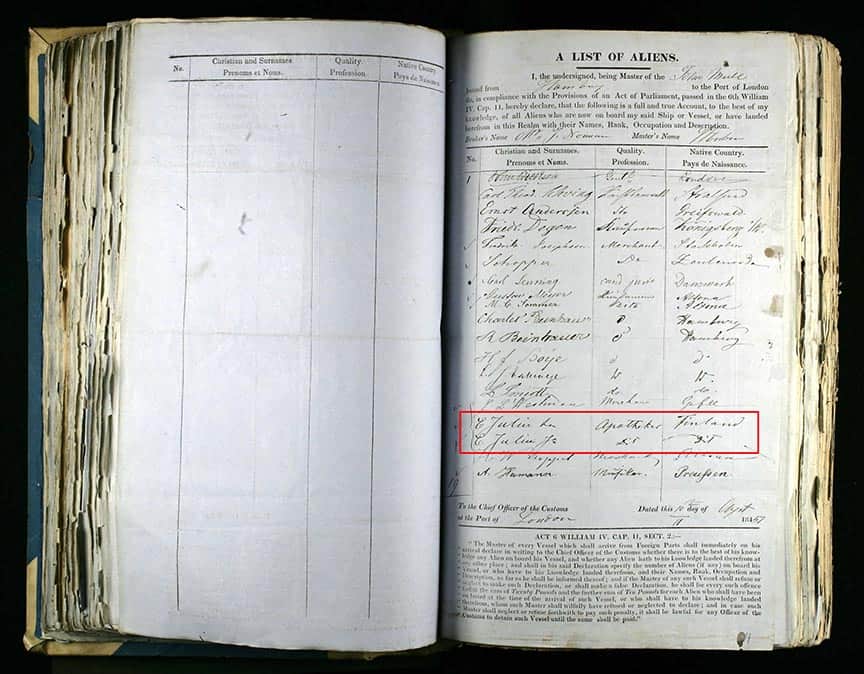 When I Google "ABO" I get a break and find out that Turku (Finnish pronunciation) and Swedish: Åbo is a city on the southwest coast of Finland at the mouth of the Aura River, in the region of Finland Proper. Turku, as a town, was settled during the 13th century and founded most likely at the end of the 13th century, making it the oldest city in Finland. It quickly became the most important city in Finland, a status it retained for hundreds of years. After Finland became part of the Russian Empire (1809), and the capital of the Grand Duchy of Finland was moved to Helsinki (1812), Turku continued to be the most populous city in Finland until the end of the 1840s, and remains a regional capital and an important business and cultural centre. [Wikipedia]
With the Swedish and Finland connection I am led to a list of Forwarding Agents by Cities within BOOKS on PHILATELY, Philatelic Bibliopole by Leonard H. Hartmann and see:
ABO
(Turku), Finland
A. Dromberg

E. Julin & Co.

Abr. Kingelin
A. Kumlin
Save & Co.
Otto Sjostrom
C. F. Wendelin
I am also thinking Julin came to America a few years later and arrived in New York. He may have been using the name John E. Julin. So here we have this football sized torpedo from Finland found in San Francisco. I wonder if Baltimore collector Chris Rowell, who specializes in this form has any information on the bottle?
The pictures of the two E. Julin bottles below came with the following e-mail: As promised here are a few of the early sodas that were dug in San Francisco in the 1970 era. The Trans America Building now sits on what was the old shoreline of the Bay/Beach and is really some of the earliest bottles dug from the California Gold Rush. – John Shroyer
Read More: "Damn the torpedoes, full speed ahead!"
Read More: Just Love Those Torpedo Soda's