I wonder if the Alpine Bitters is the labeled bottle and the larger cylinder bottles are Fairmont and Clutch Rye? Could that be N.A. Bink with the tie? What about that Sheriff?
Did N. A. Binks make an Alpine Bitters too?
07 September 2013

Bill Ham and I were corresponding yesterday and comparing notes on the various Alpine Bitters brands. As you may be aware, I got side-tracked and went off on this rather exciting journey to look at a few of the rarer and unlisted Alpine Bitters.
Read: The Widemann & Chappas Alpine Stomach Bitters – Marysville
Read: Our Most Celebrated Alpine Stomach Bitters – Gehrmann's, Ahrens, Co., NYC
Read: Otto Kornemann and his Alpine Bitters Statuette – New York
Read: Alpine Herb Bitters – Western Mountain Themed Square – San Francisco
The Mysterious E-mail
Just when I thought I had things 'under control' with the various Alpine Bitters, Bill sends me this mysterious e-mail:
Ferdinand – Does this work for the new things?
Serving Tray
A 34.5  N.A. Binks
"Drink Fairmont Rye, Ask for Alpine Bitters", Escanaba, Mich.
16 inches long
Binks may have been a distributor for A 36 Alpine Bitters and Fairmont Rye. Tray pictures beautiful Victorian women. – Bill
Wow. Strange. Bill and Carlyn do have a rather diminutive listing for an Alpine Herb Bitters in Bitters Bottles and have assigned it A 36 (listing and picture below).
A 36  ALPINE HERB // sp // BITTERS // f //
10 x 2 3/4 (7 1/2) 1/4
Square, Amber and Yellow, 2 sp, LTC, Tooled lip, Rare
Other 'Oddball' Alpine Bitters References
While we are at it, let's add in a few other Alpine Bitters 'oddball' references in Bitters Bottles. Maybe they are also linked to N. A. Binks, whoever that is?
Who is N.A. Binks?
"listed in various census reports and directories as a wholesale liquor dealer in 1893 and a saloon owner"
A quick search online pulls up references to a Bink and Coca-Cola in Escanaba, Michigan. Interesting. I really need to find out what "N. A." stands for so I jump over to the powerful tool, Ancestry.com and type in N. A. Binks, 1890 (+/- 10 years), Escanaba, Michigan. I get some of the typical mis-connections and a few possibilities. You see, the United States census collectors hand wrote their entries so I see no direct links. I remove the 's' from Bink and there he is, Nicholas A. Binks. I now can cross reference various records and confirm that in the years 1889 – 1910, a Nicholas A. Bink was listed in various census reports and directories as a wholesale liquor dealer in 1893 and a saloon owner in 1897 for instance.
Bink, Nicholas A. – Delta Ave. – Escanaba – 20 – bookkeeper, 1889, Escanaba City Directory
Bink, Nicholas A., sample rooms. Dealer in fine wines liquors, cigars and fresh beer, 1003, 1893-95 Escanaba Directory
Bink, Nicholas A., saloon, Michigan State Gazetteer and Business Directory, 1897
Now that I have a full name, I go back and search for Nicholas A. Bink and get the following great information:
Nicholas A. Bink has been a resident of the city of Escanaba, Delta county, since he was a youth of nineteen years, and has been actively associated with the business interests of this vital community during a period of more than forty years, so that, as proprietor of the City Bottling works, he now ranks as one of the veteran business men of the city.
Mr. Bink was born at Fredonia, Wisconsin, September 7, 1866, and is a son of Michael and Mary K. Bink, the former of whom was born in Germany and the latter in Belgium. Michael Bink was a youth of fourteen years when he came to the United States, and after having been for a number of years actively identified with farm industry in Wisconsin he engaged in the hotel business at Belgium, Wisconsin, Ozaukee county, where also he conducted a general store and served a number of years as justice of the peace. He finally retired from active business and he passed the closing period of his life at West Bend, Wisconsin, where he died in 1922, at the venerable age of eighty-four years. He was a staunch supporter of the cause of the Democratic party and was a communicant of the Catholic church, as was also his wife, who died in 1921, at the age of seventy-five years.
engaged in the retail liquor business, and thereafter he conducted a substantial wholesale liquor business, under the title of Bink Wholesale Liquor and Supply company
The early education of Nicholas A. Bink was obtained mainly in the district schools of Wisconsin, and at the age of nineteen years he came to Escanaba, Michigan, and entered the employ of the Escanaba Brewing company, with which he continued his association three and one-half years. During the ensuing ten years he was here engaged in the retail liquor business, and thereafter he conducted a substantial wholesale liquor business, under the title of Bink Wholesale Liquor and Supply company, until the national prohibition laws came into effect. Since 1922 he has been the proprietor of the City Bottling works, and has developed a prosperous business in the bottling of aerated beverages and other "soft drinks."
Mr. Bink has been an upright and reliable citizen and business man and has a host of friends in this section of the Upper Peninsula. He gives his political allegiance to the Republican party, he and his family are communicants of the Catholic church, and he is affiliated with the local lodge of the Benevolent and Protective Order of Elks. On the eighth of September, 1891, was solemnized the marriage of Mr. Bink to Miss Anna Groos, who was born and reared in Escanaba and who is a daughter of the late Peter and Anna (Huffman) Groos, of whom more specific mention is made in the personal sketch of their son Dr. John O. Groos, elsewhere in this volume.
Another nice bit of information on Bink Wholesale Liquor and Supply Co:
was occupied in 1907-08 by Bink Wholesale Liquor and Supply Co., incorporated October 1, 1903, with Capital Stock of $30,000, N. A. Bink, manager (Polk 1907). After Prohibition began in 1919, Bink remained in business as the City Bottling Works, distributing "soft drinks" that included Bink's Beverages (Fuller 1926: 267; Bink 2003). It has remained in business, becoming a Coca Cola franchisee in 1932 and becoming one of the Upper Peninsula's largest distributors of soft drinks (Bink 2003).
And more on the Coca-Cola business:
Bink's Coca-Cola was founded as Bink's Wholesale Liquor and Supply Company on October 10, 1903 by Nicholas A. Bink. In December, 1921, the company became The City Bottling Works.
The second generation of ownership was with Nicholas J. Bink, the founder's son. Bink's Coca-Cola Bottling Company began selling Coca-Cola in 1931 and purchased the Coca-Cola franchise for Delta and Schoolcraft counties in 1936. In 1961, Bink's purchased the franchise to sell Coca-Cola in Dickinson, Iron, and part of Florence, Menomonee and Marinette Counties.
Robert N. Bink, the founder's grandson is the current president of Bink's Coca-Cola. He represents the third generation in the family business. Robert has continued to provide growth to the Coca-Cola business and has maintained the status of being a Coca-Cola Bottler.
Nicholas R. Bink, general sales manager for Bink's Coca-Cola, is the fourth generation in the business. Nick has continued to provide growth and superior service to Coca-Cola customers. As a father and son venture, Robert and Nick have recently partnered to form Bink's Wines & Beverages. This new Bink enterprise currently services five counties in the Upper Peninsula of Michigan with fine wines from around the world.
The Serving Tray
Since we still have no Alpine Bitters mentioned with Nicholas A. Bink or Bink Wholesale Liquor and Supply Co., we need to look at this tray Bill references. Bill unfortunately, upon questioning, does not have an image of the Fairmont Rye serving tray, only the mysterious notation from his record from some years ago.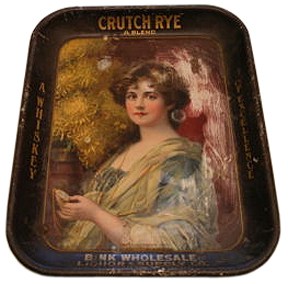 I start looking for images of the Fairmont Rye tray and 'almost' hit payola with a Bink Wholesale Liquor and Supply Co., tray image (above) with a Victorian woman. Unfortunately it says "CRUTCH RYE" instead of "Fairmont Rye". Not a big stretch to think another similar tray may be out there. But where is the "Drink Clutch (or Fairmont) Rye, Ask for Alpine Bitters" copy? Could this be on this tray, and the copy mostly faded away or too small? Someone out there has these trays. Maybe they will surface.
I am now starting to think that Bink, since he was a wholesaler, was in the saloon businnes and had a liquor supply company, it is entirely possible that the Alpine Herb Bitters, Alpine Bitters Dispensing Barrels and Decanter pictured further above, may be related. No proof though. Someone owns these pieces out there. Bill and Carlyn had to get the information to create the listings in Bitters Bottles.
So we leave today with the mystery not solved and no concrete proof. I bet we can solve this.
 A Little on Escanaba, Michigan
Wikipedia: Escanaba is a city in the U.S. state of Michigan, located in the banana belt on the state's Upper Peninsula. The population was 12,616 at the 2010 census. As of the 2000 census, the city population was 13,140, making it the third-largest city in the Upper Peninsula after Marquette and Sault Ste. Marie. Named for the Escanaba River that flows into the Little Bay de Noc of Lake Michigan just north of the city.
The word "Escanaba" roughly translates from various regional native languages to "land of the red buck" although some people maintain that it refers to "flat rock". Escanaba was an Ojibwa village in the early 19th century. As an American settlement, Escanaba began as a port town in the mid-19th century, gaining importance to the Union as a shipping point for iron ore, lumber and copper during the Civil War. In his poem "The Song of Hiawatha", Henry Wadsworth Longfellow described how Hiawatha "crossed the rushing Esconaba" referring to the river. Located on Little Bay de Noc at the northern edge of Lake Michigan, Escanaba continues to serve as an important shipping point for iron ore to other Great Lakes ports, especially south to Chicago and northern Indiana. The local paper mill, for many years Mead Corporation's Publishing Paper Division, is currently operated by NewPage Corporation; located on the outskirts of the city alongside the Escanaba River, it is now the area's largest employer.
As shipping increased, a lighthouse was needed to warn of a sand shoals that reached out into Little Bay de Noc from Sand Point, a sandspit located just south of and adjacent to the harbor area. The United States Lighthouse Service approved construction of the Sand Point Lighthouse at a cost of $11,000. Construction began in the fall of 1867 and was completed in early spring 1868. It was deactivated in 1939, and was used by the United States Coast Guard to house seaman assigned to Escanaba. The building was completely restored to its original design in the late 1980s, and placed on the National Register of Historic Places.