Alpine Herb Bitters
Western Mountain Themed Square
01 April 2012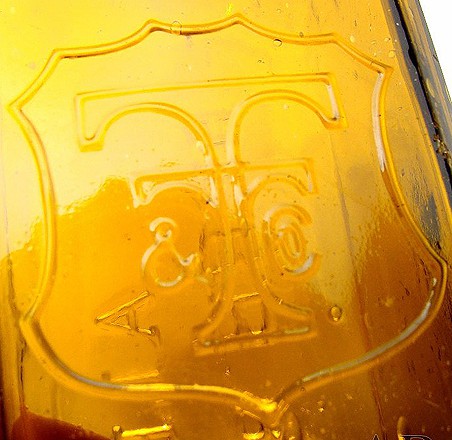 The next in the 'Mountain' embossed or themed Bitters is the Alpine Herb Bitters. This series was inspired by a request by Matthew Tigue Levant asking over on the facebooks Antique Bottles for Sale page, that he is "looking for any med, bitters, cure bottles with the word "Mountain" embossed in the glass".
"looking for any med, bitters, cure bottles with the word "Mountain" embossed in the glass"
Previous posts (see bottom of this page) have dealt with Bitters bottles with the word 'Mountain' embossed directly on the bottle. The Alpine Herb Bitters is not embossed with 'Mountain' but research shows us, in this case, the brand is Mountain themed. I thought I would outline my steps of basic research for the Alpine Herb Bitters. Having this information in one area is very helpful. I can also update as I receive new information.
I usually first look at Carlyn Ring and W.C. Ham Bitters Bottles  (I also check Bitters Bottles Supplement) and see the following:
A 37 ALPINE / HERB BITTERS // f // motif shield with monogram TT&CO // f //
10 x 2 3/4 (7 1/2) 1/4
Square, Amber, LTC, Tooled lip – Very Scarce; Applied mouth – Extremely rare
TT&CO: Thomas Taylor Company, San Francisco,
Besides the name and graphics, I am immediately drawn to the Thomas Taylor and San Francisco references telling me that this is a western square.
I first Google Alpine Herb Bitters and as expected, find little if no information. I do see a hint of a post by Kentucky Gem over on a western glass site that I will circle back too below.
Next I google Alpine, specifically in California and see that Alpine is a census-designated place (CDP) in San Diego County, California. Alpine had a population of 14,236 at the 2010 census, up from 13,143 at the 2000 census. (See Fig: 2). Not a likely link.
Following the Google search, I look at my Western Bitters book by Bill & Betty Wilson, copyright 1969, and see a nice black & white plate showing a labeled Alpine Herb Bitters and two (2) smaller photographs of the embossing of the typography and shield (see Fig: 3). The ALPEN word, German text and cross pretty much confirm the 'Mountain' reference and link I am looking for. [Addendum] I also see a note stating '1888 only'. I suspect this is incorrect.
Next I look at my The Best of the West | Antique Western Bitters Bottles by Jeff Wichmann and see a beautiful page dedicated to the ALPINE HERB BITTERS with T.T. & Co. monogram on page 27. (see Fig:4). I really like the framed advertisement on the page. This confirms the product, mountain theme and has Thomas Taylor & Company on the frame. Wow is all I can say. [Addendum] I again see the note stating '1888 only' which must have been taken from the Western Bitters book and not the Bitters Bottles book.
I next add a great picture of the Alps as the header to this post. In this case it is Alpine Landscape – by George Frederick Watts. (see Fig: 1.)
For heavy duty product research, I head over on-line to Western Bitters News and Western Glob Top Whiskies | Western Glass (see Fig: 5) and look to see if anyone has written about the Alpine Herb Bitters and more specifically, Thomas Taylor. I see the following:
Thomas Taylor began his liquor career in San Francisco during the 1850's amid the California Gold rush. Taylor was born in Hamburg, Germany in 1831. He came to California, first working in Sacramento, then in San Francisco to mine the gold of pocketbooks, which poured open as the whiskey flowed. By 1858 he had started his own wine and liquor business at 109 Clay Street. In 1861 he became a partner with John G. Frisch at 413 and 415 Clay Street in San Francisco, living at 716 Union Street. The business was known as Frisch & Co. Read about Thomas Taylor.
THOMAS TAYLOR & CO.'S ALPINE HERB BITTERS c1888 – c1896 [from Thomas Taylor  Western Whiskey Tool Top Gazette – Kentucky Gem (Bruce Silva)
Sometime in the 1880's, Taylor & Co. created Alpine Herb Bitters. The date of creation is uncertain, though Bill Wilson in his book Western Bitters, claims that Alpine Herb Bitters was only distributed in 1888. We now know that Alpine Herb Bitters was made and distributed at least during the period 1888-1896. A record of a patent for the Alpine Herb Bitters in US Patent records was not found, though it may have been under another man's name, and therefore difficult to locate. Unfortunately, Patent records are not well indexed, adding to the difficulty in research.
There are two distinctly different embossed bottles bearing the Alpine Herb Bitters name. The earliest is a very crude amber, square, applied top bitters, of which at least four specimens are known. One of the applied-top specimens was dug in Virginia City by Vera Bennett, an early bottle digger of the 1960's. This bottle has all the ear-marks of a bottle made well before 1888, but as yet, there is no documentary evidence of Alpine Herb Bitters before that date. One might make the assumption that the applied top Alpine bottle might have been made just after the company re-emerged in San Francisco in late 1883, but more research is needed to study that possibility. The second bottle is a very neatly made tooled top square bitters, with a nearly identical embossed pattern. There may be less than two dozen of the tooled top variety known, though there was no attempt made to inventory these bottles in collections. This bottle could easily date to the late 1880's, but the first bottle certainly seems older based on comparative construction, though applied top bottles are known as late as 1899. Neither bottle carries a town name, indicating the possible distribution of the product in more than one city.
Taylor's letterheads from the 1890's reflect the marketing of Alpine Herb Bitters, and it certainly was distributed from San Francisco as late as 1896. No records were found from Taylor's Virginia City operation that could place distribution of the early applied top Alpine Herb Bitters in Virginia City, though this still remains a possibility. Several other western bitters are also found in both applied and tooled tops, an indication of manufacture throughout the 1880's and 1890's at least. These include: Hibernia, Pipifax, Dr. Thos. Hall's, Jewell, Louis Tausig, Excellsior, Booth, and Dodge & Co.
The Alpine Herb Bitters name and recipe was probably sold or leased to other companies for distribution, particularly after 1901. An amber, round neatly made bottle with an Alpine Herb Bitters label shows the agent as N. Van Bergen, and another neatly made, post-1906 paper labeled bottle shows Wichman-Lutgen as the agents.
Without more information on the recipe, it is difficult to ascertain the contents. Many would like to know which alpine herbs were used, and from what part of the Sierra Nevada they came, the only alpine environment around. More research may solve these mysteries.
There are at least three other embossed bitters bottles bearing similar names. Swiss Alpine Bitters , Swiss Alp Bitters (2 varieties) and Hungerbuehler's Swiss Alpine Bitters. Any relationship between these and Taylor's Alpine Herb Bitters is unknown and deserves more research.
I then google Thomas Taylor again and look deeper to find a shot glass with his name on it. (see Fig: 6)
(Fig: 6) Shot Glass – TRADE MARK (slanted down/up beneath a frosted shield upon which is etched a head and shoulders portrait of a bearded man, facing left) / TOM TAYLOR (arched) / (line of three large stars) / EXTRA PONY / WHISKY. (enclosed within a rectangular outline) / THOMAS TAYLOR & CO. / SAN FRANCISCO / EST 1858 (arched)
I next try to figure out if the Alpine Herb Bitters was made at Pacific Glass Works, San Francisco Glass Works or Pacific Coast Glass Works. A quick email to western glass authority Warren Friedrich gets the following reply:
"If you are talking about the square bitters with the monogram/shield embossed on the one panel and the words ALPINE HERB BITTERS on another panel it was not (made at Pacific Coast Glass Works). That was most likely manufactured by S.F.& P.G.W. That bottle is much earlier than when P.C.G.W was in operation". Warren
I've posted a few pictures (see Figs: 7, 8 & 9) of my example below with does not have an applied top. This was won at Pacific Glass Auctions (now American Bottle Auctions), Auction 30 and was Lot #166 back in 2003. This applied top example is very much something I am looking for.
Read more on 'Mountain' embossed or themed bitters. All prompted by a request by Matthew Tigue Levant asking over on the facebooks Antique Bottles for Sale page, that he is "looking for any med, bitters, cure bottles with the word "Mountain" embossed in the glass".
Dr. Black's Rocky Mountain Bitters
Ulmer's Mountain Ash Bitters Remedy