James Noyes – Hollywood, Mississippi & the Imperial Levee
13 June 2012 (R•032319)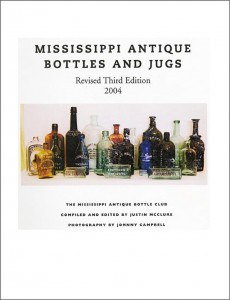 For the past few months I have been tracking down leads on some extremely rare Mississippi Bitters bottles where I am developing separate posts thru a few leads provided by Richard Kramerich.
More leads and information came in yesterday when Richard connected me to Justin McClure in Jackson, Mississippi. Justin is an authority on Mississippi bottles and their history. Justin compiled the information and was the editor of Mississippi Antique Bottles and Jugs (above) put out by the Mississippi Antique Bottle Club in 2004 (revised Third Edition).
During our conversation, we discussed the famous IMPERIAL / LEVEE / J. NOYES / HOLLYWOOD, MISS and a previous post on Peachridge Glass. Justin was kind enough to provide some outstanding new information which I am posting below. He also sent pictures of two, one-of-a-kind Imperial Levee examples, one being in green and the other having an altered mold. Wow. This is really exciting. Thanks Richard and Justin.
Top post picture courtesy Heckler Auctions, 2019
JAMES NOYES
HOLLYWOOD, MISSISSIPPI
By Sim Callon & George Chatham
Several examples exist of the most spectacular known bottle from Mississippi. The relatively large number remaining, from what must have been a very small original production, attests that these beautiful bottles were "keepers" at the time they were issued.
Fashioned to resemble a tree stump covered with grape vines, embossed "IMPERIAL / LEVEE. / J. NOYES. / HOLLYWOOD / MISS.", and with iron or open pontil, these are truly attractive and unusual examples of the glass blower's art.
Three variations are known to exist: one in green and a number in amber, one of which was altered with a "doughnut" on the shoulder and with lip flared to form a sort of decanter (see picture below).
James Noyes was born at Bristol, England, in 1799. He emigrated to Natchez, Mississippi as a young man, and declared for citizenship in 1835. This was granted in 1837.
James' older brother, William B., also moved to the Natchez area. William died in October, 1823. There is some speculation that James may have married his brother's widow, Elizabeth.
Noyes apparently was a versatile individual. He placed newspaper ads in 1835 offering himself as a sign and house painter, paper hanger and glazier, and in 1839 for gardening and grounds work. During this period, his wife made and sold corsets to the ladies of Natchez from their home on Franklin Street. In the 1840's Noyes authored several widely read articles explaining the fine points of successful grape culture.
Noyes obtained 41 acres of land three miles north of Natchez on the road to Washington, Mississippi, by purchasing adjacent parcels in 1842 and 1844. He moved there from his house in Natchez, and named the property "Hollywood". He planted 2 1/2 acres in scuppernong grape vines and farmed approximately 18 acres. The remainder was unimproved woodland.
Under his expert care the vineyard flourished and quickly yielded record sized grapes of superior quality and unusually fine flavor. Actual pressing of wine began in September of 1846, and in January of 1848 Noyes carried his first bottle to the Louisiana State Fair at Baton Rouge.
The census of 1850 shows James Noyes to be a "vintner" (sic) and his wife, Elizabeth, also born in England, to be ten years his senior. There were no children listed in the household. Noyes was not a wealthy man. He did own two slaves valued at $1,800. The census shows that he also owned one horse and four sheep and produced 25 bushels of Irish potatoes and 100 bushels of sweet potatoes. The total value of his holdings in 1850 was $8,000.
Noyes died suddenly on August 23, 1852 after being seized by a "congestive chill". He was buried near his beloved grape vines on Hollywood. The exact location of his grave has long been lost. Elizabeth sold Hollywood to Natchez druggist George W. Fox in 1857.
Noye's estate included slave Foster, 34 years old, and George, age 15. Also 70 gallons of wine and, fortunately for today's collectors, four cases of "fancy bottles".
Questions are generated by the artistically detailed wine bottles bearing J. Noyes name. Where were they made? What was the meaning of "Imperial Levee"? And how could this small and immature vineyard justify the variety of fancy bottles that must have been expensive even 150 years ago?
The answer may never be found. But bottle collectors are very appreciative of the legacy left by this obscure resident of antebellum Mississippi.
Read More: The big star in Hollywood, Mississippi is the Imperial Levee