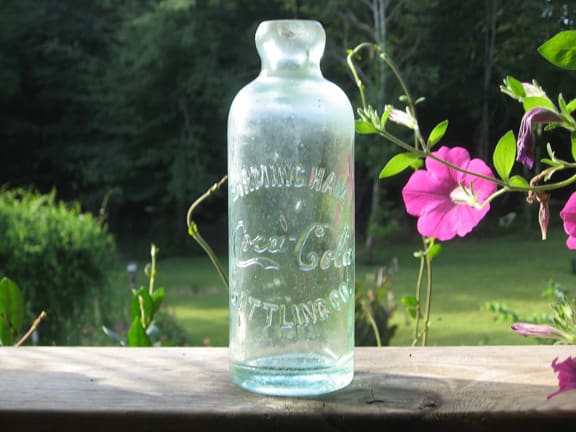 Sometimes I get emails and posts on my Peachridge Glass facebook page with little more than just a photograph, which happened in this case. It parked for a day or so until I really looked at the rather nice photograph and smiled. The only caption was:
"A picture of the best bottle I ever dug then sold and bought a bitters. I love my hobby"
I asked the sender, a Dennis Humphrey from Northport, Alabama; "Dennis…so what Bitters bottle did you purchase?". Dennis replied…
"I purchased an open pontil, amber W & Co pineapple in a medium amber"
Read more about pineapple bitters: Pineapple Bitters – The Different Variants
I then asked Dennis for the story and received the following…
My diggin' buddy from Cullman, Alabama called and told me some people are finding bottles in Ensley, Alabama and tried to tell me how to get there. I called another buddy of mine, a mister Bobby McGraw and we lit out to find this spot. I told him they had found some broken Coke hutches and that if we dug together and if we found one, we would sell it and buy us a good Bitters or Saratoga bottle, that's what he likes.
Bobby is what I call a closet collector. He gets something and it doesn't see the light of day again. We got to Ensley and after looking around, we couldn't find the place. We asked a black man if he knew of a deserted neighborhood that had a yellow house on the edge with some dogs in a fenced in area and the guy took us to the place and it looked like fox holes dug every where. We got our diggin utensils out and dug a test hole finding nothing. Some more people showed up and we asked where are the Coke hutches? They said they had found some in another area close to where we were digging.
A Coke hutch from Alabama is a good bottle all day long. Bobby and I opened up a hole and started digging and promptly found this Coke hutch from Birmingham Alabama. Talk about some hoopin and hollering, we done it. The bottle had one vertical flash in the neck and hardly any case wear. I put it on EBay and the hammer went down at $1,550. Coke Hutches are maybe the best bottles you could hope to find in Alabama with a Bessemer Coke Hutch going from 4 to 5 thousand dollars. I just wish I could have traded it for a Dr. A. W. Coleman's Anti-Dyspeptic and Tonic Bitters, which is on my wish list.
[PRG] What a nice story. There is so much depth and enthusiasm everywhere I look in our antique bottle and glass hobby. Thanks for sharing Dennis and good luck with your digs and may you find the Coleman's you note. Send me a picture of your pineapple so I can add to the post.
Read more on Coca-Cola on Peachridge Glass:
I Bet None of You All Have Been to this Bottle Museum Yet!
1915 Coca-Cola Prototype Bottle and Concept Sketch