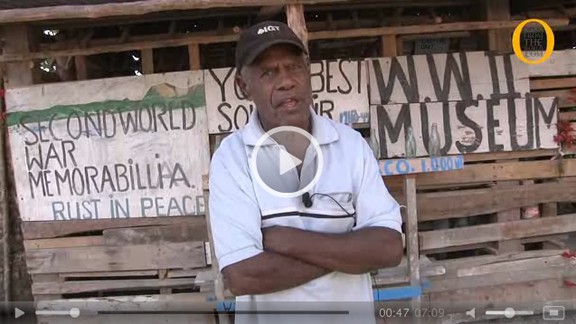 "I was born in 1926 … I've been collecting bottles for 70 years. I have hundreds of Coca-Cola bottles coming from all over the world, especially the United States … the oldest bottle dates back to 1915. I also collect relics of planes or ships … relics of the Second World War that I found buried in the ground. I collect these objects because history is fundamental, and the Second World War was very important in the South Pacific where there were some military bases …".
Vanuatu is an island chain about 1000 miles off the coast of Australia. A man by the name of Ernest Kalkoa has a Coca-Cola Bottle and WWII Artifact Museum located at Havannah Harbor.
Thanks to the Coca-Cola Bottle Man blog "Collections from Around the World" of which I subscribe.