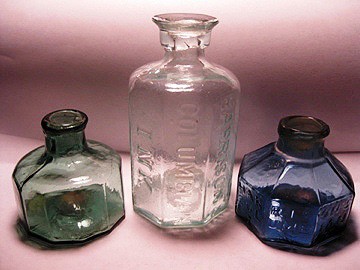 When it rains 'ink' it Pours!
09 May 2012

The Aprils (that is John April and Charles Aprill (2 l's) have continued to dominate the airways with their phenomenal INK posts of late. It has really been hard for me to keep up with the quality bottles and pictures that have been wowing so many people on facebook.
I am pausing here today to capture, nest and present some incredible April | Aprill photographs for HARRISON'S COLUMBIAN INKS.
I personally like grouping these photographs as it allows me to compare bottles, lip treatment, sizes, embossings etc. and add support images if possible. Just look at the Harrison's examples below and decide for yourself, that these two gentlemen deserve a moment of applause for sharing such great pieces. In most cases, these Columbian's are extremely rare and desirable ink bottles.
Read More: Two simply stunning inks in drop dead colors
Read More: Small Inkwell Bottles Page
Read More: The "Star of Baltimore"