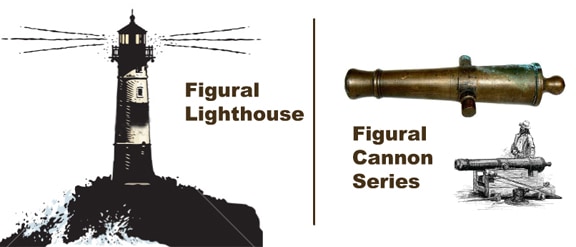 ---
Globe Bitters – Byrne Bros & Co New York
24 March 2012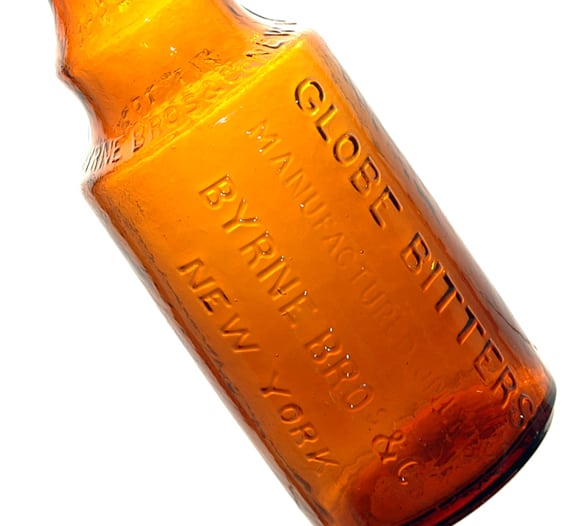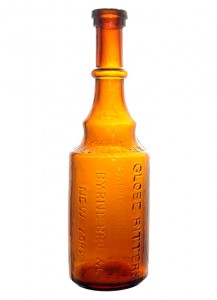 The next bottle in the 'transitional' Figural Cannon Barrel Series is the Globe Bitters and is grouped and displayed in my collection with my other 'Barrel' forms such as the Warsaw Bitters, Brown's Castlian, Castilian Bitters and Sol Frank's Panacea Bitters.
Carlyn Ring and W.C. Ham in Bitters Bottles say 'Bell' as far as the bottle form (see R/H listing below). When I purchased the bottle from a previous Heckler auction the description read 'Modified lighthouse form'. As I have said in previous posts, I group this type of figural bottle and think of it as a 'transitional cannon barrel' though I can not support this with documentary advertising, a patent drawing or label.
I really like this bottle because of the typography and how it is applied to the bottle form. Notice the circular typography on the canted shoulder between the cylinder and the formed neck. The applied lip is also spectacular. I have provided a few pictures below of my run of these bottle forms and my example of the Globe Bitters.
The Carlyn Ring and W.C. Ham listing in Bitters Bottles is as follows:
G 47

 GLOBE BITTERS, Circa 1860 – 1884
GLOBE BITTERS / MANUFACTURED ONLY BY / BYRNE BROS & CO / NEW YORK // c // // s // GLOBE / BITTERS // BYRNE BROS & CO NEW YORK //
11 x 3 1/2 (5 1/2)
Bell, Amber, Applied mouth, Very rare,
Note: 1874-1884: Bryne Bros. & Co. 122 Liberty and 125 Cedar Sts Trade Mark No. 2544
[Heckler bottle description] Also in this shape – Browns Castilian and Castilian Bitters, Modified lighthouse form, applied square collared mouth – smooth base, height 11-1/8 inches (some minor mouth roughness). Good looking bottle with lots of form and character.
Read Further: Sol Frank's Panacea Bitters – Great Form
Read Further: Thad Waterman "Warsaw" Stomach Bitters – Figural Cannon Barrel, Lighthouse or House Roof?
Read Further: Brown's Castilian Bitters – Transitional Cannon Barrel Figural
Read Further: Castilian Bitters – Brown & Embree Proprietors – New York