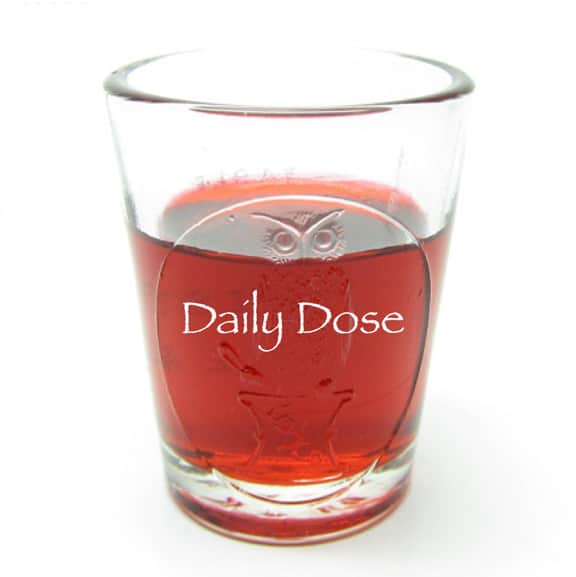 April

 

•

 

June

 

 
|
2 0 1 8
24 May 2018 | Thursday
Rare, later Oregon Grape Root Bitters bottle. See at Western Bottle News.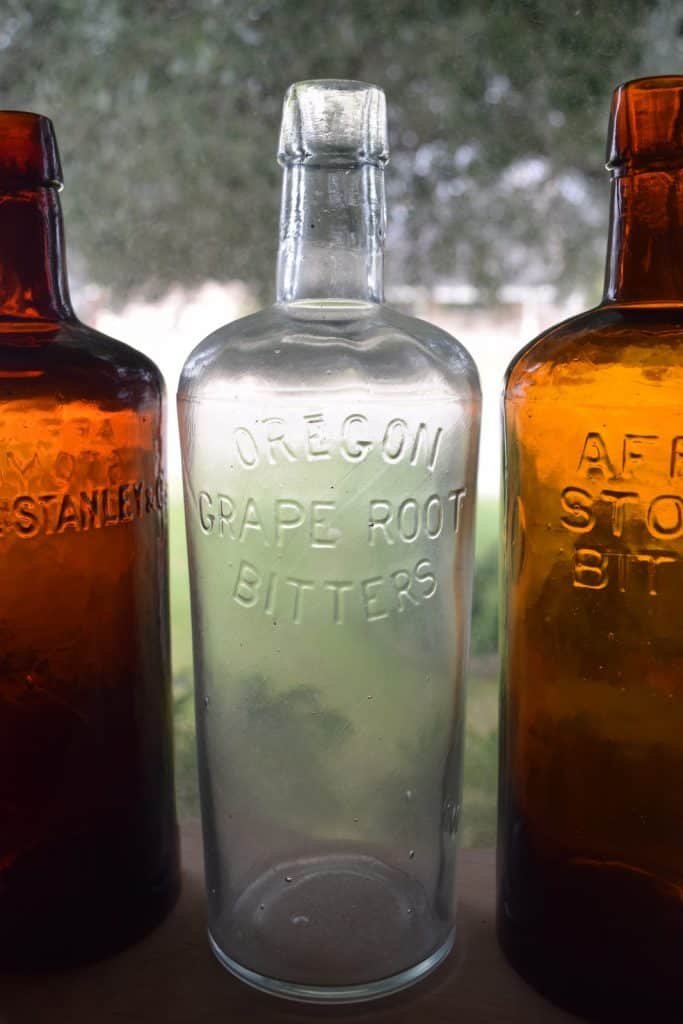 Brad Seigler submitted auction information on this cool bitters dispenser. Visit Auction.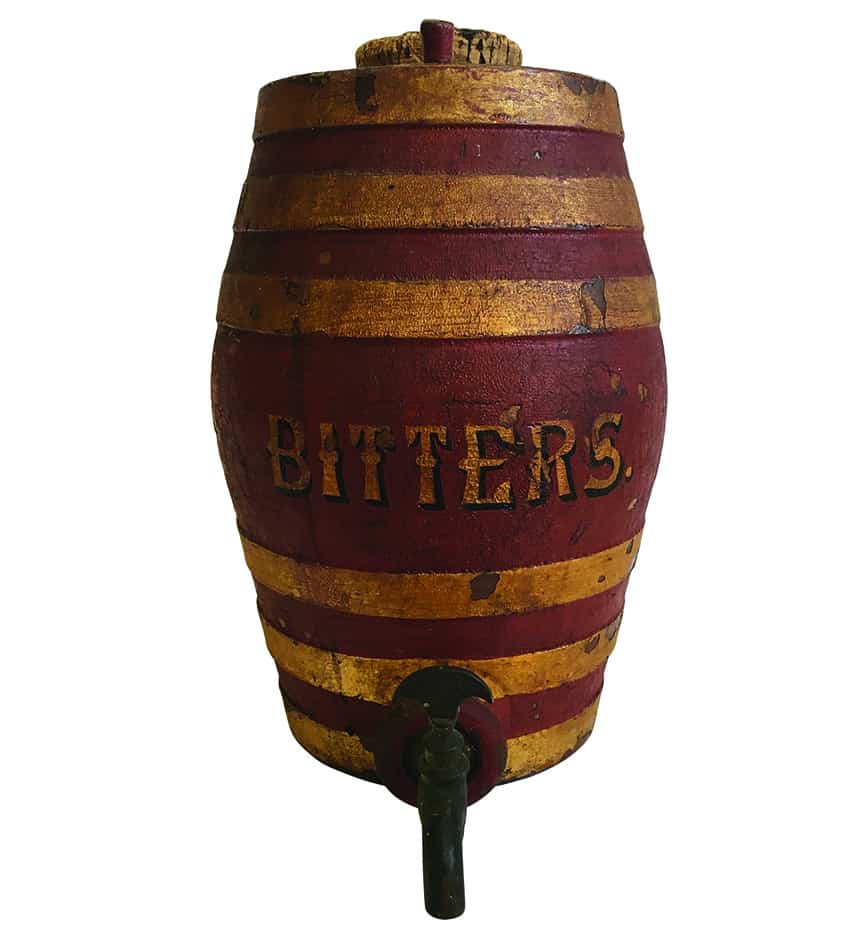 23 May 2018 | Wednesday
Jeeze, could there be a more pronounced embossing! You could stamp concrete with this puppy. On eBay now.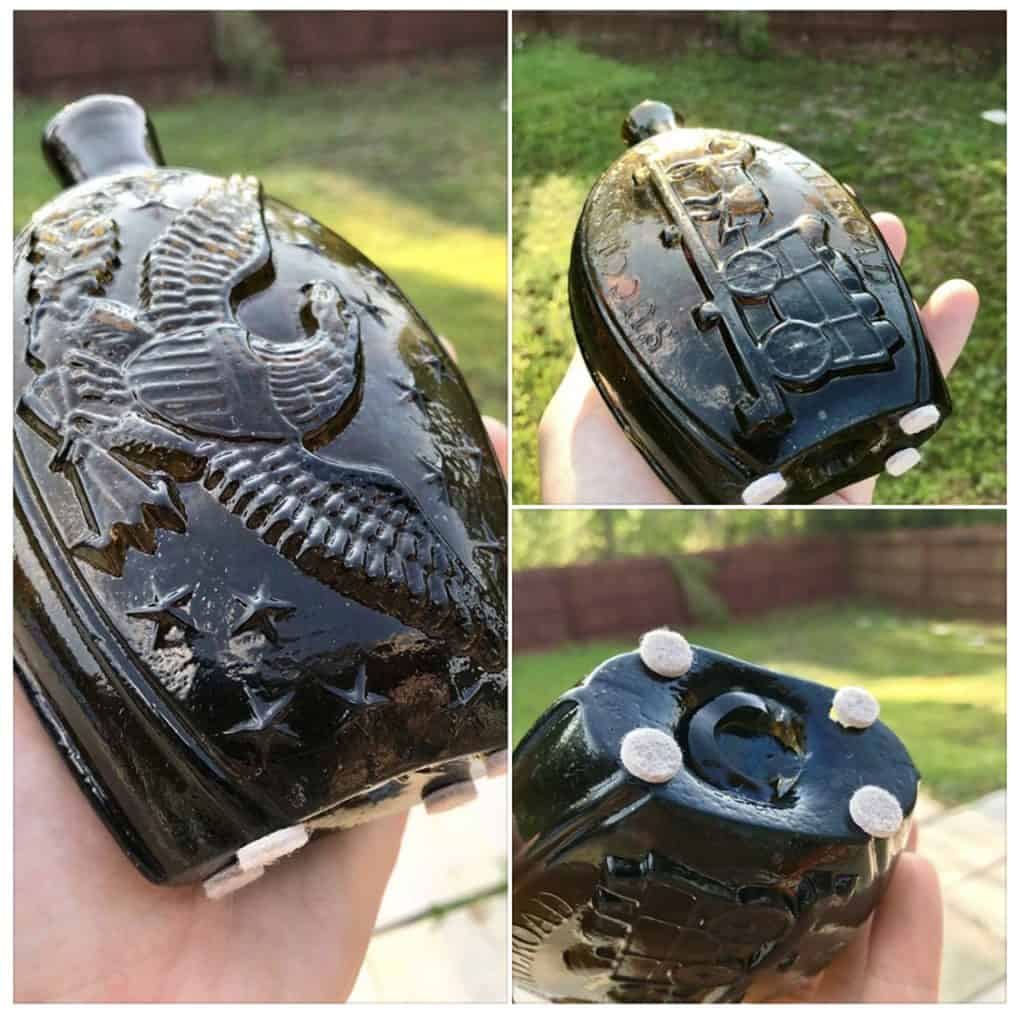 15 May 2018 | Tuesday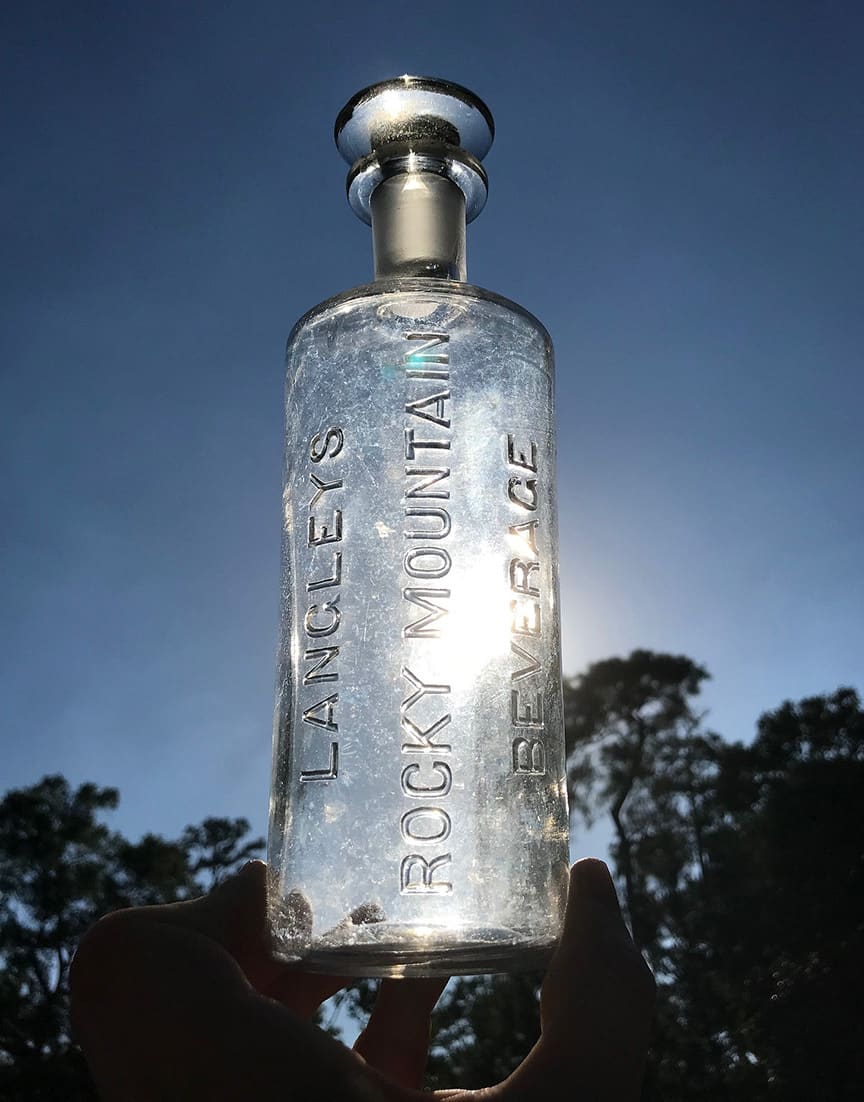 Ferdinand, I picked this up recently. It is an exact match for the bottle described in the last advertisement in your 2014 write-up of the Dr. Langley's Rocky Mountain Bitters. It was bought in Rochester, New York, so this matched the location of the address listed in the advertisement as well. I have never seen one of these before. It is a striking and big bottle and could not have been cheap to manufacture with the big ground stopper. Brandon DeWolfe, P.E.
14 May 2018 | Monday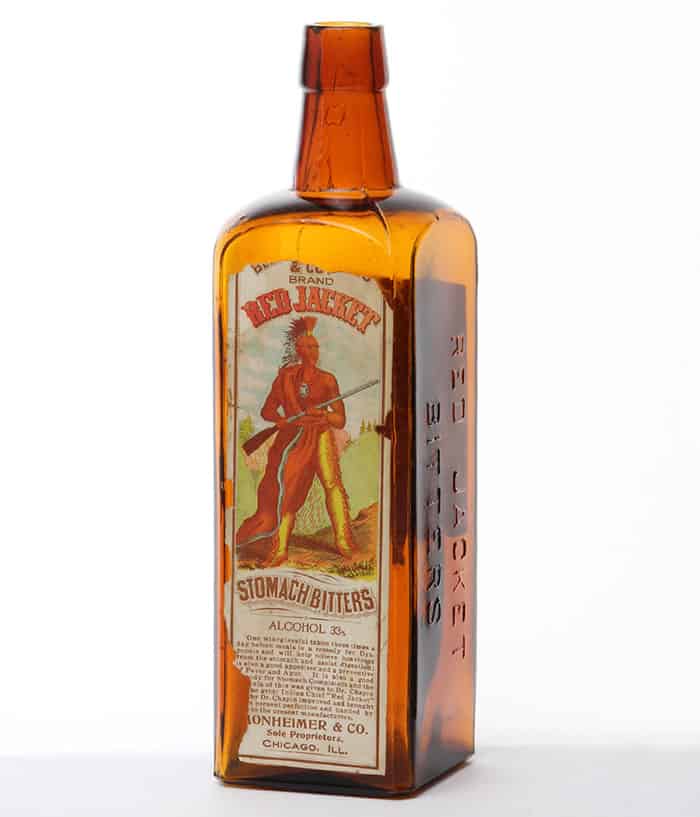 Post update with example bottle for Red Jacket Bitters. Read: He had a new variety of bitters known as Red Jacket Bitters
Also: Red Jacket Bitters – Another Chicago 'Indian'
08 April 2018 | Sunday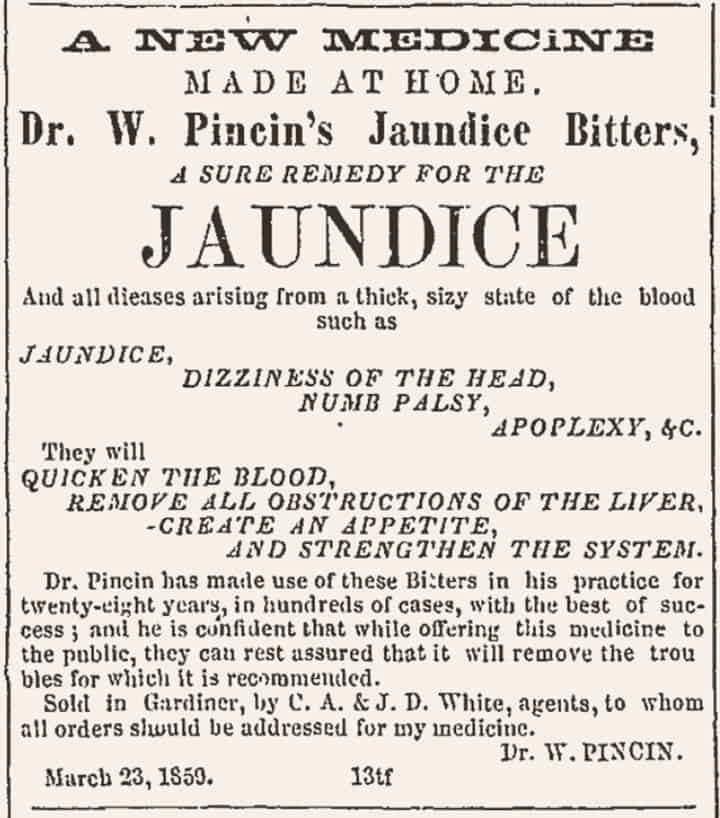 Hi Ferdinand,
Found this ad in a 1860 Gardiner, Maine newspaper. Not sure if its unknown but found no reference online or in For Bitters Only. Not sure if you keep unknowns in a database somewhere but here it is if you do. Thanks, really enjoy your research.
Mike Kettell
From the Gardiner Home Journal, published in Gardiner, Maine on Thursday, March 22nd, 1860.
[FM] Nice!, this appears to be unlisted. I will get with Bill Ham for a listing. Testimonial from a Dr. W. Pincon in 1859 stating that he made these bitters at home and started using on patients in 1831. Checking further, we are taking about Dr. Welcome Pincin who was born in Massachusetts in 1800. He died on 08 November, 1864. His wife was Deborah (Croker).
[FM] Update from Bill Ham.
Advertisement
P 97.5 DR. W. PINCIN'S JAUNDICE BITTERS, Sold in Gardiner (Maine) by C. A. & J. D. White, March 23, 1859
Dr. Welcome Pincin's testimonial stated that he made these bitters at home and started using on patients in 1831.
04 April 2018 | Wednesday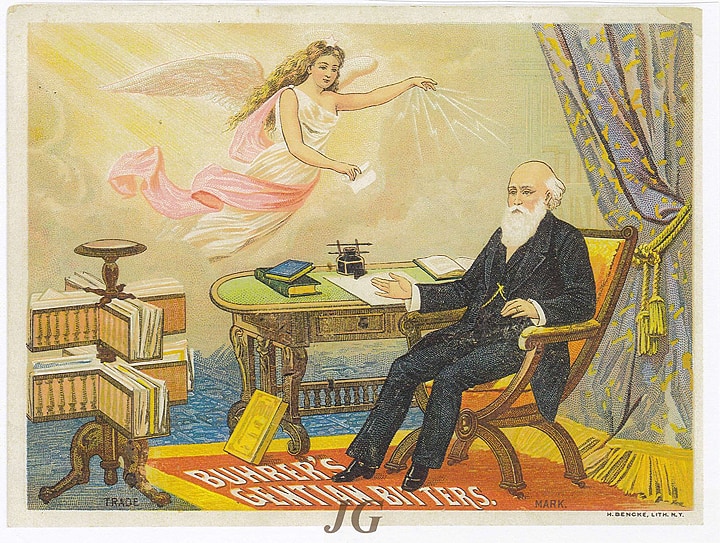 Ferd: I just posted your piece on Buhrer on my Whisky Men blog.  Thanks for letting me use it.  Have you thought about putting it in the Cleveland National Souvenir Program Book.  Jack (Sullivan)
Read: Hon. Stephen Buhrer — Self-Made in Cleveland
02 April 2018 | Monday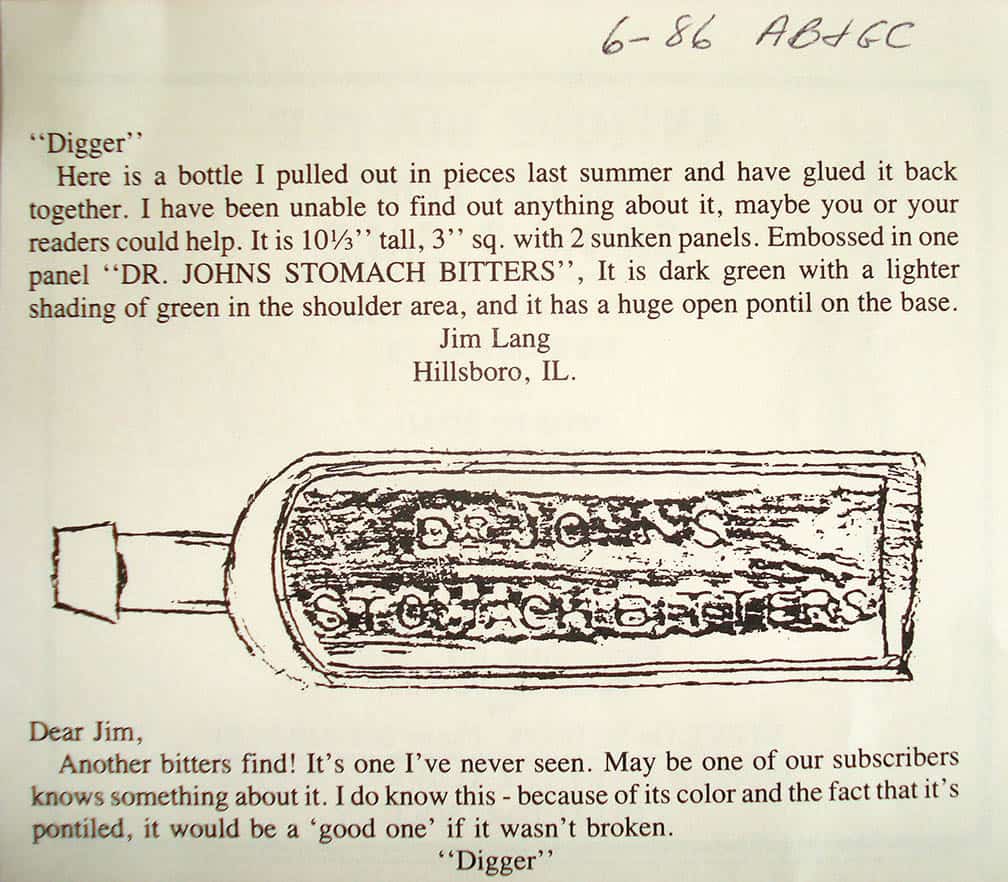 What are the chances… stumbled across this reader's letter in the 6/86 issue of Antique Bottle & Glass Collector. Sheds a little more light on the elusive DR. JOHNS STOMACH BITTERS.  "Digger" and Jim Hagenbuch had never heard of it in 1986. – Jeff Burkhardt
Jeff: Not sure if you knew, but I was able to add a complete example to my collection recently.