Kennedy's East India Bitters – Omaha, Nebraska
18 August 2014 (R•022218) (R•071219)

Earlier today I put up a post on a Boston product called East India Root Bitters by George P. Clapp. It reminded me of my clear Kennedy's East India Bitters from Omaha, Nebraska, if only by name. It even has an ever-so-slight, olive striation in the neck. How cool is that?

Read about a found Kennedy's East India Bitters: Daily Dose – November 2013
The brand first make's an appearance in 1865 advertising in Cairo, Illinois (below) that references testimonials in 1863. Patrick Kennedy is the proprietor in Cincinnati. In an 1864 Cincinnati directory, he has the word's Kennedy's Nervine Invigorator next to his name which is repeated on the third line below.
We also know of bottle examples that have been dug in holes from the same period. What is interesting is that the bottle looked basically the same all these years.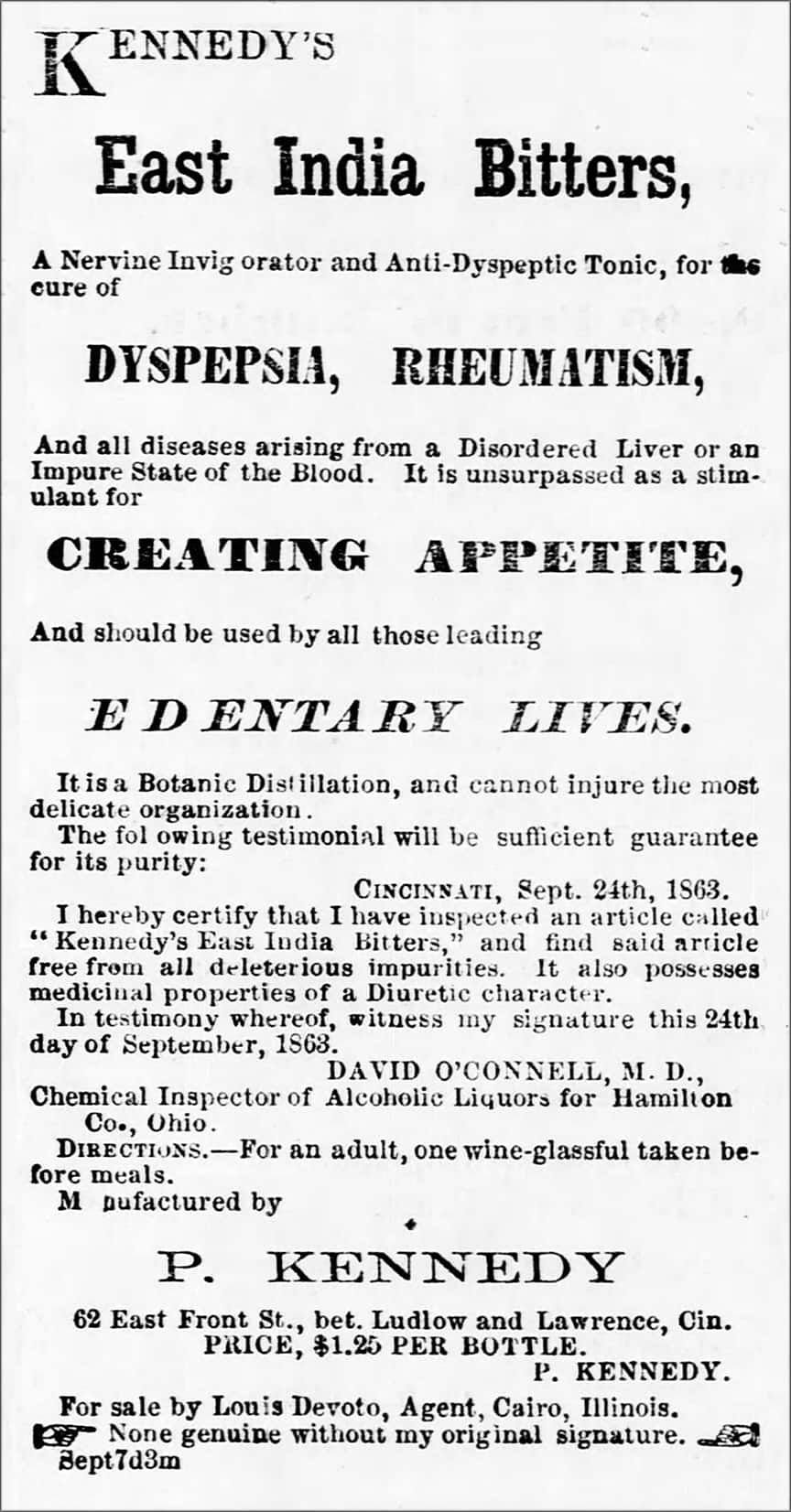 Using East India as a reference in the name was obviously an attempt to give it global presence and mystique.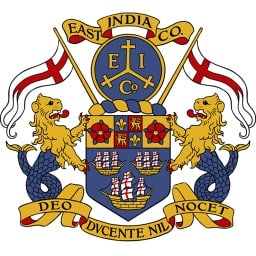 [Wikipedia] The East India Company (EIC), originally chartered as the Governor and Company of Merchants of London trading into the East Indies, and more properly called the Honourable East India Company, was an English, and later (from 1707) British joint-stock company, formed to pursue trade with the East Indies but that ended up trading mainly with the Indian subcontinent, Qing Dynasty China, North-West Frontier Province and Balochistan. The company rose to account for half of the world's trade, particularly trade in basic commodities that included cotton, silk, indigo dye, salt, saltpetre, tea and opium. The company also ruled the beginnings of the British Empire in India.
The Carlyn Ring and W.C. Ham listing in Bitters Bottles is as follows:
K 26 KENNEDY'S ( au ) / EAST INDIA / BITTERS / ILER & CO / OMAHA NEB // f // f // f //
8 7/8 x 2 7/8 ( 7 3/8) 3/8
Square, NSC, Tooled lip, 1 sp, Clear – Common; Amber – Rare
Note: Iler manufactured American Life Bitters. Classified as a medicine, and therefore tax exempt, July 27, 1883. Trade Mark No. 9508 dated July, 1882. In use since 1860.
Trade Card: These bitters do not require starvation or unnatural exercise, but leave the patient at liberty to eat any healthful food his appetite may crave.
K 28 KENNEDY'S (au ) EAST INDIA / BITTERS / ILER & CO. /
OMAHA, NEB. // f // f // f //
4 1/8 x 1 1/2 (3) 3/16
Square, Clear, NSC, Tooled lip, Scarce
Many bitters collectors are familiar with Iler & Co. Not only were they the sole manufacturers of Kennedy'e East India Bitters but also American Life Bitters.
Read about Iler & Company and American Life Bitters: Log Cabin Series – American Life Bitters