A Quite Different Un-embossed Drakes
14 July 2014

I always like receiving e-mails about bottles, especially with great pictures. Here we go with a nice communication from Chris Eib about an unusual un-embossed Drakes Plantation Bitters (top right) and a Duncan Edwards Crown Bitters.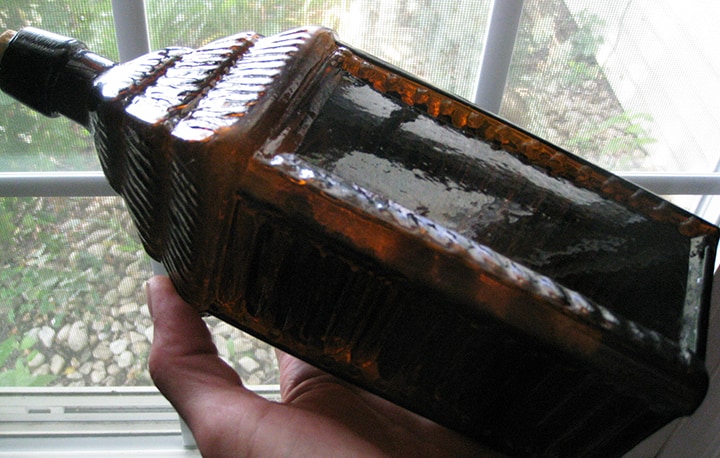 Hello Ferdinand, how have you been? I highly doubt you'll remember me, only because you must meet hundreds of people at shows, but we've met on a few occasions. Anyway, I told you then and I'll tell you again now, that I really love surfing around your site and reading some of the articles and REALLY enjoy looking all the beautiful pics.
So, I was reading one of the articles on an un-embossed Drake's (Read: The unembossed Drake's Style Bottle) that I also would like to comment on. I have one of these rare beauties, BUT with mine, there are a few differences (which you'll see in the pictures) that I feel places mine in a class by itself. This one has one full panel for the label. The others have logs. All four corners are chamfered. AND, now for the icing on the cake. A nice big red iron pontil. How many of those do you think might be out there?
Now, in regards to a different article and also on a more personal level, it's my opinion that you made a mistake by not getting the Crown Bitters (Read: Duncan Edwards Crown Bitters – English or American?) bottle from Bill Heatley. But at the same time, I must thank you for that. Otherwise I would not have had the opportunity to acquire it for my collection. Note the similarities of the Crown bitters and the Peruvian Bitters (Read: Looking at this new Peruvian Bitters 'without' the Monogram) next to it. Basically they're the same form, same relatively short neck and disc/medicine style lip and also the chamfered corners. It's American glass through and through. There are other American made bottles with LONDON embossed on them. Booth & Sedgwick's, Charles' and J.& R. Dunster just to name a few. Feel free to use any of the photos for your site and please keep up the GREAT work and give my regards to Elizabeth. She won't remember me either. lol. Take care and have a great day.
Best regards,
Chris (Eib)