The pontiled Thuringer Aromatic Stomach Bitters
10 July 2014

I have this lonely Aromatic Stomach Bitters on my shelf that I know virtually nothing about. It is also embossed "Thuringer" and "Edwd. Brehm" on two other panels. It's an old one with a super rough and jagged pontil that according to Glass Works Auctions, "Sometime in the late 1970s, Jim Hagenbuch visited the home of John Watson, a lawyer living in Oxford, Pennsylvania. He remembered the bottle in the collection and noted that he had never seen another example. Today it is still the only known example." Can't prove or disprove that, but I have never seen or heard of another example. Shards were found on Staten Island so this may be a New York bottle. Sure looks like the glass color of a Bryant's Stomach Bitters cone or Bryant's lady's leg or even a Strang & Murray from New York. My three examples are pictured below.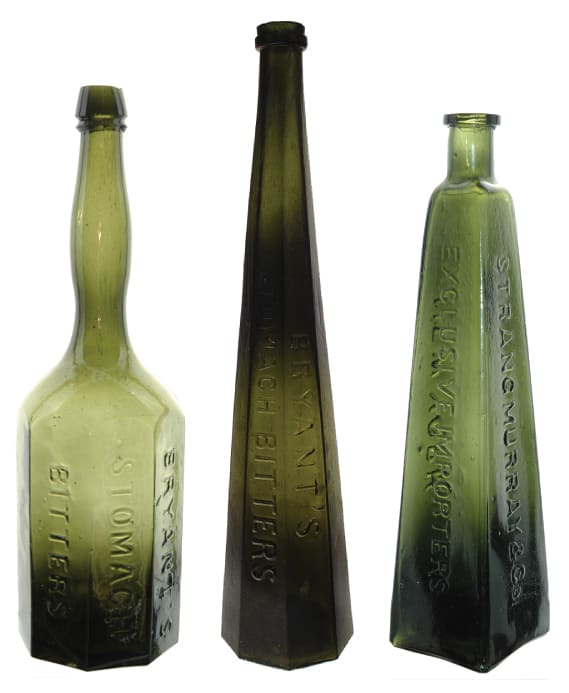 Carlyn Ring and W.C. Ham call it out in Bitters Bottles as A 93. It may want to be listed with a "T" designation, "Thuringer Aromatic Stomach Bitters".
A 93

 AROMATIC STOMACH BITTERS
AROMATIC / STOMACH / BITTERS // EDWD. BREHM // f // THURINGER //
8 3/4 x 3 3/8 x 2 3/8 ( 6 1/4) 3/8
Rectangular, Green, LTCR, Open pontil, Extremely rare
One found in pieces on Staten Island.
My example of the Aromatic Stomach Bitters is open pontil and has a 3/4" long fish hook shaped crack located in one of the beveled corners, just below the shoulder, otherwise it is perfect. Ask me if I care much about the issue….nope. It is ex: John Watson collection as noted previously. A spectacular bottle.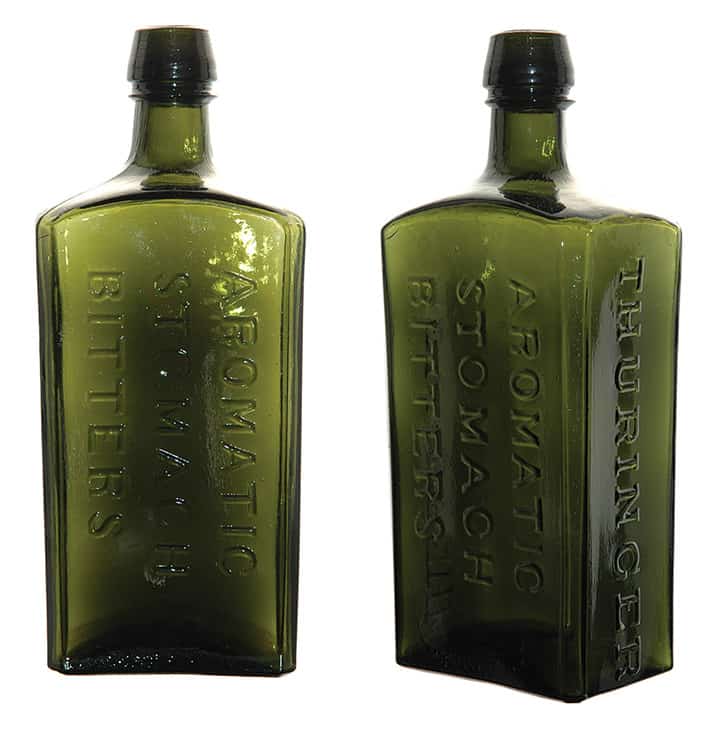 Looking online, takes me to this interesting clipping below from March 19, 1897 in the New York Times announcing the death of a Deward Brehm in Jersey City, New Jersey. Besides being a crack rifle shot, he was first engaged in the manufacture of whalebone and later in the making of bitters. One of his three sons was also named Edward. The thought occurred to me that "Deward" is possibly a mistake and should be 'Edward' with the first two letters transposed. I also find a listing for a Edward Brehm in the 1861 Jersey City Directory. He is the only Brehm listed and his occupation is whalebone. There is no "Thuringer" listed in the same directory. So Deward is probably Edward, one way or the other.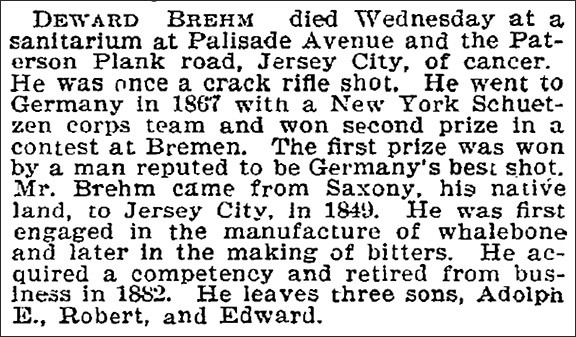 Edward Brehm
Deward (Edward) Brehm was born in Saxony, Germany on 11 September 1817. Like many Germans of that time period, Deward set his sights on America and departed Bremen for New York City and arrived on April 1, 1852 on the ship Schiller. There is some indication that he was drafted in 1863 in New York during the Civil War years. One of his sons was named Edward. There is also a John M. Thuringer that came from Germany during the same time period as Deward and was drafted in New York. I suspect these guys met and hooked up.
Edward Brehm was the oldest inhabitant and only surviving pioneer settler of old, "Washington Village, afterward Hudson City. Hudson was a city that existed in Hudson County, New Jersey from 1855 to 1870 when it became part of Jersey City.
At first, Edward dealt in whalebone manufacturing and started a whalebone factory and employed a number of employees and prospered until steel was substituted for whalebone in corsets, stays, hoops etc. Brehm then moved on to be a "Dealer in Bitters" as is stated on the 1870 United States Federal Census. In the 1880 census, he is listed as a "Manufacturer of Bitters". His bitters were quite celebrated and he amassed a considerable fortune. His wife was Louisa Negel and their children were Adolph, Amiel, Charles, Emma, Robert and Edward. Edward died of cancer in the sanitarium of Dr. Mayer after a prolonged illness on March 17, 1897 in West Hoboken, New Jersey.
I can not find any advertising or any other mention of this brand which might be expected for such an extremely rare bottle. The obituary below was submitted by Brian Wolff.
Thuringer
[From Marianne Dow] Thuringer, while also a family name, in the case of your bottle likely refers to the style of bitters, made from spices instead of herbs, made in Thuringia, Germany. Thuringia is bordered by the German states of Lower Saxony, Saxony Anhalt, Saxony, Bavaria and Hesse. 

The Thuringian Forest, known centuries long for its natural herb remedies, tinctures, bitters, soaps and salves. Families had their own inherited areas of the forest where herbs and roots were grown and harvested. Each family prepared, bottled, and produced their individual products which were taken throughout Europe on trade routes passed from father to son, who were affectionately called "Buckelapotheker" or Rucksack Pharmacists.
Select Timeline Events
1817: Deward Brehm born in Saxony, Germany on 11 September 1817.
1849: Deward Brehm arrives in America (see clipping above). Records actually show he arrived in 1852 (see below).
1852: Edward Brehm departs Bremen for New York City and arrived on April 1, 1852 on the ship Schiller.
1860: Edward Brehm, 17, Clerk, New York, Father was Paul Brehm, Shoemaker from Germany. Mother was Bertha. Sister named Susan and brother named Simon. – United States Federal Census *Not the same person
1861-62: Edward Brehm, whalebone manufacturer, Hudson City – Jersey City Directory
1870: Edward Brehm, 27, Bitters Dealer, Jersey City – United States Federal Census
1880: Edward Brehm, 37, Bitters Manufacturer, Jersey City, His wife was Louisa Brehm and their children were Charles, Emma, Robert and Edward. – United States Federal Census
1897: Edward Brehm died on March 17, 1897 in West Hoboken, New Jersey.