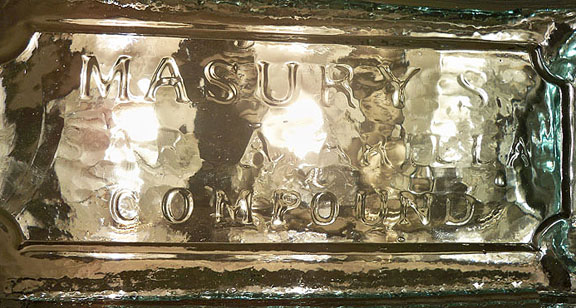 Masury's Compound Extract of Sarsaparilla and
Wau-A-Hoo
ROCHESTER, NEW YORK
05 October 2013 (Rev•101113) (Rev•101213) (Rev•101613)

A number of us bitters collectors have sarsaparilla bottles in our collection and of course there are others that specialize in collecting sarsaparilla. Up on ebay now is a killer bottle that really caught my attention. I suppose the raw beauty of the pictures grabbed my attention first and I had not heard of Masury's Compound Extract of Sarsaparilla before. This bottle size is actually 2 quarts!
THE LARGEST BOTTLE IN THE WORLD
ONE DOLLAR
Recently I did a series of bitters posts with brands with "WAHOO" in the name. Notice that the advertisement below tags on "WAU-A-HOO" to the sarsparilla name. The ebay listing is as follows:
Super Rare "MASURY'S SARSAPARILLA COMPOUND / J.T. HAWK'S " Crude & Awesome!
For your consideration is a super rare applied top aqua "Masury's Sarsaparilla Compound / J. & T. Hawk's / Rochester N.Y." in three fancy indented panels. This bottle will make a huge presence on any shelf! Standing just over 11 1/2″ tall by almost 4 3/8″ wide, and 2 1/2″ deep, this example is purely hammered with whittle. Excellent crudeness, just look at the twisted neck and huge gloppy top. I hate to part with this one, but it's time it found a new home. This is likely not a dug bottle, clean and super nice condition. The word "sarsaparilla" is a little light, but easily readable. No chips, cracks, dings, or distracting stain. Please see pictures for full description Bid with confidence, you may not see this bottle or an example this nice again. You will not be disappointed in this bottle. – bottledave2002 (100% Positive Feedback)
The iron pontiled blue ones are even nicer!! One whole one that I know of. I have seen 3 or 4 of the aqua ones. You can see from the comparison to the Wisharts, it is a BIG bottle!
Mark Yates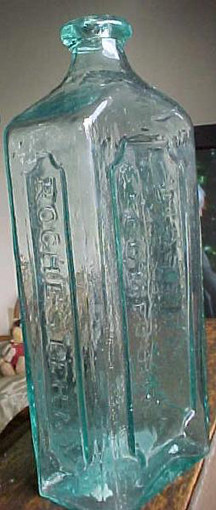 [From Matts Collectibles Antique Medicines]
Around 1850 there was a lot of competition between sarsaparilla compound medicine makers. Two of the biggest selling products were A B & D Sand's Sarsaparilla and Masury's Sarsaparilla. These companies were always looking for gimmicks to help peddle thier nostrums. One successful approach was to offer a larger bottle for the same money. The customer would feel like they were getting a real deal while there would be little increased cost in manufacturing.
Both medicines sold in massive quart bottles and their advertising emphasized the volume deal. The proprietors of Masury's Sarsaparilla, J & T Hawks of Rochester, decided to go for broke and they produced the product in an enormous two quart bottle which they claimed was the largest in the world. Apparently customers were not enthralled with this huge bottle and a relatively few seemed to have sold. It may have just been too big to haul home from the market or the manufacturing cost may have caught up with them.
The 1850 advertisement indicates the medicine price was $1.00, quite a lot of money in at the time. Note near the bottle the claim "The Largest Bottle in the World"
Some other Big Sarsaparilla Bottles:

Sands' Sarsaparilla
Read: Sands' Sarsaparilla – New York
Some other Big Sarsaparilla Bottles:

Wynkoop's Sarsaparilla