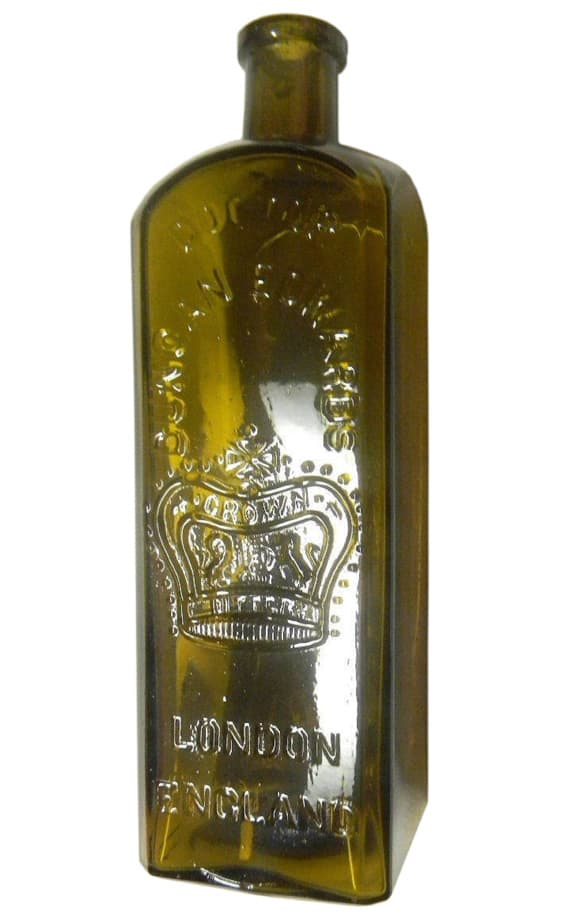 Duncan Edwards Crown Bitters – English or American?
18 May 2013 (032019)

Bill Heatley, who I respect a lot, has listed his Duncan Edwards Crown Bitters on ebay (see listing) after an absence of a year or so. He actually dug this bottle in Flint, Michigan in 2007. This bottle was offered to me a few years back and though the bottle is spectacular, I just could not get past the strong English influence which held me back from purchasing the bottle. Did I make a mistake? Though I do have a few English, Canadian, Australian and German bitters, I usually draw the line simply because I prefer American bitters. You have to admit though, the story behind this bottle is quite interesting.
Bill Ham in Bitters Bottles lists this as extremely rare, and notes that amber shards were used to reconstruct the only know listed example. Bill Heatley has done some research and claims that this was a bottle made in the United States. Very interesting. Let's see. Bills ebay listing:
EXCEPTIONAL (Only undamaged one known) E-24 DR DUNCAN EDWARDS CROWN BITTERS
There are only two of these 9 1/4″ bottles known. I spoke with Bill Ham and he consulted Carlyn Ring's notes– she wrote that the only example known (at that time) was dug in Grand Rapids, Michigan, in 1974, and repaired. I dug this bottle in Flint, Michigan in 2007. It has absolutely NO damage and is ready to display. There is no stain whatsoever, in or on the glass. Elmer Ogg gave it a very light polish (only) and you can see the obvious results. The olive coloration is spectacular. The embossing is bold and there is no "waxy" appearance of the glass. The chamfered edges redirect your gaze, from one 2 10/16″ panel to another.
There has not been any type of sanding, repairing, filling, use of any resins or epoxies of any sort on this bottle. I washed it, Elmer tumbled it.
This ia an American bitters, regardless of what the embossing reflects. Dr. Harrison T. Chamberlin of Brockport, New York filed the Trademark registration below and was granted Certificate #3518, on March 21, 1876, for his bottle.
The applied finish lip on this bottle is distinctly American. The vent dimple is reflective of many early Northeastern bottles of the time. You have seen many, many American bottles with these features, what about British bottles? It is conjectured that Dr. Chamberlin was attempting to cash in on the marketing strategy of a high-end British bitters, imported to the U.S., all-the-while having the bottle produced in America. A little bit of hood-winkery. British bitter collectors I have spoken to have never heard of the bottle, or brand of bitter.
Dr Chamberlin also had patent # 205,353 granted to him on June 25, 1878 PATENT (see below).
This exquisitely designed and hand-blown bottle has two additional items on it, to catch the eye of the discerning beholder. The letter S in the word Bitters (on the crown) was carved backwards, in to the mold. This caused an error on the bottle, which was probably too cost-prohibitive to correct. The second item is a "crease" (for lack of a better word) in the glass, near the front heel. There is a definite area void of glass and it adds just a touch of crudity to the bottle and truly appeals to the glass purist.
If this auction does not meet/exceed my reserve price, the bottle will go back in a box. I have struggled (since I dug it) with the idea of selling it (it IS a wonderful bottle) but I do not collect bitters and would prefer that someone who does, put this one on display.
Do not miss your opportunity to own this one of a kind, museum quality bottle.
The Carlyn Ring and W.C. Listing in Bitters Bottles and Bitters Bottles Supplement is as follows:
E 24  Doctor Duncan Edwards Crown Biters
DOCTOR ( au ) DUNCAN EDWARDS ( au ) / motif crown with English seal CROWN (above) BITTERS (Below) // LONDON / England // f // f // f //
9 1/4 x 2 3/4 (7 1/2)
Square, Amber, Extremely rare
Found in pieces and restored
Trade Mark, Harrison T. Chamberlain, Brockport, N.Y., March 3, 1876
I can not find any more information on the bottle though I will send this post to my UK and Australia contacts. I suspect it was imported but in this case, I think it would make a nice addition to my collection. Besides being a great looking bottle, it has mystery, is extremely rare and was found here in the ground in America, twice.
---
---