Genuine Black Walnut Bitters
Should it be a "B" or "G" Listing
15 July 2014

Bill Ham tipped me off to a super rare, Black Walnut Bitters on ebay (see listing) and said, "This is listed as G14 in Bitters Bottles, crazy place to put it, but Carlyn did it." The tendency is to think that this bottles should be cataloged under "B' and not "G" for "Genuine". I'm on the fence here, it could have gone both ways but if I searched, I would look under "B'.
The Carlyn Ring and W.C. Ham listing in Bitters Bottles is as follows:
G 14  GENUINE BLACK WALNUT BITTERS
GENUINE ( au ) / BLACK / WALNUT BITTERS ( ad ) / A. GRAF & CO. /
ST. LOUIS, MO. / SOLE PROPRIETORS // f // f // f //
7 3/4 x 3 1/4 (5 1/2)
Square, Clear, DC, Tooled lip, Very rare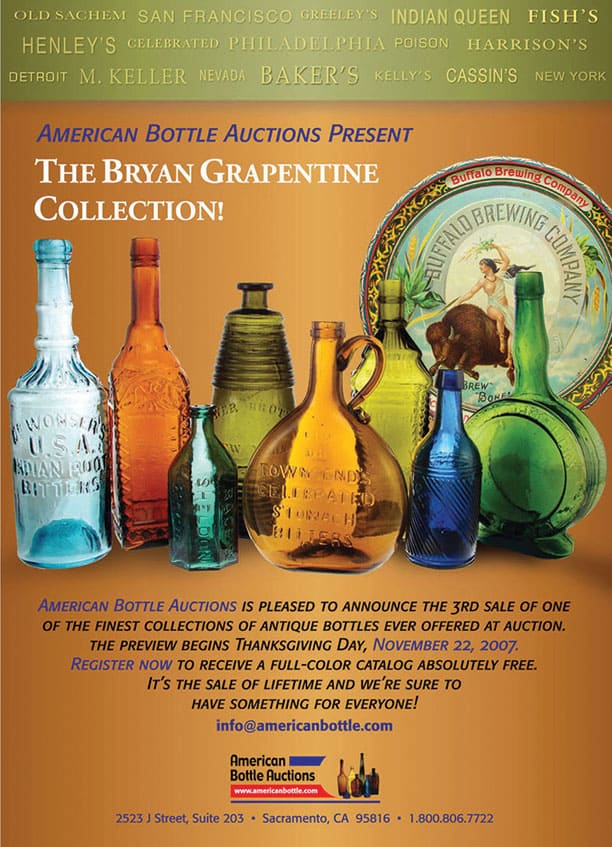 I am fortunate to possess an example that I picked up in the December 2007, American Bottle Auction – Grapentine III Auction #43, It was Lot #871. Near the tail end of this massive, 3-part auction. It was described as:
7 ¾" tall. Aside from a half of a pin-head-sized scratch off the lip, it's perfect. The flaw is almost invisible and really only seen under a loop. Pristine with just a hint of interior stain. Graded 8.
The ebay description from et135 (100% Positive Feedback):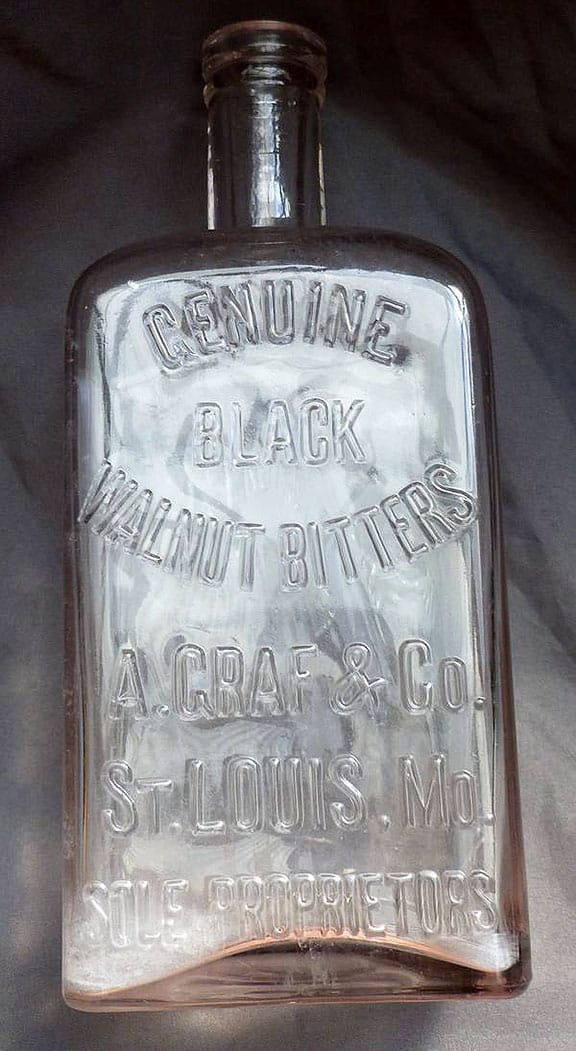 GENUINE BLACK WALNUT BITTERS BOTTLE – A. Graf & Co. – St. Louis, 1890s
Offered is a selection of one vintage hard to find St. Louis Missouri Bitters bottle. The bottle stands 7 7/8″ tall, is rectangular with rounded corners, 3 1/4" wide, 2 7/8" thick, an odd, kind of squared off double collar lip, embossed in large letters on front "Genuine / Black / Walnut Bitters / A. Graf & Co. / St. Louis, Mo. / Sole Proprietors".
There are six very small shallow flakes around the top edge of lip, and some hazy original content staining. The bottle does not appear to have been dug, very shiny condition.
This scarce Bitters bottle is listed as G-14 in The Ring Bitters book, the last one on record as sold was out of the Grapentine collection, in December of 2007 through the American Bottle Auction, and brought $476.00. This one being discounted considerably due to minor lip damage.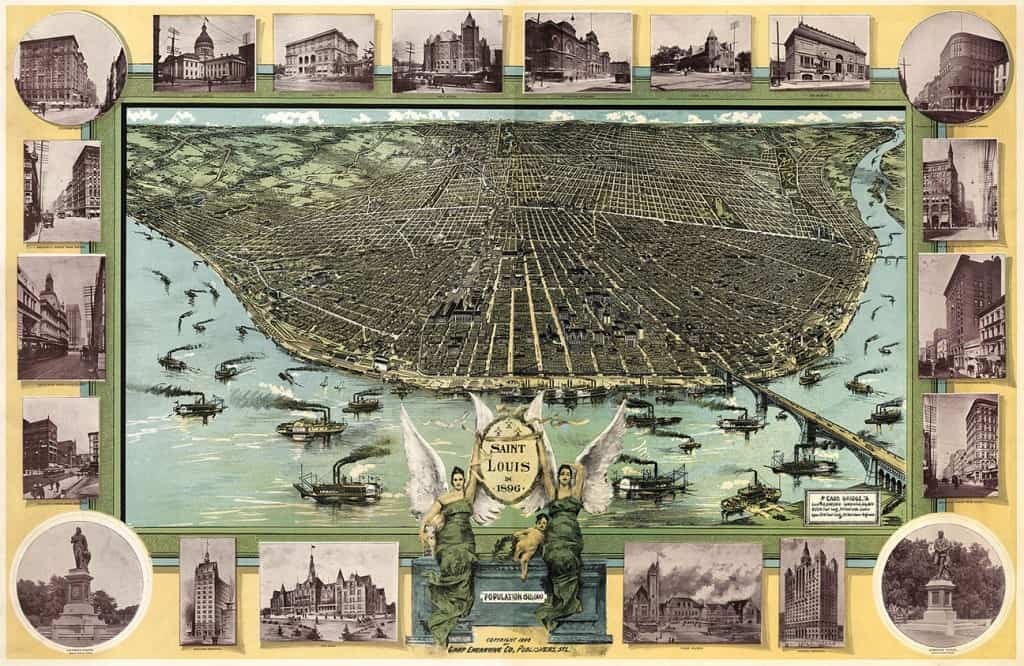 August Graf and Company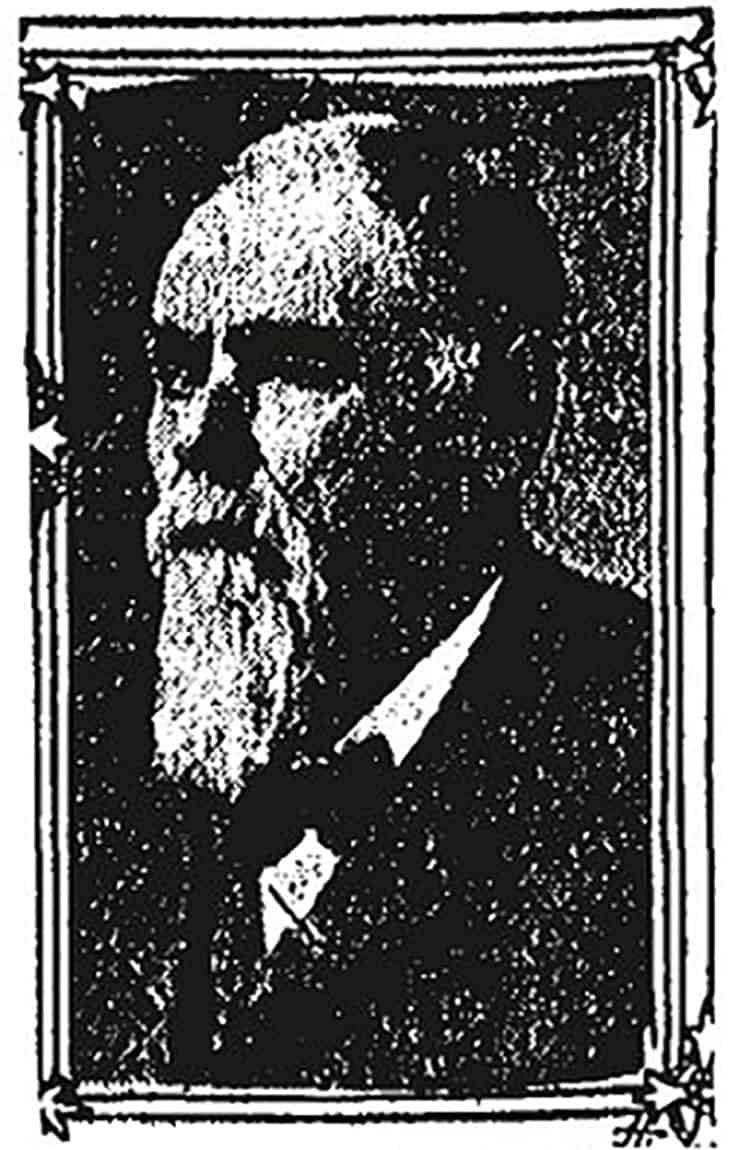 As you can see, the bottle is embossed, "Genuine Black Walnut Bitters" and "A. Graf and C.", "St. Louis, Mo.", "Sole Proprietors". 
Adolph August Graf was born in St. Louis, Missouri on June 20, 1849 and was a big-time liquor wholesaler and distiller in St. Louis. From German parents, Vincent Graf and Magdalena Werner, August would marry Sophia M. Rauer. August would die on 18 November 1905. As early as 1870 or so, there was a listing for Eich & Graf (Henry Eich and August Graf). They were listed as cider and bitters manufacturers at 1325 and 1327 S. 7th. Later, his three big products would be Glen Forest, Old Govenor and Old Capitol Whiskey.
Interesting enough, there were also two other August Graf's listed in Louisville, Kentucky, where I sit now writing this post, who were listed as a bar keeper and as a manufacturer of ale and porter (Graf and Weyd – August and Frances Graf and Louis Weyd). Probably connected somehow. Another story.
The book, Mercantile, industrial and professional Saint Louis, 1903 lists the following:
A. GRAF DISTILLING COMPANY
A business existence of more than thirty-four years is in itself a proof of the reliability and excellent standing of a firm and Mr. August Graf can look back over such a long period, spent in active business life at the head of its own establishment, founded by him in 1867 and ever since conducted under his personal management and at the same place. The firm keeps a very large stock on hand, consisting of wines and liquors, imported and domestic, pure and unadulterated. The Old Capitol Pure Rye Whisky forms a specialty of the house. Few wholesale firms in the city can boast of such a large local trade and such extensive sales all over Missouri, Kansas, Illinois, Iowa, Indiana, and Oklahoma.
A. Graf Distilling Company and its trade is constantly increasing as a result of the fair and liberal dealing with all its customers. Great care is given to the handling and treatment of goods and the filling of orders, large or small. The growth of trade made additional space necessary from time to time and the four buildings, 1323, 1325, 1327 and 1329 South Seventh, between Rutger street and Park avenue, are since many years used for office, salesrooms and warehouses. Another evidence of the firm's permanent success is its recent incorporation with a greatly increased capital of 100,000 dollars. The incorporators are Mr. August Graf and his sons, Messrs. Adolph A. and Louis J. Graf, who are their father's able assistants in the conduct of the business. Mr. August Graf is a Director in the Lafayette Bank and one of the best known business men in the southern part of the city.
Jack Sullivan has a nice article over at Those Pre-Pro Whiskey Men! called August Graf Launched a Whiskey Triple Threat