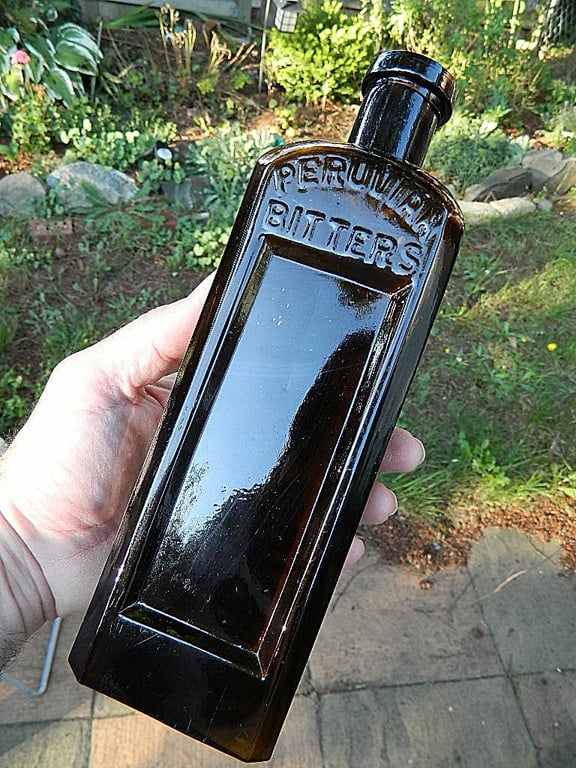 Looking at this new Peruvian Bitters 'without' the Monogram
25 October 2013

I thought I would take this opportunity to document the unlisted Peruvian Bitters variant from San Francisco that moved on ebay recently. A popular western bottle in many collections, it was quite exciting to see this new variant without the Jellis C. Wilmerding "W" and Calvin W. Kellogg "K" monogram.
Read about Jellis Clute Wilmerding and Calvin W. Kellogg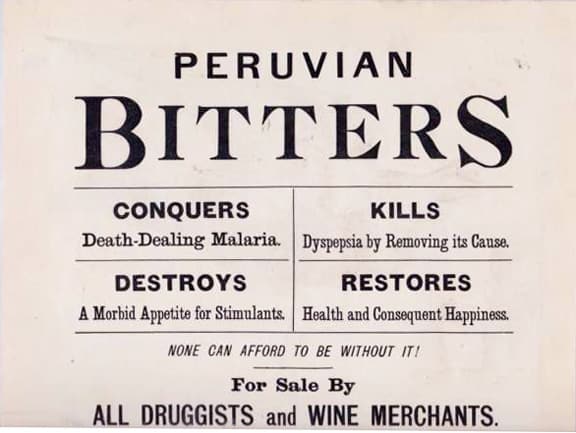 PERUVIAN BITTERS
Conquers Death-Dealing Malaria
Destroys a Morbid Appetite for Stimulants
Kills Dyspepsia by removing its causes
Restores Health and consequent Happiness
NONE CAN AFFORD TO BE WITHOUT IT
[from Bill Ham]
The PERUVIAN BITTERS that came up on ebay #121189794777 and sold for $1,926 is a fairly significant Western bitters bottle. May be worth your time to post. Here is the new listing;
P 65.8  PERUVIAN BITTERS
PERUVIAN (au) / BITTERS // f // f // f //
9 1/8 x 2 7/8 ( 7 ¼ ) 5/16
Square, Amber, NSC, Applied mouth, 1 sp, Extremely rare
Similar to P 66, P 67. And P 68 except no monogram on reverse side.
Examples dug in Idaho and San Luis Obispo, Ca.
Western Bitters website notes that there are three known examples. Very possibly this is the first bottle used for this product before any of the distributors had their monogram put on the reverse side.
Bill
Here is the ebay listing;

RARE Peruvian Bitters NO MONOGRAM Old Amber applied top Western dug! This antique Bitters bottle was dug in Idaho. Embossed: PERUVIAN BITTERS but lacking the Monogram on the reverse panel!! A beautiful example in Old Amber coloration with a nice applied collar and NO damage! Stands 9 1/8″ in height. A grea t variant I've never seen! princeweesl, 15 October 2013 $1,926 (26 bids)
Here below is an example from my collection. This is from the first auction I participated in back in 2002 with Pacific Glass Works, now American Bottle Auctions.
P 66  PERUVIAN BITTERS
PERUVIAN ( au ) / BITTERS // f // motif monogram in shield W&K // f //
J. C. Wilmerding and Calvin W. Kellogg San Francisco, California
9 1/8 x 2 7/8 (7 1/4) 1/4
Square, Amber, NSC, 1 sp, Applied mouth and Tooled lip, Common
Variants: Clear (embossed), Clear (debossed), Aqua, Pale Smoke Gray, Sun Colored
Amethyst, Red, Whittly; All Extremely Rare. Motif also in variations.
Label: A positive remedy for dipsomania, chills & fever. Formula: Peruvian bark, orange peel, cinnamon, cloves, nutmeg, cayenne, alcohol & water, over 80 proof.
Peruvian Bitters Trade Cards
According to Bitters trade card and advertising authority Joe Gourd, Peruvian Bitters trade cards are rather common. Joe has more than 30 in his collection. He has graciously sent in a few examples from the series entitled "Everyman rides his own Hobby" looks at noted men of the day.
Benjamin Butler; Lawyer, U.S. Attorney General
Cornelius Vanderbuilt; Industrialist, Railroad builder
Henry Bergh: Founder-American Society for the Prevention of Cruelty to Animals
Jay Gould; American Railroad Developer
Robert Ingersoll; Politician, "The Great Agnostic"
P. T. Barnum; Showman, Barnum & Bailey Circus