Rohrer's Expectoral Wild Cherry Tonic
"Rohrer's Bitters Still Ahead"
24 December 2011 (R•061714) (R•101115)

While cleaning my glass shelves yesterday in anticipation of a visit from noted Civil War Medicine author James Schmidt, I spent a few extra moments polishing two of my favorite bottles, the highly ornate, Rohrer's Expectoral Wild Cherry Tonic (pictured above).
Read: Jeremiah Rohrer – Nolt Collection of Whiskey Memorabilia
This is a bottle that most bitters collectors (and many others) seem to possess and is from Lancaster, Pennsylvania. Though not embossed "BITTERS",  Rohrer's was sold as a bitters or had a label with the word bitters on it. [Editor note: Can anyone confirm this?] This is a fantastic bottle in a tapered rectangle shape with ornate detail including roped and tapered sides, two (2) embossed rope ovals and two (2) sets of triangular 3-part ornate windows. Tall and sexy, this bottle stands out in a crowd and is a favorite of many. They sell and change hands often on the glass auction sites and at bottle shows.
"No family should be without it. Sold by Druggists, Dealers and Hotel Keepers everywhere"
Of special interest to this collector are two (2) related bottles. The first is the extremely rare, R85 ROHRER'S WILD CHERRY BITTERS, LANCASTER, PA. square and the extremely rare C46 CAREY'S GRECIAN BEND BITTERS (pictured below) in the same mold as the Rohrer's Expectoral Wild Cherry Tonic.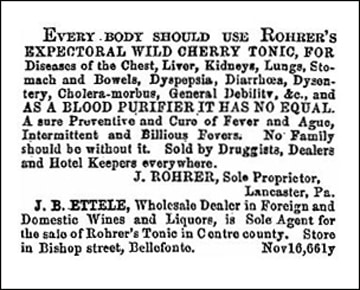 Jeremiah Rohrer
Portrait and Biographical Record of Lancaster County, Pennsylvania
JEREMIAH ROHRER is the largest wholesale liquor merchant in Lancaster, in which business he has been engaged since 1864. A veteran of the late war, he arose to the rank of Major through merit and valiant service, holding that commission in the One Hundred and Twenty-seventh Pennsylvania Infantry. Major Rohrer has served a number of times in official capacities and in public affairs and each time acquitted himself greatly to his own credit and to the satisfaction of those concerned.
Our subject was born in Lebanon, Pa., May 9, 1827, coming from one of the old families of Lebanon County, his ancestors having located in Lancaster County on coming from Switzerland. The paternal grandfather, John Rohrer, was in the War of the Revolution and endured the terrible sufferings of Valley Forge, being First Lieutenant of the Flying Battalion. He was a locksmith by trade and was an early settler of Lebanon County. Our subject's father, David Rohrer, was also born in Lebanon County, which was then known as Dauphin, and, like his father, he was in early years a locksmith, but in later years engaged in manufacturing grain sickles. Removing to Middletown, he worked at this business until his death, at the age of forty-two. The mother of our subject, who was born near Middletown, was Mary, daughter of John J. Parthemore. Her paternal grandfather came to the United States from a village near Hamburg in Frederick, landed in Philadelphia October 20, 1744, and located in what is now Dauphin County, where his death occurred. His son, John Philip, who was born in Germany, became a farmer in Dauphin County, in the vicinity of Middletown, and John J., his son, also followed agricultural pursuits in the same neighborhood. Mrs. Rohrer after the death of her first husband, David Rohrer, in 1843, married John Parthemore, by whom she had one child. Her death occurred March 24, 1848. The Major is the second of the children of the first union. His eldest brother, Jacob L., died at the age of one year; Elizabeth died in Springfield, Ohio; Absalom S. and Jacob both died in childhood; and George F. is a resident of Harrisburg.
In his youth Major Rohrer learned the carpenter's trade, and afterward worked at contracting and building. He was then a manufacturer of sash, doors and blinds in Middletown for about two months, when he was burned out; afterward he rebuilt and continued the business for five years, later next engaging in fruit farming. In August, 1862, he became a member of the One Hundred and Twenty-seventh Pennsylvania Infantry, being under Colonel Jennings. Major Rohrer recruited Company H, Susquehanna Rangers, at Middletown, in three days and was made Captain of the company. When it was mustered in at Harrisburg August 12, he was commissioned Major of the regiment and placed in the Second Division of the Army of the Potomac. At the battle of Fredericksburg this regiment was one of the first to cross the river, and they lost two hundred and forty-two of their enrolled men during the battle. The next engagement in which they participated was the battle of Chancellorsville and skirmishes near Fredericksburg that followed. The Major was on duty night and day for a long time, and though he had many narrow escapes, was fortunate in never being wounded. After his faithful service he was mustered out at Harrisburg, May 29, 1863.
In the spring of 1864 our subject came to Lancaster and for the succeeding thirteen years has been located at No. 22 Penn Square, in the wholesale liquor business. In this building he occupies the four floors and basement, the first floor being used for the retail business. The building is supplied with an elevator, and everything in the line of his business may here be found. His Wild Cherry Tonic has a wide reputation for excellence. Our subject is interested in the Lancaster Trust Company, the People's National and the People's Trust Saving and Deposit Companies Banks. In the fall of 1872 he was elected Register of Wills of Lancaster County, serving until January, 1876. Prior to this he was for three years an Inspector of Prisons and was President of the Board during the last year. He suggested and invented the iron-clad cells in use in the prisons and many other improvements of a practical nature. For the past ten years he has been Trustee of the Home for Friendless Children. In Masonic and social circles he is very active, being a member of Lodge No. 43, F. & A. M., and has raised four of his sons in about three years to the Master Mason's degree. A Royal Arch Mason, he belongs to Chapter No. 43, to Council No. 19, and to Commandery No. 13, K. T., of which he is Past Commander. Formerly he was associated with the Odd Fellows, the Senior Order of United American Mechanics and the Knights of Pythias, being a charter member of the lodge. As a member of the Royal Arcanum he is active, as well as with the George H. Thomas Post No. 84, G. A. R. In politics he deposits his ballot in favor of Republican nominees. Major Rohrer was married in Elizabethtown, Lancaster County, March 24, 1853, to Mary A., daughter of George Redsecker, an early settler and miller on the Conewago Creek, the dividing line between Dauphin and Lancaster Counties. Mrs. Rohrer was born in Elizabethtown, and by her marriage became the mother of eight children, seven of whom are living, namely: Dr. George R., whose office is at No. 45 East Orange Street, Lancaster; Jacob B., a civil engineer on the Chicago Drainage Canal; Marie Louise and Mary, who are at home; Grant, a railroad contractor; Howard, a druggist, but now in business with his father; and Daisy M., who is at home.
Select Listings
1777: The Rohrer family in Lancaster county is traced to John Rohrer, who in Lebanon, then Lancaster county, swore allegiance Nov. 17, 1777. He was third lieutenant in the 6th Company, 1st Battalion, Lancaster Co., Flying Camp, under Col. James Cunningham. He had been promoted to that rank from sergeant, and he was one of the sufferers at Valley Forge. His wife was Elizabeth Meiley, of Lebanon. Their children were: Anna Maria, born Nov. 17, 1787; Katharine, Feb. 8, 1790; John, Nov. 25, 1791; Samuel, July 15, 1795; John (2), Feb. 22, 1798 ; David, April I, 1800; and Hannah, March 4, 1803. – Biographical Annals of Lancaster County, Pennsylvania
1800: David Rohrer was born April 1, 1800, in Lebanon, Dauphin Co., Pa., and became a whitesmith, or manufacturer of edge tools. His death occurred Feb. 11, 1843. By his wife, Mary Parthemore, he had the following children: Jacob Lafayette, born 1825, died 1826; Jeremiah, born May 29, 1827; Elizabeth. born Dec. 28, 1828, died Oct. 14, 1874; Absalom Stiner, born 1830, died 1835 ; Jacob (2), died young; and George Frederick, born May 29, 1837, is now living in Harrisburg, Pennsylvania. – Biographical Annals of Lancaster County, Pennsylvania
1827: Jeremiah Rohrer, son of David, was born May 29, 1827, in Lebanon, Lebanon Co., Pa. Until near the time of the breaking out of the Civil war, he carried on carpentering and building at Middletown, Dauphin Co., Pa. The same spirit that moved his grandfather to shoulder his musket and patiently follow the immortal Washington, inspired him to answer the call to arms, and in August, 1862, he entered the service of his country. He was appointed major of the 127th P. V. I., and played well his part in the duties his regiment was called upon to perform. On April 1, 1864, he removed to Lancaster, Pa., and there engaged in the liquor business, in which he has since continued, at present being located at No. 22 Penn Square. He has ever been a prominent worker in town affairs. From 1868 to 1871 he was one of the prison inspectors for Lancaster county; from Dec. 1, 1872, to Jan. 1, 1876, was register of wills; and for four or five years prior to his removal from the Second ward to his present residence, No. 336 North Duke street, he represented that ward in the councils, common and select. He was one of the commissioners having the supervision of the erection of the new waterworks in 1885-1886. In his fraternal relations, he is an enthusiastic Mason, being affiliated with Lodge No. 43, F. & A. M.; Chapter No. 43, R. A. M.; Goodwin Council No. 19, R. & S. M.; Lancaster Commandery No. 13, K. T. In March, 1853. – Biographical Annals of Lancaster County, Pennsylvania
Jeremiah Rohrer, was united in marriage with Mary Ann Redsecker, who was born Oct. 31, 1830, a daughter of George and Catherine (Myers) Redsecker. Their home was blessed with eight children, as follows: George Redsecker, born Dec. 11, 1853, is the subject proper of this sketch; David, born June 26, 1855, died Nov. 26, 1856; Jacob Bomberger, born Aug. 31, 1857, now a civil engineer, Honolulu, Hawaii Islands, was married in December, 1886, to Jennie Winchester, of Memphis, Tenn.; Marie Louise, born Jan. 5, I860, resides in Lancaster; Mary, born April 27, 1862, was married Jan. 29, 1897, to Dr. Frank Christy, of Altoona, Pa.; Grant, born Oct. 18, 1864, resides in Lancaster, Pa.; Howard, born May 28, 1867,, is a graduate in pharmacy but is now of the firm of J. Rohrer, liquor dealer, Lancaster; and Daisy M., born April 27, I877, lives in Lancaster.
1853: Marriage Mary Ann Redsecker on 24 March 1853.
1862: Jeremiah Rohrer promoted to Full Major on 19 August 1862. Commissioned an officer in Company H, Pennsylvania 127th Infantry Regiment on 14 Aug 1862. Mustered out on 02 June 1863.
1866: ROHRER, J., liquor merchant, 11 & 13 S. Queen, h do – Lancaster, Pennsylvania City Directory (see advertisement below)
1868-1869: BITTERS MANUFACTURERS, J. Rohrer, Rohrer's Expectoral Wild Cherry Tonic, 11 S. Queen – Lancaster, Pennsylvania City Directory
1880: Jeremiah Rohrer, liquor dealer, Lancaster, Pennsylvania, wife Mary Rohrer, children: George R. (26), Jacob B. (22), Marie L. (20), Mary U. (18), Grant (15), Howard J.(13) and Daisy M (3) – United States Federal Census
1910: Jeremiah Rohrer death on 23 October 1910 in Lancaster, Pennsylvania,