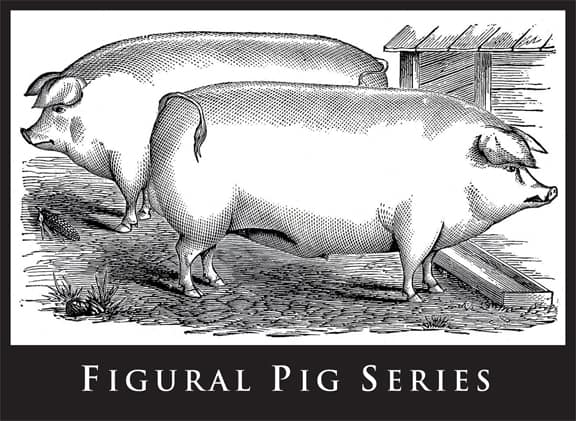 DUFFY CRESCENT SALOON
---
Figural Pig Series | Duffy Crescent Saloon Figural Pig Bottle
19 May 2012

Now here is a figural pig bottle that I do not possess and would very much like to add to my "pig pen". The rare "pig bottle" embossed DUFFY (on banner) / Embossed Rooster / CRESCENT (inside crescent moon / SALOON / 204 / JEFFERSON STREET / LOUISVILLE / KY that have been found in amber, clear, aqua and cobalt blue glass are most likely products of either Kentucky Glass Works or Southern Glass Works. They do not carry a glasshouse marking to show where they were produced, but the approximate years they could have been made points to one of these two factories. Only one example of the cobalt pig has so far been found and showed at an auction in Indiana. Read more:  Louisville Glass Factories of the 19th Century – Part 3 by David Whitten
There are some absolutely stunning examples of this highly detailed figural pig that have sold in auctions in past years. I have pictured a few below for comparison. I find it interesting that the mouths are unfinished on such detailed bottles.
---
---
---
---
---
---
Read More: Oral surgeon's hobby — well, obsession — has become hard for him to contain by Doug Janz
Another case of bottle envy concerned the Blue Pig, a one-of-a-kind creation that held whiskey bottled by Duffy's Crescent Saloon. Only a handful of these particular pig-shaped bottles exist in any color, but this brilliant cobalt color was unique, and Van Brocklin was highly skeptical it was genuine. 

After months of inquiring to a man in Indiana, he finally came face-to-face with the Blue Pig, which the potential seller had encased in bubble wrap in a cooler. 

"You could see the color so intensely," Van Brocklin said. "I was going 'Oh, man.' I really didn't believe it until I saw it." 

And, of course, he bought it. The neck and opening of the bottle are on the pig's rear end, meaning people drank from the pig's butt. 

"It's absolutely one of the best bottles I've ever owned," Van Brocklin said.
---
Read more: Figural Pig Series | Berkshire Bitters
Read more: Figural Pig Series | Suffolk Bitters
Read More: Figural Pig Series | Beiser & Fisher – NY Figural Whiskey Pig
Read More: Figural Pig Series – Something Good in a Hogs … – Drink While it Lasts from this Hogs …
Read More: A Stunning Pen of Pigs from Glass Works Auctions and Elsewhere