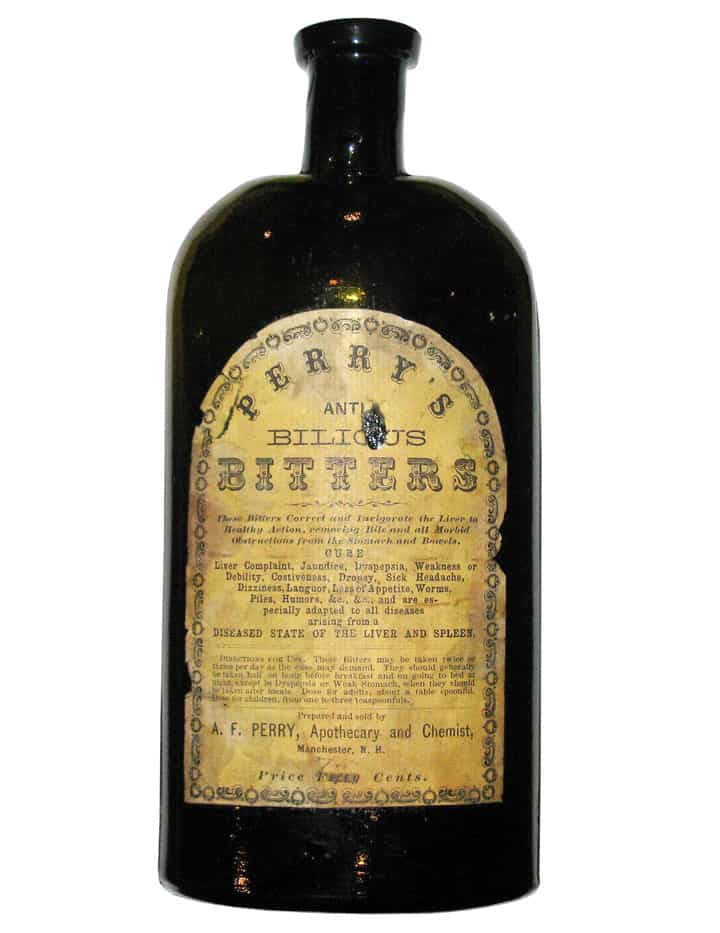 Alfred French Perry and his Anti Bilious Bitters
23 April 2014 (R•042514)

Yet another, very nice, labeled bitters from Manchester, New Hampshire submitted by Brandon DeWolfe. The Perry's Anti Bilious Bitters is an unlisted brand I am unfamiliar with but feel akin since I spent some time in Manchester last July for the 2013 FOHBC National Antique Bottle Show. By the way, this labeled bitters goes along with the previous Tuft's Tonic Bitters (Plymouth), Annabel's Mandrake Bitters (Colebrook and Nashua), Russell's Alterative and Tonic Bitters (Nashua) and Dr. Stephen Jewett's Tonic Bitters (Rindge) New Hampshire bitters posts. Might as well cover the state this month.
Alfred French Perry was a druggist who owned an Apothecary in Manchester, New Hampshire, pretty much his entire working career. According to Federal Census records, Perry was born in Amherst, New Hampshire 0n 17 March 1821. His father was Ebenezer Perry and his mother was Bridget Greely. His wife was Harriet Gage (married 15 December 1853) and they had three children (Bayard Taylor, Samuel Sinclair and Charles A.). Perry was a Liberal Republican who once held a large political rally in Manchester and had Horace Greeley, the famous American newspaper editor, stay at his house as a guest. Perry died in Manchester on 24 November 1904 from senility and pneumonia.
I could not find any trade cards or other advertising material for A. F. Perry, Apothecary and Chemist or his Anti Bilious Bitters which was priced at Fifty Cents a bottle. Brandon does note that this is the same guy that has the Perry's Spinal Lotion and Perry's Magnetic Wine bottles.
A rare bird, so to speak. This bottle has been listed in the Ring & Ham Bitters Bottles Supplement 2 as: 
P 60.5 L… Perry's AntiBilious Bitters
A. F. Perry. Apothecary and Chemist, Manchester, N.H.
8 5/8
Oval strap side flask, Amber, NSC, Tooled lip
Select Timeline Events
1854-1856: Alfred F. Perry, Apothecary, Elm, cor. Merrimac, house 2 High – The Manchester, New Hampshire Directory
1866 – 1871: Alfred F. Perry, Apothecary, Martin's Block, Elm cor Lowell, house 2 Prospect – The Manchester, New Hampshire Directory
1872-1875: Manchester: A. F. Perry, Apothecary, Elm, Corner Lowell – The Merrimack River Directory
1879 – 1884: Alfred F. Perry, Apothecary, 1089 Elm, house 155 Myrtle – The Manchester, New Hampshire Directory
1886-1904: Alfred F. Perry, house 155 Myrtle – The Manchester, New Hampshire Directory
Thanks to Marianne Dow for A.F. Perry Apothecary image