Tuft's Tonic Bitters

–

Plymouth, New Hampshire
21 April 2014

Now here is a tough bottle to get. I had to say it. The Tuft's Tonic Bitters from Plymouth, New Hampshire was a late, labeled bitters, made by Tufts & Company. Ring & Ham give it a T 61 L designation in Bitters Bottles. The example pictured above was provided by Brandon DeWolfe from Spring, Texas. This will be the third time we visit New Hampshire this past week as posts were developed for the Russell's Alterative and Tonic Bitters from Nashua and Annable's Mandrake Bitters from Colebrook and Nashua.

John Sullivan Tufts, son of Nathan and Hannah (Sullivan) Tufts, was born in Northwood, New Hampshire on July 2, 1835. Tufts then moved to Gilmanton, N.H., where he worked in a general store that he then purchased and ran himself. In 1860, John Tufts married Agnes Straw Wight, daughter of Dr. Nahum Wight, a noted physician of Gilmanton. Unfortunately, within two years, she died on June 17, 1886. They had three children including a son, Nahum, and two daughters, Mary and Alice.
For all diseases requiring a certain and efficient Tonic.
The same year of his marriage, Tufts moved to Boston, where he worked in the tea, coffee and spice business for a short while, and then moved to Plymouth, N.H. where he remained until his death. He first bought, from Bond and Moody, a general store, which was destroyed by a fire in 1863. He then built a brick store upon the site of the old one, but it was again destroyed by fire. He then built a store that was occupied by a Miss A. A. Heath, in which he started his apothecary and drug business.
In 1880, Tufts built the block known as Tuft's Block, and opened the Tufts & Company drug store which he ran until his death. He dealt in drugs, medicines, toilet articles, fancy articles, cigars, and filled prescriptions. Humphrey's Witch Hazel Oil was sold by Tufts & Company as noted by the advertising trade card above. This is also when he produced and sold the Tufts Tonic Bitters. His business was located at No. 1 Highland Street and was described as a 30 foot by 60 foot store including a well-appointed laboratory. W. M. Peppard managed the business, along with two able assistants.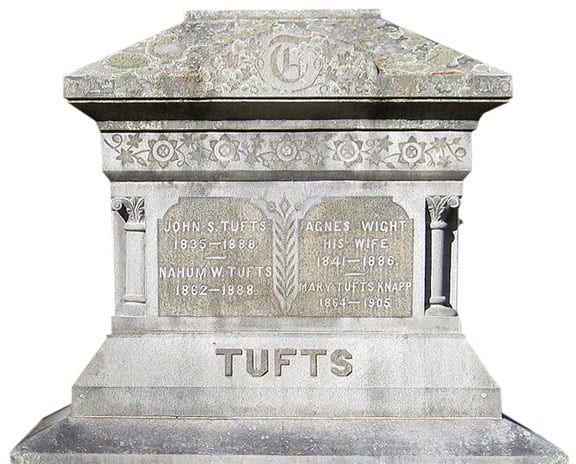 After Tufts death in 1888, the business was taken over by John's son, Nahum Wight Tufts who was a pharmacist in business with his father. He also died in 1888 of tuberculosis. William Merrill (born December 21, 1861), who had come to Plymouth in 1881, and who was a clerk in Tufts drug store, purchached the store in 1892, becoming the new proprietor. He married Alice Mason Tufts, who was the daughter of John Sullivan Tufts, which kept the business in the family.
Question: Whenever I start a post like this I get excited because I want to know the 'story' behind the bitters bottles that I collect. I also like solving puzzles, connecting the dots and wiggling my way out of dead ends. I do wonder if John Sullivan Tufts was related to Charles A. Tufts (father Asa A. Tufts, chemist) who was a druggist in Dover, New Hampshire. I also wonder if these guys had any relationship to Charles Tuft of Tufts University. Charles Tuft was a descendant of Peter Tufts, an early colonist who came to America from England in 1638.