Agents and Distributors of Brady's Family Bitters
07 December 2013

Bitters trade card collector Joe Gourd (Chicago, Illinois), forwarded the image of the top trade card for Brady's Family Bitters suggesting possibly that J. A. Sangston & Company in Cincinnati, Ohio was producing and distributing the brand. This quite amusing illustration of a family getting blitzed on Brady's 'Family' Bitters while smoking cheroots epitomizes the absurd marketing of bitters products during this time period. When you have a family this happy, who needs food? Every Body Takes It, as their marketing slogan says!
Joe added with his e-mail picture:
While I don't have a trade card in my collection for this bitters, I do have an image of a trade card that I obtained from the collection of John Kemler in my "wanted" database. It's interesting that the information on the card would lead one to think that the bitters were manufactured in Cincinnati, Ohio by J. A. Sangston & Co. Is this another mystery?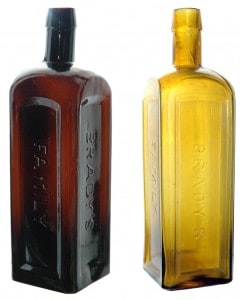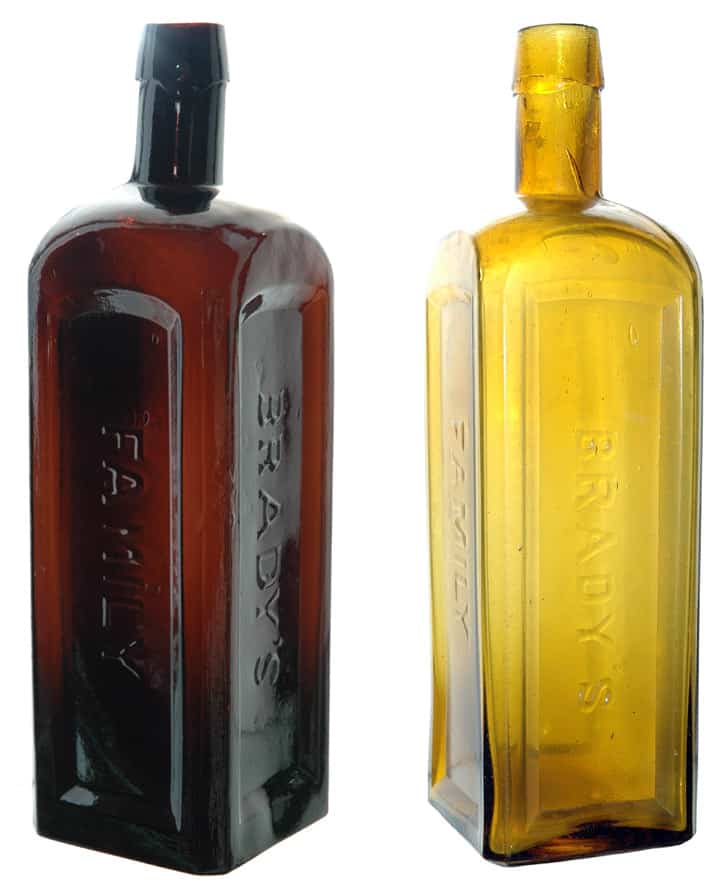 Brady's Family Bitters was manufactured by D. C. Brady in Louisville, Kentucky. The brand was being shipped to many places and even advertised and sold big time in Houston, Texas. (Read: What was here, Early Houston Advertisements – Part II. I have also found records documenting crates of bottles being on manifests of trains and boats arriving in St. Louis where Charles P. Wiggins and his brother Henry, were heavily marketing and selling Brady's Bitters from 1869 to 1872 or so.
The Cincinnati, Ohio trade card for J. A. Sangston is interesting. It could be that the Brady's formula was used by Sangston to make Brady's Family Bitters on premise or most likely, it all came out of Louisville to the various Brady's agents around the country. I suspect the latter. I event see records of Brady's bottles being found in Australia!
Read: Brady's Family Bitters – "Every Body Takes It!"
Here are a couple of references to Brady's Family Bitters being received and sold in St. Louis by Charles P. Wiggins & Bro.
1869: CHARLES P. WIGGINS & BRO. (Charles P. and Henry D. Wiggins) BRADY'S FAMILY BITTERS, case goods, etc. 904 n. 5th, Charles P. Wiggins r. 904 N. 5th., St. Louis City Directory
1870: Bitters, Charles P. Wiggins & Bro., 824 N. 4th, St. Louis City Directory
1872: Charles P. Wiggins, agt Brady's Bitters,  824 N. 4th. (Henry D. Wiggins clerk), St. Louis City Directory
1875: Out of bitters business. Charles P. Wiggins, salesman, Owens, Lane & Dyer, Henry D. Wiggins, machinist, both residing 1126 N. 21st, St. Louis City Directory