Tracking the Botanic Iron Tonic Bitters –

Botanic Medicine Company
07 December 2013

Well, Joe Gourd has done it again with an e-mail containing a trade card showing three cats playing for an unlisted Botanic Iron Tonic Bitters – Botanic Medicine Company with a Fort Worth, Texas indication. Joe says:
Ferd, Here is another mystery for you. It happens to be an unlisted and potentially Texas bitters. "Botanic Iron Tonic Bitters" was manufactured by the Botanic Medicine Co., H. W. Williams & Co., Sole Agents, Fort Worth, Tex. (note that it does not say that the Botanic Medicine Co. is a Texas company). You can see that it was also distributed in Texas by the druggist named on the front of the card.
Your mission (if you choose to accept it) is to track down the Botanic Medicine Co. and prove that it existed in Texas. 🙂
Have a great day…….. Joe
I have accepted the mission. Let's look at some clues.
BOTANIC IRON TONIC BITTERS
B. I. T. B.
A GREAT REMEDY FOR
Loss of Appetite, General Debility, Nervous Prostration, etc., etc.
Botanic Iron Tonic Bitters
Online searches in the cities of Sherman, and then Fort Worth, and then Texas, and then the surrounding region, and then the United States pull up no obvious hits for Botanic Iron Tonic Bitters. Some interesting similar listings can be found for a Dr. Gray's Tonic Bitters, Central Botanical Company, Cherry Creek, NY, Botanic Bitters, F. E. Mayhew & Co,., San Francisco, Cal., Botanic Aromatic Bitters, New York City, and a few other Botanic Bitters references without other information. Dead end here, at least for now.
Botanic Medicine Company
This is kind of a dead end too because I find page after page of botanic and herbal medicine links for new age wellness etc.
H. W. Williams & Co., Sole Agents, Fort Worth Texas
Now, finally we are on to something. I find a little bit of information here about Henry W. Williams, Sr. (1838 – 1925) who was a native of Georgia who moved to Sherman, Texas in 1873 where he established his drug store in 1874. His wife died in 1880, leaving him with a son, Henry Williams, Jr.
Both father and son relocated in 1884 to Fort Worth, where the elder Williams opened a wholesale drug business. Besides being a druggist and importer, he sold other items like cigars, druggists' sundries and manufacturers proprietary articles. Directory listings show his address at 305-315 W. 15th Street near Throckmorton. He also served as vice president of Farmers and Merchants National Bank.
This company letterhead pictured below also notes a Charles S. Williams. Charles is listed in Forth Worth directories in the same time period with Henry Williams. I wonder if Charles is the link to their New York office on 99 Maiden Lane? You can also see this on the letterhead. Unfortunately, I can find no additional corresponding information for Botanic Iron Tonic Bitters or Botanic Medicine Company to support the trade card and confirm that this is a Texas bitters. I would say there is a very high probability.
The 99 Maiden Lane, New York Connection
The mysterious 99 Maiden Lane copy on the above letterhead could be a clue as it takes us back to the heart of historic merchant retail in New York City. Maybe the Botanic Iron Tonic Bitters came from here and was shipped to Fort Worth? It is really interesting to enlarge the below picture and try to find a sign relating to H. W. Williams, Botanic Iron Tonic Bitters or Botanic Medicine Company. Remember, I did find a listing for a Botanic Aromatic Bitters in New York City as noted further above.
Maiden Lane is an east-west street in the Financial District of the New York City borough of Manhattan. Its eastern terminus is at South Street, near the South Street Seaport. It continues west, terminating at Broadway, near the World Trade Center site.
The street received its name in New Amsterdam, as Maagde Paatje, a "footpath used by lovers along a rippling brook", a "pebbly brook" that ran from Nassau Street to the East River where wives and daughters washed linen.
In September 1732, a company of professional actors arrived from London and took an upstairs room near the junction of Pearl Street which was fitted up with a platform stage, and marked the origin of professional theater in New York; by the time the company was disbanded in 1734, their building was known as the Play House.
In the Spring of 1790, Thomas Jefferson rented a house at 57 Maiden Lane when he moved to New York to serve as the Secretary of State under George Washington.
Maiden Lane was a street of shops by the end of the 18th century, even before the new fashion for multi-paned shop windows caught on in the city. In 1827 the skylit New York Arcade, banking on the fashionable success of London's Burlington Arcade (1819), spanned the block between Maiden Lane and John Street east of Broadway with forty smart shops; "it had not the success that had been anticipated," Charles Haynes Haswell recalled, "and survived but a few years". Maiden Lane was soon one of the first city streets to be lit with gas lamps.
One of the handful of mid-19th century commercial structures still standing in the Financial District, is the building 90-94 Maiden Lane, built for Roosevelt & Son, with a cast-iron front (attributed to Charles Wright, 1870–71) by Daniel D. Badger. Until the early 20th century Maiden Lane was the center of the jewelry district, which relocated on West 47th Street. At Broadway, the bronze and glass clock embedded in the sidewalk by William Barthman Jewelers still keeps time; in 1946 the New York police department estimated that it was walked on by 51,000 people every weekday between 11 a.m. and 2 p.m. [parts from Wikipedia]
T. R. Legett, Druggist, Sherman, Texas
(stamped in purple on front of trade card)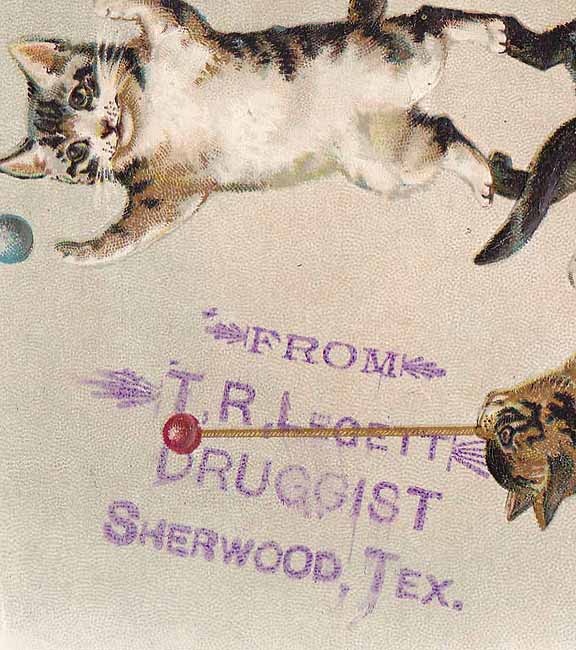 This is a tough one too. Henry W. Williams started out in Sherman, Texas so there is a connection. Thomas R. Legett was a druggist who owned a drug store in Sherman, Texas. He was born around 1864 in Arkansas and according to 1900 and 1910 Federal Census reports. His fathers birthplace was South Carolina, His mother was born in Alabama. He was married to Alice Herring on 11 September 1881. In his early life, he was a preacher as reported in the 1880 Federal Census. In another listing the settlement of Christoval began in the 1860s and increased in the 1870s and 1880s following the establishment of Fort Concho in nearby San Angelo. The town of Christoval began to develop by 1885. The South Concho Baptist congregation was organized in 1889 with four charter members. The Rev. T. R. Leggett served as first pastor at the Christoval Baptist Church.
Why it may have been tough to sell Botanic Iron Tonic Bitters in Fort Worth