The Ladies' Home Journal

Endorses Beer

as Opposed to

Patent Medicines
08 December 2013
"A

mother

who would

hold up her

hands in holy horror at the thought of her child drinking a glass of beer

, which contains from two to five per cent of alcohol,

gives to that child with her own hands a patent medicine

that contains from seventeen to forty-four per cent of alcohol."

I like this advertisement for the 'King of Bottled Beers' with an endorsement from The Ladies' Home Journal for beer over patent medicines. The advertisement appeared in the Chicago Daily Tribune on May 4, 1904. This was not a good time for quack medicines with the impending Pure Food and Drug Act of 1906.
Ladies' Home Journal first appeared on February 16, 1883, and eventually became one of the leading women's magazines of the 20th century. The Journal arose from a popular single-page supplement in the American magazine Tribune and Farmer titled Women at Home written by Louisa Knapp Curtis, wife of the magazine's publisher Cyrus H. K. Curtis. Knapp continued as editor until she was succeeded by Edward William Bok in 1889.
In 1892, it became the first magazine to refuse patent medicine advertisements.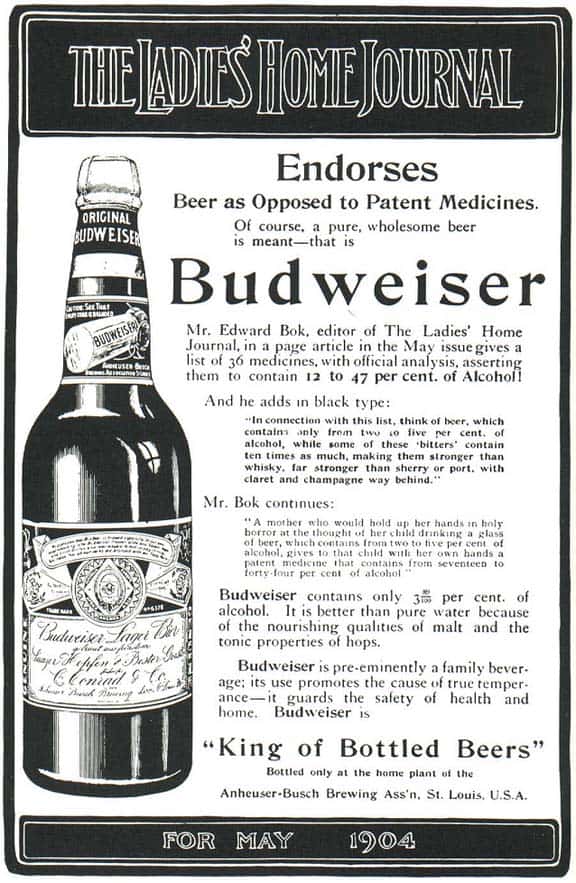 "think of beer, which contains only from two to five per cent of alcohol, while some of these

'bitters'

contain ten times as much…"
"Budweiser contains only

3 89/100

per cent of alcohol.

It is better than pure water

because of the nourishing qualities of malt and the tonic properties of hops."
"Budweiser is

pre-eminentely a family beverage

; its use promotes the cause true to temperance –

it guards the safety of health and home

."