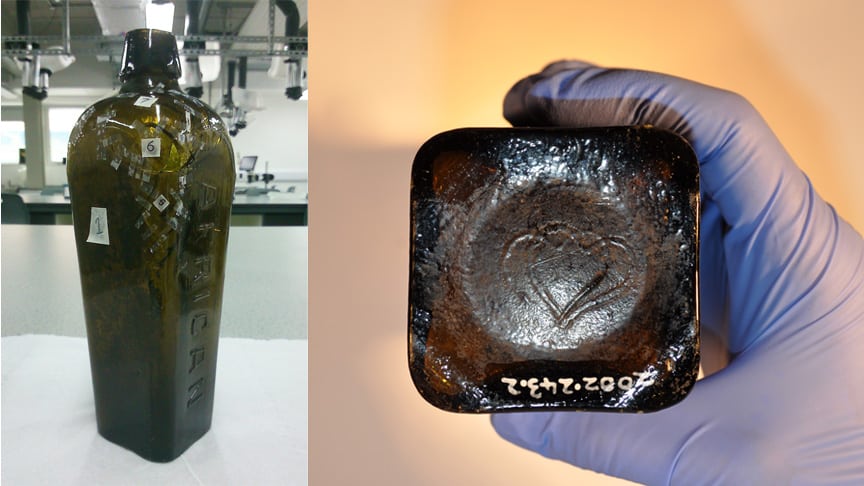 A little on African Gin bottles
22 October 2013

The two pictures above came across my wires with the email below. I was curious about the African embossing and why Dutch Gin was so popular in Africa, so I thought I would do a post. I also sent this e-mail over to Alan Blakeman at BBR in the UK for an assessment who commented, "Apart from the gin being badly cracked, it is a relatively very late item (by English glass standards)…. c. 1920's, and not at all rare."
My name is Caroline Rogers and I am a MA student studying MA Conservation of Historic Objects, at the University of Lincoln in the UK.
I have been given a green glass gin bottle to conserve, but I can't seem to find a maker/manufacturer for the mark I can see on the bottom of the bottle. I am pretty sure it dates from around 1840 onwards. I believe it was found at Wilberforce House, in Hull UK. Please find attached photographs of the bottle.
I hope you or someone you know, might be able to help me.
Thank you, Caroline
These are two very nice articles that pretty much answered my questions regarding Gin in Africa. Please check them out.
Read: The Rise of Gin in Africa
Read: Message in a Bottle University of Liverpool
AFRICAN GIN
Read More on Gin on Peachridge Glass:
Beer Street and Gin Lane by William Hogarth
A little on HOBOKEN DE BIE & Co.